The V8 engine has long been celebrated as one of the marvels of motoring. From the big-blocks of America to the compact high-revvers of Italy, an eight-cylindered vee engine is a very special thing.
Rather worryingly however, the much-loved V8 is under threat. While several manufacturers still build them, pressures for downsizing and turbocharging could soon see V8 production restricted to only the most exotic of cars. Taxes and fuel prices make running a V8 increasingly difficult. Surely then, we should enjoy them while we still can.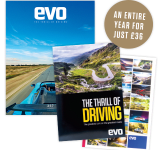 Subscribe to evo magazine
evo is 21 and to celebrate, we're returning to 1998 prices! Subscribe now to SAVE 39% on the shop price and get evo for its original cover price of £3.00 an issue, plus get a FREE gift worth £25!
>Buy your dream V8 - Classic and Performance Car
To help you grab a V8 bargain while the market's still saturated, we've compiled a list of some of our favourites below. There are plenty of alternatives out there, but we hope you'll agree each of the following five offers something special. If not, our Best Buys lists might hold what you're looking for.
Vauxhall Monaro VXR 
The Monaro might wear a Vauxhall badge on these shores, but underneath the Griffin sits a car of Australia. Why does it feature on this list? Lift up the bonnet and you'll find a chest-thumping 6-litre V8. 
The VXR's engine – which was sourced from owners GM – produces 397bhp and 390lb ft of torque. Strong, but far from class leading numbers by today's standards, but the Monaro isn't about spec sheet numbers; though a 170mph top speed should certainly help out in a game of Top Trumps. 
Where the Monaro excels is character. It's never going to set a lap record – unless in slick-shod Monaro V8 Supercars form – but the lazy Aussie V8 muscle car somehow manages to get under your skin.
The thumping powerplant, simplicity of its chassis and unimposing looks, they all combine to make the Monaro feel like a big, soft oaf. Don't be fooled though, it can turn brutal in seconds. The car is far from complex but certainly not unintelligent, it just sticks to an old philosophy that's worked perfectly since the dawn of the V8. 
When the car can be steered so easily on its rear axle and pitched from left to right with just the gentlest twitch of the steering wheel, all while seating five and possessing the lungs of a monster, it's a heck of a lot of car for the money. £10k and you're onto a winner.
Porsche 928
The Porsche 928 did things a little differently from the plucky VXR. Designed for suit-wearing city workers rather than adrenaline craving hooligans, the 928 might wear a restrained Porsche exterior, but under the bonnet of the fastest GTS – drivers sit behind the engine in this Porsche - lives a 5.4-litre V8. 
Power was rated at 340bhp enabling a 5.4sec 0-60 time. Alongside the fast stuff sits effortless performance, an interior trimmed in leather and super-touring credentials. It might have eight-cylinders to feed, but Porsche's electronic engine management was advanced for the time, enabling, erm, 19mpg. If you're lucky.
The 928 never tried to steal the limelight from the harder and faster 911, it offered a different, less manic driving experience. The GTS was the fastest of the range, arriving towards the close of the car's production run in 1992.
Reliable, comfortable, quick and great sounding, the 928 makes for an attractive proposition if frequent fuel stops aren't a concern. And even if you can't source a later GTS, there are plenty of earlier models available on the UK market for less than £20,000. If a GTS is the one you want however, be prepared to spend in excess of £30,000.
>Buy - Porsche 928 on Classic and Performance Car
E39 BMW M5 
Back when upsizing was the in-thing, BMW decided the straight-six in the old M5 wasn't enough, what the E39 needed was a V8. How about a 4.9-litre? With 400bhp? Rapid even by today's standards, the E39 was amongst the very first super-saloons back in 1999. 
0-60 took 4.9sec and top speed was limited to 155mph, but derestricted cars are known to touch 180mph. The luxury German saloon wasn't just brutal either, it was a finely tuned weapon. We said it had 'sublime driftable handling' when we ranked it 74th in our top 100 greatest drivers' cars. 
Connected to a manual gearbox and equipped with only the most basic of electronic aids, the E39 M5 can be an animal at just the gentlest of throttle openings. Rein it all in however, and the M5 appears no different to an M badged 5-series to the untrained eye.
It appears now is the time to buy as well, because cars go for significantly less than £10,000. Surely a hard one to dismiss at that price.
Jaguar XKR
It's amazing to say that a sleek bodied, V8 engined Jaguar can be had for less than £7,000. The XKR was worth more than £60k new, but now you'd have to spend little more than a tenth of that to drive an ultra-luxurious super-coupe onto the driveway. 
Later cars featured a 4.2-litre V8, but earlier 4-litre machines are still highly desirable. Output was 370bhp, enabling a 5.2sec 0-60 time and 155mph limited top speed. 
Though the car is some 15 years old, the XKR's combed back looks still turn heads today. And with a five-speed auto 'box and 387lb ft of torque, it's still one of the best cars to effortlessly pose in.
Performance is sharp, as we experienced in our turn of the century tests where the car felt 'lithe and adjustable.' Though the supercharged V8 might possess ample torque, it still needs to be revved to get the best from it. This only makes driving the XKR more rewarding.
Fun as it may be, don't expect to see much more than 15mpg on a run. And if you're exploring that 'adjustable' chassis, don't expect to reach double figures. If you can live with the Jag's tendency to empty a tank, the XKR is an undoubtedly strong contender for the shortlist.
>Buy - Jaguar XKR on Classic and Performance Car
Audi R8 
It's amazing to think that the original R8 arrived just a few years behind three of the four aforementioned cars. The R8 was so far ahead of the game when it launched in 2007, that even today, the first-gen car is impressive.
The Mk2 has just been revealed and appears to represent a gentle evolution of the old car. That's not because Audi's designers and engineers are lazy, but rather a confirmation that the old car was really that good.
If you don't believe Audi, just ask Richard Meaden. He ran a V10'd R8 in Fast Fleet throughout 2014 and loved it so much that before he'd handed back the keys, he was surfing the classifieds for a V8. 
The R8 manages to do everything so well. Pop to the shops? The R8's a pussycat. Attack a race track? The R8 is waiting to charge down the back straight. Traction, braking and poise: all are strong traits of an R8.
With upwards of 432bhp and four-wheels to drive, despite being the youngest here, the 4.2-litre FSI V8 can't offer much more than 19mpg (there's a trend emerging amongst these V8s). Aside from its thirst however, the R8 is a very usable car.
As a result, you'll need around £50,000 to begin your R8 search. And though it'll be a long time before you can call an R8 an investment, you'd certainly be getting a lot of eight-cylindered bang for your buck.
>Buy - Audi R8 on Classic and Performance Car