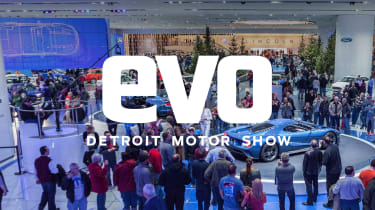 The 2018 Detroit motor show has now opened its doors to the public after two ram-packed press days. Show highlights were based around the most important American cars, with new full-sized pickup lines from both GM and FCA stealing much of the local spotlight.
Ford hit back with the well received Mustang Bullitt. Despite being little more than a new trim level with some subtle styling and technical upgrades, the film-inspired model was well received, although there is no inkling over whether the model will be available outside the US as yet.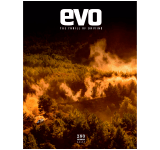 Subscribe to evo magazine
Subscribe today to have every issue of evo delivered straight to you. You'll SAVE 39% on the shop price, and get evo for its original cover price for a whole year!
> Click here for the cars we are most looking forward to in 2018
Of more interest to the UK was Mercedes-AMG's release of its next generation '53' drivetrain, featuring the combination of the all-new turbocharged straight-six engine paired with an electric motor and battery pack. Mercedes-Benz also revealed a new, heavily updated G-class, meanwhile BMW showed off the updated i8 and i8 Roadster in public for the first time. 
Detroit 2018 was hardly a deep dive into the future of motoring then, but it is indicative of the current state of America's car industry. Its return to the black has not been built on innovative new products, rather the continual refinement of vehicles like pickups and muscle cars that Americans actually buy.
Where and when?
The press preview will kick off on 14 January, with public access opening on the 20th through to the 28th. Detroit in January can be (extremely, bitterly) cold, so the show is held at the COBO Centre, connected to some of Detroit's hotels and restaurants through indoor walkways.
What to expect at this year's show.
BMW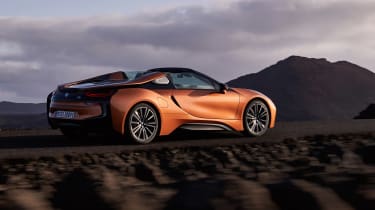 It's still a few more hours before BMW's press conference and the company is unlikely to have any full debuts, but will have public showings of two new models for certain. The first is the new i8 Roadster, alongside its similarly refreshed Coupe sibling. Fitting a new folding fabric roof atop the i8's carbonfibre chassis, the new Roadster has been a long time coming for BMW, and should suit the more relaxed attitude the i8 takes on the supercar mantra. The i8 also gains increases in EV range from a new battery pack, and upgraded interior tech too. 
The second new car will be BMW's X2 crossover. Far from the technical tour-de-force of the i8, the new X2 is a lower, smaller, more expensive version of the X1 SUV, designed to appeal to those looking for a supposedly more stylish non off-roading off-roader.
Ford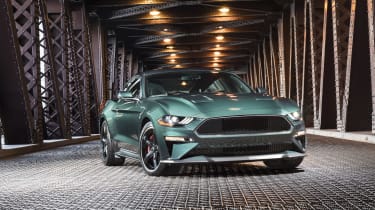 Even if you've never watched Bullitt all the way through you've probably seen its car chase, blasting through the San Francisco city streets with a Dodge Charger and Ford Mustang and eventually ending rather explosively for the bad guys. Ford has capitalised on its association with hard-nosed cop Frank Bullitt in the past but at Detroit, 50 years since the movie first hit the silver screen, it's launched a new Mustang Bullitt special edition in celebration.
More than simply a coat of green paint and some fancy wheels - though it has those too - Ford has taken the 5-litre V8 to 475bhp and 420lb ft and on to a 163mph top speed, with touches inside and out to differentiate it from lesser 'Stangs. Elsewhere, Ford has brought its smaller Ranger pickup to the US market, and has unveiled an ST version of its Edge crossover. There's no word on whether the Edge ST will be sold in the UK.
Hyundai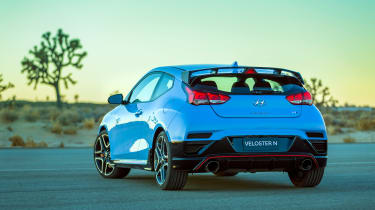 The original Hyundai Veloster might have slipped into anonymity after the initial hype of its asymmetric doors and arresting styling faded, but this all-new model might be cause for more attention. After the brilliant i30 N, this next generation Veloster might well carry across some of Hyundai's inherited know-how generated from the i30 N project.
The issue is that due to its slow sales performance in Europe, the second-generation Veloster has yet to be confirmed for European consumption, and the i30 N's clear aim at the European market has not been applied to this more Asia-centric model. Regardless, the new model has been revealed in Detroit and might just upset the hot hatch hierarchy like it's impressive stablemate. 
Infiniti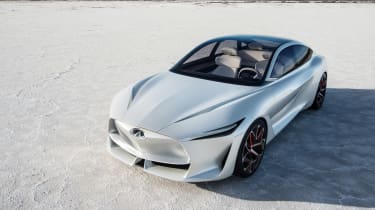 Infiniti's rapid product development will finally start to yield results when the Japanese premium brand launches the crucial new QX50 SUV, complete with a variable compression engine, in Detroit. Although only utilised at this stage in an SUV, this engine tech should spread to more dynamic models, promising diesel-like economy from a petrol-powered engine.
As well as this next generation combustion engine technology, Infiniti will also show off a new design concept called the Q Inspiration, a flagship model destined to showcase Infiniti's future design language.
Lexus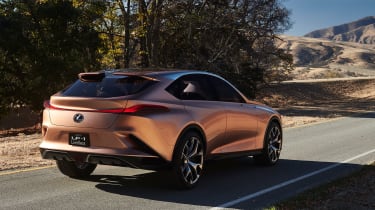 Lexus has revealed a new concept pointing at a future crossover SUV to sit above the current RX. Named the Lexus LF-1 Limitless, the SUV is aimed at upcoming premium SUVs like the Audi Q8 while sitting amongst Lexus other flagships, namely the LC and LS. Unlike the current crop of Lexus SUVs, this one should be built off the bespoke LC platform, as befitting its flagship status. 
Mercedes-Benz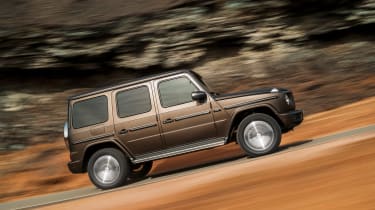 Mercedes-Benz has launched a new G-class at Detroit, having given its rugged off-roader a thorough upgrade coming into 2018. While the iconic styling has remained largely unchanged bar some new lighting units and reprofiled bumpers so not to upset the blocky aesthetic, Mercedes claims the majority of the car is all-new - which should make the new G-class a more pleasant experience on the road. AMG models will doubtlessly follow and thanks to new independent front suspension and modern rack and pinion steering should also drive more like a product of the 21st century.
But the big SUV isn't the news from Mercedes we are most interested in. That's the new 450bhp, '53'-badged engine set to be used in the new Mercedes-AMG CLS and the E-class, and almost certainly others in the future. Based around Mercedes' new inline-six cylinder engine and a 48v electrical system, it pairs a twin-turbocharged setup (one of which is electrically-driven) with a starter-alternator electric motor. The results should be greater performance, reduced lag and improved fuel efficiency - though we'll know for sure once they hit the road.