Is there an engine layout more primevally satisfying than the V8? Whether it's screaming to the heavens in the back of something low-slung and Italian or rocking a car along its roll axis in an American muscle car, few engines offer a greater breadth of character.
Thankfully, V8s aren't as rare in evo's world as they are in the wider automotive landscape – in the last few months we've driven the Mustang GT, Panamera GTS, Lexus RC-F and our long-term Jaguar F-type R among others. But such is the sheer number we've driven in the past, it's not long at all before some favourites emerge….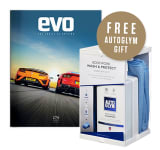 Subscribe to evo magazine
Subscribe today to our exclusive new offer and SAVE 39% on the shop price, get evo for its original cover price of £3.00 an issue, plus get a FREE gift worth £20!
Nick Trott – editor
I'm going to put a vote in for the brilliant RP-V8 engine built by Radical using Suzuki Hyabusa cylinder heads. It's a gem of an engine - truly visceral and with 480bhp in 3-litre guise has much of the magic and performance of a Cosworth DFV (at significantly fewer pennies).  
From power-rich to torque-rich; the 6.3-litre AMG V8 - particularly when fitted to the SLS Black. Revs more freely, and higher, than you'd expect of an engine with pistons the size of dinner plates (sort of), and combines stunning throttle response with a natural brawn that turbos can't match.
Lastly, the five-valve V8 in the F355. Its performance is nothing special these days – but with an appropriate exhaust makes a noise to give your goosebumps goosebumps.
Stuart Gallagher – managing editor
TVR 420 SEAC. Crude, and as sophisticated as beans on toast, but it was everything you'd expect a large capacity, low revving British V8 to be. Especially one that could trace its ancestry back to the US…
Any Cosworth DFV has to have a place on the list, as does the E92 M3's V8. Great engine let down by a poor gearbox.
Henry Catchpole – features editor
You can't have an article on the V8s without mentioning the venerable Rover V8. It's such a wonderful sounding engine, particularly with very little silencing in 5-litre form in a TVR Griffith or Bowler Wildcat.
I also love the 4.2-litre V8 that was in the B7 RS4 (and subsequently the R8, as per the video above). I'll never forget the first time I felt the kick at 5000rpm as it made a free-revving beeline for the red-line at 8250rpm.
Richard Meaden – contributing editor
Opposite ends of the scale, but impossible to choose between a thumping race-tuned Chevy small block or the screamer from a Ferrari 458 Speciale. Both equally unforgettable.
Dario Franchitti – columnist (and four-time IndyCar champion…)
The 1998 Honda Indycar engine – single turbo, over 900hp, smooth as silk, clever 9th butterfly to hold boost in the plenum so no lag. 250mph with a Hanford "parachute" rear wing and it was still accelerating!
Also the 427 side oiler motor out of a Cobra. And the Ferrari 355 is one of the all time classic road car engines. That red line was almost unheard of when it was introduced. It makes a lovely noise and gets sweeter the closer to the red line you get, doesn't drone and sound like a Formula First unlike later Ferrari V8s. If you take off the cats and silencers it sounds even better, not that anyone would do such a thing...
Antony Ingram – staff writer
As a mechanical object to admire from the sidelines, I have to nominate the 200 horsepower V8 of the 1905 Darracq that keeps making appearances at Goodwood. Exposed valvegear, open headers and oil gushing from every orifice, it sounds like death from above and looks absolutely terrifying to drive. Wonderful.
The obvious choice from those I've driven would be the Ferrari 488's 3.9-litre twin-turbocharged unit for the incomparable shove it delivers. But V8s have another characteristic that I think is underappreciated as downsizing to fewer cylinders takes hold: refinement. And few are more uncannily smooth (and effectively inaudible) than the 4-litre "1UZ-FE" V8 of an early Lexus LS. Not bad for an engine now a quarter-century old.