The 2017 World Rally Championship is right around the corner, and it could be the most exciting for several years. With the exit of reigning champions Volkswagen, a driver reshuffle and new rules and regulations, WRC might have had the shake-up it needed.
Crews are already exploring the stages in Monte Carlo - and as we type, 2016 champ Sébastien Ogier has already proven quickest on the shakedown stage in his Fiesta - where they'll contend with some of the trickiest stage conditions of the entire championship.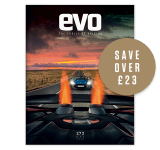 Subscribe to evo magazine
Subscribe today to have every issue of evo delivered straight to you. You'll SAVE 39% on the shop price, and get evo for its original cover price for a whole year!
Below you'll find an overview of what to expect in 2017, from the new cars to their comptitive crews and details of the 13 rounds that make up the season.
WRC 2017: The cars
It's new cars all around in WRC 2017. Not just because every manufacturer is using the latest generation of their latest superminis, but because 2017's rules have allowed a great deal more freedom in powertrain and aerodynamics technology.
The visual changes are most immediately apparent - manufacturers have used an increase in front and rear overhangs to develop more aerodynamically efficient bumpers, while wide wheel arches and enormous spoilers have also been adopted by all teams. Rear diffuser design is less restricted too. The result is that the cars look more like Group B machines than those of previous years.
Under the skin there's been a bump in power, with the 1.6-litre engines now less restricted (the restrictor plate to the turbo is now 36mm, rather than 33mm) and capable of producing 380bhp - around 80bhp more than before. Electronic differentials are now permitted, as are active centre differentials. Throw in a 25kg weight reduction and the new cars are considerably faster than the old ones.
As far as teams are concerned, Citroen makes a return to the WRC after a few years of running under the DS banner. The DS3 makes way for the new C3 as a result. Hyundai has retained the i20 as its WRC car but now uses the latest Coupe model rather than a five-door car. Ford too will still be using its Fiesta, but once again the all-new model has been drafted in for WRC duties.
> Watch the Ariel Nomad go head-to-head with a Fiesta WRC car
Meanwhile, Toyota has re-entered the series after an 18-year absence - it last competed officially with the Corolla WRC back in 1999. Its entry this time is the Yaris, which is probably the most dramatic-looking of all, and Toyota has drafted in four-time WRC champion Tommi Mäkinen as team principal.
In WRC 2, Skoda will be aiming to defend its 2016 title with the Fabia R5, with competition from drivers in Fiestas, Citroen DS3s, Peugeot 208 T16s and Hyundai i20s. 208s, DS3s and Clios compete in WRC 3 - alongside crews using the Toyota GT86 R3 - while the Junior WRC (JWRC) class is comprised entirely of identical 230bhp DS3 R3-MAX cars.
It'll also be worth keeping an eye out for the occasional R-GT class car - not least the Abarth 124 Spider being campaigned in Monaco by French star Francois Delecour.
WRC 2017: The drivers
Things were looking grim for 2016 World Rally champ Sébastien Ogier and his teammate Jari-Matti Latvala in 2016, after Volkswagen's announcement that it would be leaving the sport for budgetary reasons.
Unsurprisingly, both drivers and their co-drivers were quickly snapped up by other teams - Ogier and Ingrassia have gone to Ford to partner the British duo of Elfyn Evans and Daniel Barritt and the Estonian Ott Tänak with co-driver Martin Järveoja. Latvala and co-driver Miikka Anttila have gone to Toyota, where they'll compete alongside fellow Finnish pairing Juho Hänninen and Kaj Lindström.
Citroen and Hyundai will field strong crews too. The former's lineup will remain as it was last year: Ireland's Craig Breen and British co-driver Scott Martin, French driver and co-driver pair Stéphane Lefebvre and Gabin Moreau, and Brit Kris Meeke with co-driver Paul Nagle from Ireland.
> Read: The day Kris Meeke scared us in a Citroen Dispatch van
Hyundai has also taken a stable approach to its driver lineup. Thierry Neuville (Belgium), Hayden Paddon (New Zealand) and Dani Sordo (Spain) are the drivers, respectively co-driven by Nicolas Gilsoul (Belgium, again), John Kennard (New Zealand, again) and Marc Marti (Spain, again).
It's hard not to imagine Ogier will be right at the top of the time sheets this year despite his new team, but 2016 second-place finisher Neuville and fourth-place man Paddon, staying with Hyundai, perhaps have the all-round package to make 2017 their year. Don't bet against Kris Meeke either - Citroen knows the WRC inside-out and Meeke's lowly 2016 placing was largely because he didn't contest the entire season.
WRC 2017: The events
As you can't have failed to notice, Rallye Monte-Carlo is imminent, and conditions this year are proving just as mixed as in previous years - crews have to contend with conditions as diverse as bone-dry tarmac to snow and ice, making tyre choice a complete lottery on some stages. Much of the rally's route has changed between 2016 and 2017 and teams will compete over around 40km of extra special stages this year.
From there the series moves on to Sweden in February, but it'll be Mexico in March, with its gravel surface (like the majority of WRC events) where we'll see the best indication of pace for the season ahead. Mexico too will feature changes, most notably losing the epic 80km Guanajuato stage that debuted in 2016 - and required some co-drivers to read over 100 pages of hand-written pacenotes.
2017's schedule is almost identical to that of 2016, but the Tour de Corse moves to an earlier spot in the season as round 4, rather than round 11. China, which was cancelled last year, has been dropped off the calendar entirely for 2017. The season will once again conclude with Rally Australia, which takes place in mid-November.
| | | | |
| --- | --- | --- | --- |
| Round | Rally | Date | Surface |
| 1 | Rallye Monte Carlo | 19-22 Jan | Asphalt/snow/ice |
| 2 | Rally Sweden | 10-12 Feb | Snow/ice |
| 3 | Rally Guanajuato México | 10-12 Mar | Gravel |
| 4 | Tour de Corse | 7-9 Apr | Asphalt |
| 5 | Rally Argentina | 28-30 Apr | Gravel |
| 6 | Rally de Portugal | 19-21 May | Gravel |
| 7 | Rally d'Italia Sardegna | 9-11 Jun | Gravel |
| 8 | Rally Poland | 30 Jun-2 Jul | Gravel |
| 9 | Rally Finland | 28-30 Jul | Gravel |
| 10 | Rallye Deutchland | 18-20 Aug | Asphalt |
| 11 | Rally Catalunya | 6-8 Oct | Asphalt/gravel |
| 12 | Wales Rally GB | 27-29 Oct | Gravel |
| 13 | Rally Australia | 17-19 Nov | Gravel |