Is there anything more satisfying, more reassuring, than seeing good guys succeed? It's been over a decade since I last caught up with Iain Litchfield, eponymous founder and owner of Litchfield Motors, and he's not changed a bit. OK, he's got a bit less hair and a couple of kids now, but the quiet, thoughtful and keen enthusiast is still never far from the surface.
The location and size of the company he started 21 years ago has changed. A decade ago it employed three people, and that included Iain and his wife, Jenny. Today, on the site of an old farm near Tewkesbury, Gloucestershire, Litchfield Motors employs 25 and inhabits a series of low, modern buildings fronted by a large gravel car park that today seems to be hosting the local chapter of the Nissan GT-R owners' club. There must be 40 GT-Rs here, and a glance inside the main workshop shows another eight or nine being worked on. This is a normal day.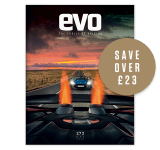 Subscribe to evo magazine
Subscribe today to have every issue of evo delivered straight to you. You'll SAVE 39% on the shop price, and get evo for its original cover price for a whole year!
> 2017 Nissan GT-R review - first impressions of Nissan's more grown up GT-R
In the last ten years, Litchfield has become one of the world's leading GT-R tuners, offering upgrades from entry-level, which lifts power to 600bhp and costs £1164, through its most popular upgrade, a 650bhp remap costing £4k, to the current project to build a 2000bhp motor based around Litchfield's own billet engine block. 'A thousand bhp is more than you can use. But, you know…' says Iain, smiling. All will be revealed on a tour of the impressive facilities, but first we need a shot of him with his latest project – the retuned, 296bhp Litchfield Alpine A110.
While GT-R work is half of Litchfield's business, it has diversified. Initially Iain thought GT-R servicing was going to be the business and Litchfield invested in Nissan diagnostic machines and employed master technicians from the dealer network so its work would be first-rate and maintain factory warranties. 'The first time I drove the GT-R I thought there was no point in tuning it,' recalls Iain with a chuckle. That side has steadily grown and grown, but Litchfield also tunes Audi RS6s, turbocharged BMW M-cars and now Porsches, too. In fact, Iain was probably one of the few enthusiasts excited by the 911's adoption of turbos! The Alpine continues this diversification, and such is Litchfield's reputation, a couple of dozen owners had their brand new A110s delivered to its workshops for conversion before they'd even driven them.
The story of Litchfield Motors (née Litchfield Imports) begins 21 years ago with another small, white, lightweight sports car. The 17-year-old Iain saw a feature in Performance Car on a V8-powered MX-5 from the US, the Monster Miata, though it wasn't the conversion but the low cost of the second-hand donor car that interested him. He was doing an A-level Business course at the time and used the idea of importing US MX-5s for his project. It gained him an A*, having been reviewed by professionals, including his local bank manager.
'If it's such a good idea,' thought Iain, 'why don't I do it?' 'So I went back to the bank manager. He just laughed,' says Iain. That wasn't the end of it, though. 'A week later I went back with my dad and asked for a loan, for my first car – a Citroën AX.' He got the loan, underwritten by his dad, and imported his first car.
'It was a total disaster. I ended up with a white, left-hand-drive automatic. Who wanted one of them? It took me ages to sell and left me £1000 out of pocket – a huge debt. I was mortified; I thought I was never going to recover from it.' The bit of luck he needed was provided by the shipping guy who delivered the MX-5. 'He said his cousin was shipping Japanese cars from New Zealand, right-hand-drive cars. So I bought a right-hand-drive MX-5. I'd sold it before it got here, bought another, then a friend wanted one and before I knew it, Litchfield Imports was up and running.
'Our big break was getting into Subarus,' recalls Iain. This was 2001 and he and Jenny had moved to Cheltenham to be at university. 'There was a limited supply of Imprezas. We could bring them in as personal imports, STi 3s and 4s. It paid our way through uni.' Litchfield also did Honda Integra Type Rs and sold 35 to 40 Forester STis and 30 to 40 Spec C STis.
'The Spec C was brilliant for us,' says Iain. Not just for the numbers, but because it set Litchfield on another path. 'evo loved the car, but you said the standard suspension was terrible. Coincidentally, I'd spent a couple of days with Martyn Anderson of Lotus dynamics on an Autocar job and he'd said, "If there's anything I can do…" So I rang up and asked if they'd look at the Spec C!
'We went over to Hethel and spent a day driving the car with Matt Becker and Gavan Kershaw. They were great and made loads of suggestions for how to improve its ride and handling. We sent them the dampers and they told us what the problem was, and that was the start of our suspension kit. They didn't want anything for it. They were amazing. I was blown away. It's my favourite thing now, suspension.' Jenny laughs like she can't believe it, recalling that, as a thank you, she sent them an HMV voucher each.
Litchfield had developed a 2.5-litre flat-four, and with this in the front and his bespoke suspension underneath, the first Litchfield model – the Type 25 – was born. It was a very fine thing and 35 were sold. It stepped on some toes, but eventually led to cooperation with Subaru UK: 'They said, "We'd rather have you pissing out of our tent than on our tent,"' laughs Iain.
The Type 25 allowed Litchfield to stand out in a crowded market: offering a bespoke car for the same money as regular imports. Then the GT-R came along. 'After I drove the GT-R I canned all my Subaru stuff,' Iain recalls. 'I was going to make a Type 25 version of the new STi hatchback and it was going to cost £40k, but I thought, why bother when for a few pounds more you can have a GT-R? Instead we put all the money into these premises and geared up for the GT-R.' It was a series of fortunate incidents that led to Litchfield getting into the GT-R.
The first was that Iain was at the 2007 Tokyo motor show to see the new Subaru STi hatchback when Nissan revealed the GT-R. 'They had a car sliced down the middle and I spent ages looking at it; they must have thought I was a right weirdo. Being geeky, I could see all the Subaru parts. I knew there was tuning potential there, but I didn't know it would be as good as it has been.'
The next lucky moment was meeting Aston Martin's engineers. They were keen to have a look at and a drive of the GT-R and as Litchfield had imported the first car into Europe (at the end of 2007), Iain was happy to oblige. 'They were amazed and bought one from us. A year later, we bought it back and I asked if they'd taken any data we might be able to use. They gave me everything, which was a lot. They'd fully instrumented the car and tested it at the Nürburgring, at 300kph on the autobahn, in town… They even had air flow through the cabin!' It was solid gold: 'When you know how the standard car performs, exactly, you can very easily check how hot things are getting after you start tuning it.' 
The third stroke of luck was that the GT-R proved recession-proof. 'The Subaru tuning work disappeared overnight, but GT-R business remained strong,' says Iain. 'There were Porsche and Ferrari owners who previously had changed their cars every year that were trading down to the GT-R and spending the spare money on tuning, some Subaru owners trading up, and all these new customers who'd seen the reviews and wanted a GT-R.
'It is the most tuneable car ever. Despite what they said at launch, there was no ECU security. The market got bigger and bigger, and we reinvested everything into the business – more workshop space, a bigger R&D department, fabrication, engine dyno, four-wheel-drive rolling road. Now we try to do as much as we can in-house.
'We tell everybody 800bhp is the sweet spot and anything over  is a waste of time, but everyone wants 1000 horsepower… It becomes exponentially expensive. We now do everything up to our 4.6-litre engines, which have a massive powerband.' The 2000bhp engine project is partly Iain indulging his passion for engineering once again. He loves working with engineering specialists and a project like this taps into the unparalleled expertise of small, dedicated UK engineering companies, many of which develop parts for Formula 1. 'Some of these firms love working on the kind of stuff we're making; with us, they get to use and share their skills and knowledge to help development.'
There are further plans for expansion and Iain intends to delegate more of the paperwork and worthy-but-dull stuff and get back to what he enjoys doing. 'I like speaking to the customers, overseeing development. I can't help meddling with everything 'cause I'm a control freak. Look,' he says, 'I've got six screens on my desk! On this one I can see if they're setting fire to the dyno!'
The GT-R is still Litchfield's core car. It produced the LM20 last year, a 666bhp special incorporating most of Litchfield's good stuff, to celebrate the firm's 20th anniversary. 'Nissan don't have many performance centres so we've found a big market in servicing; we have six GT-Rs a day going through our workshop for various work. The rest of the business is equal parts Audi, Porsche and BMW. Alpine is not going to be a massive market but if we can do three or four a week, service or tuning, that would be great.'
Driving the Litchfield A110 - does a power boost improve our eCoty 2018 runner-up?
There are many benefits of a lightweight car and the stock Alpine demonstrates most of them, from enhanced performance and economy to a lack of dynamic inertia and the option of a supple, lithe, long-travel ride. Up the engine output and the effects seem greater, too.
Litchfield's remap of the A110's 1.8-litre in-line four boosts power from 249 to 296bhp and torque from 236 to 290lb ft. Healthy gains, and their effect is enhanced by the Alpine's low 1103kg kerb weight; its power-to-weight goes from 229bhp per ton, which is a fraction better than the base Porsche Cayman's 225, to 273bhp per ton – more than that of the Cayman S (259).
Getting back into an A110 after not driving one for a while, you can't help being struck first by the lightness of its aluminium door and then the softness of its ride; the car seems to float over lumpy surfaces. From cold the Litchfield car displays a hint of hunt at idle but this quickly goes, and while loafing around, throttle response and pick-up are indistinguishable from standard. Then, when the engine is warmed up and there's a long straight in front, I pin the throttle. The A110 squats gently and takes off, the full-throttle push appreciably, excitingly more substantial, traction on the cold, soaking surface undefeated.
The Alpine is a car with light steering, a car that you have to learn to trust is gripping at the front, especially in the wet, so I'm a little wary of the throttle in corners initially. That soon changes. Traction and stability control off, out of junctions or tight corners, the A110 finds incredible traction, or simply spins an inside wheel. Safe, then. And when you add a bit of lateral G-force and exploit the power, its manners remain as refined as standard; the tail steps out and if you don't have the room, a quick lift halts the slide.
This Alpine feels much quicker than standard if you find the space to keep the throttle pinned for three or four (seamless) DCT upshifts. The longer you keep your right foot in, the faster the car feels. Where the standard car would be waning slightly, the Litchfield is still piling on the speed.
The upgrade costs just £1194, is squirted in through the OBD port so can be reversed in a few moments, and Litchfield honours the remainder of the factory warranty. What the conversion doesn't do is enhance the characterless sound of the engine. It's an aspect that Litchfield has looked at, but despite trying five different systems, so far it's not been able to improve its note.
'The turbocharger robs the engine of most of its sound character, and the huge back box is pretty much empty so there's not much to be done with that,' says Iain Litchfield. It will keep trying, though, as a revised, free-flowing exhaust is an element of the 316bhp 'Stage 2' conversion being worked on, which may bring a limited-slip diff and subtle suspension tweaks, too.