This year's Geneva motor show was an unusual one for car enthusiasts. At one end you had an astonishing selection of unbelievably powerful supercars and hypercars, and at the other, several manufacturers' interpretation of the future of urban transport.
Conspicuously absent was any real middle ground - the hot hatches and (inevitable convertible 911 aside) sports cars that get us excited, replaced only by a barrage of new SUVs masquerading as either sporty or green, and rarely achieving either.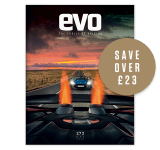 Subscribe to evo magazine
Subscribe today to have every issue of evo delivered straight to you. You'll SAVE 39% on the shop price, and get evo for its original cover price for a whole year!
> 2019 Geneva motor show: latest news
Something the show can at least be relied upon for are the more unusual exhibits that punctuate the more expected list from major manufacturers - and in this respect at least, Geneva was on top form.
Sbarro
Where else to start but with Switzerland's own mysterious and magical automaker, Sbarro. Previous Geneva show highlights have included a gull-winged Citroen Xsara Picasso, Renault Espace roadster and a Ferrari 308-powered hatchback called the Super Eight.
This year, it was the turn of the El-Richo - a kind of two-seater electric tuk-tuk - and the return of the Tracto-Sphere, which seats three in line and steers from a self-contained wheel in a ball at the front of the vehicle.
Thankfully, the Sbarro Espera design school had something more palatable on hand, following last year's beautiful Rush single-seater - a two-seat, front-engined and open-wheeled roadster reminiscent of early Indianapolis Speedway racers.
Lamborghini Centenario Trattori
You know, by now, that Lamborghini began as a tractor firm. Its wares often come up for sale on auction sites. But, unless you have an interest in tractors, you may not be overly interested.
The custom Centenario Trattori shown at Geneva might be enough to turn anyone into a tractorphile. Its 2.2-litre three-cylinder makes 38bhp, and top speed is quoted charmingly as "more than 25mph" which must rank fairly low on the all-time scale of "bang per buck" given the 250,000 euro (plus tax) asking price.
But it's genuinely stunning in the metal, with a proper hot-rod vibe, a diamond-encrusted pure gold ignition key, and the exclusivity of being one of only five in the world. You can't say that about the average Lamborghini road car.
Honda/IED Tomo
While Honda showed off its near-production e Prototype across the hall, design studio IED displayed a car inspired by the original Urban EV concept, Tomo.
The name is Japanese for "friend", and the car's design narrative includes a manga comic strip of a young designer and gardener named Coner who creates Tomo to aid with his mixed urban and rural lifestyle.
> Honda e Prototype previews forthcoming electric hatchback
All very weird, but the small (3997mm long, 1893mm wide and 1556mm tall) electric pickup is a joyful thing by virtue of its close resemblance to Honda's recent concepts alone.
Kyburz eRod
Electric power isn't just becoming popular with large OEMs, but smaller firms too, and it's not difficult to see why. Why bother sourcing an expensive, complicated powertrain from an existing automaker and attempting to make it fit in your chassis, when you can find an off-the-shelf motor and battery pack which provides greater performance?
Swiss firm Kyburz primarily builds small EVs for industry and local delivery companies, but at Geneva it presented a selection of cars aimed squarely at enthusiasts.
The Ariel Atom-style eRod and Nomad-style eRod Offroad are supplied in kit form. They aren't overly powerful at 60bhp, but when the road car weighs in at 600kg and the Offroad (so far just a concept) only 50kg more, the idea here is clearly low-speed thrills.
Fiat Centoventi
We've not given the Centoventi much coverage during Geneva as it's clearly not aimed at the average evo reader, but that doesn't mean we don't like it.
In fact, it was one of Geneva's highlights, previewing the company's next-generation Panda. Since that car's modern regeneration in 2003, and the follow-up in 2011, it's been among the most likeable small cars on the market. It's covered good ground too, being everything from a cheap city car for normal folk, to budget off-roader, and in 100HP form, one of the best tiny hot hatches of the last few decades.
> Fiat Panda 100HP - review, history, prices and specs
A 100HP version of the Centoventi (the name meaning 120, celebrating the brand's 120th year) would be a riot, but the concept is electric, with swappable battery packs offering up to 300 miles of range. But this car with Fiat's Twinair two-pot would be rather wonderful.
David Brown Mini Remastered
Makers of the classic Aston Martin-styled Speedback GT, David Brown, revealed its interpretation of the classic Mini last year, and brought three examples to Geneva.
While our money (upwards of £50k) would probably go on something built for the track by Goodwood stars Swiftune, it has to be said that David Brown's modernised Mini is still an appealing object in the metal.
The detailing is fabulous and the quality of the trim and paintwork very high indeed. Above all, it was a pleasure just to see the tiny Mini shape in Geneva - in the model's sixtieth year, it's still pretty much untouchable as an example of how great small cars can be.
Holy Spokes "Holy Star"
Not all of Geneva's stars were four-wheeled. One eye-catching exhibit not far from the Lamborghini tractor had only two - the Holy Star, by Swiss motorcycle shop Holy Spokes.
It would have value as an artistic piece alone, but what really caught our eye was its engine - a spectacular seven-cylinder radial unit designed for use in (presumably quite large) model aircraft.
It made for a beautiful and unique aesthetic, with a perfectly circular exhaust manifold and a large shift lever for the tiny transmission sitting between the engine and rear wheel.