New Ferrari Purosange announced – the SUV that's not an SUV
Ferrari maps out five-year plan: GTs and hybrids at the core, new V6 engine confirmed and a new mid-engined supercar
Ferrari has used its Capital Markets Day presentation to confirm its plans to produce an SUV, despite CEO Louis Camilleri abhorring the name and refusing to call it as such, claiming it will create a segment we haven't seen yet. With the working name "Purosangue", thoroughbred in English, it's scheduled to arrive at the end of the company's current product plan that runs to 2022.
In its first presentation since the passing of CEO Sergio Marchionne, the board outlined a product strategy that confirmed it is to introduce a new mid-rear-engined sports car that will sit above the 488 and have a 'higher performance than the LaFerrari'. It should give the 720S a run for its money. The current 488 will also be replaced before 2022 and will feature a new hybrid-powered V8 engine producing in the region 400bhp-per-litre, up from the 488 GTB's 190bhp-per-litre.
> Click here to read our review of the Ferrari 488 Pista
A new sports car architecture will allow Ferrari to offer to a wider spread of derivatives, expanding the product offering within its four pillars: sports car, Gran Turismo, Icona – its new bespoke service to build ultra low volume models, such as one which will be revealed later this evening – and hypercar.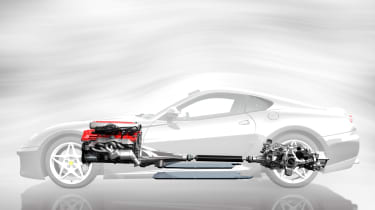 The 812 Superfast will continue to be developed and retain its V12 engine until at least 2022. By this time all Ferraris will be offered with a hybrid powertrain. No further details were forthcoming with regards to the new V6 engine architecture, other than confirmation it will feature soon in a new model similar in style the Portofino to offer a lower performance entry point for customers. When it came to the rumoured Dino resurrection, the board stonewalled any questions on the subject.
Regarding the new hypercar, while the technology for this model is currently in development a direct LaFerrari replacement won't be launched within this product cycle.
Instead the core of the strategy focuses on Ferrari's commitment to GT cars, an area it sees offering the greatest growth potential. Headed by new petrol-hybrid powertrains the next generation of GT cars will bring Ferrari back to its origins in terms of producing four-seater luxury cars to sit alongside its range of performance models. One of these new GT cars will be the aforementioned Purosange 'SUV', with the second to join the Portofino and GTC4 Lusso as range topping luxury performance car.