Ferrari 599 GTB Fiorano buying guide - Ferrari 599 buying checkpoints
These are the things you need to know about buying the Ferrari 599 GTB
Ferrari 599 GTB engine
Russell Smith, service manager at Ferrari specialist Bob Houghton Ltd, says the Tipo F140C engine is proving issue-free, but it's vital it's serviced meticulously. Maintenance is relatively straightforward in supercar terms, with timing chains rather than belts.
Bob Houghton Ltd charges £1200 for a basic annual service, with additional items according to the service schedule – the auxiliary drive belts are changed every three years, for example. Check that everything's been done on schedule and this magnificent V12 engine need hold few fears.
Ferrari 599 GTB transmission
The F1 gearbox is also fundamentally robust and reliable, but it's important the oil is changed on time – at the very latest at 37,000 miles, but every two years is recommended. Check for a smooth pullaway from stationary and crisp changes up and down the 'box; if it drops into neutral at any point there are expensive problems ahead.
Get a dealer or specialist with SD3 diagnostic equipment to check the percentage of clutch life remaining. Wear obviously depends on use; Russell recently changed a clutch at 30,000 miles and it's a £5000 job for parts and labour.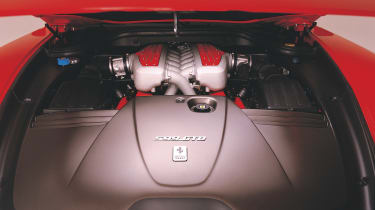 Ferrari 599 GTB suspension, steering & brakes
Ball-joints are one weak spot, and replacement costs around £500 per side, so listen for knocking noises on the test drive. Also check for leaking dampers – the Delphi MagneRide units cost more than £1500 each and can only be bought in pairs. Brake disc life can be checked with SD3 diagnostics.
Tyres are a significant expense (around £300 per rear tyre) but it's important the 599 wears the correct Ferrari-spec Pirelli P Zeros or Michelin Pilot Super Sports.
Ferrari 599 GTB body, interior & electrics
No serious corrosion issues, but check for the usual signs of accident damage. Also get the car on a ramp to inspect the undertray, while any shimmying through the steering and suspension might suggest an off-road excursion.
Fault messages are quite common, but can often be cleared by restarting the car (or turning the battery isolating switch off for a few minutes). If they remain, get the fault codes read to avoid big bills ahead. A few owners have reported cracks or crazing in the perspex rear quarter-lights (c£500 per side to replace them), so check their condition.
>Find Ferrari 599s for sale on Classic & Performance Car