Litchfield Type-25 v Caterham CSR 260 v Lotus Exige S v Radical SR3 1300 v Ariel Atom v Porsche Carrera GT v Ford GT v Ferrari Enzo v McLaren F1 - Ferrari Enzo
It's the 2nd half of Paul Bailey's £800,000 donation to our Bedford speed showdown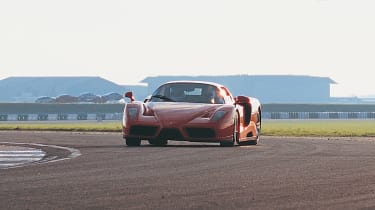 Who'd be Paul Bailey? 'Me!!!' I hear you cry. Okay, so it's hard to deny he's a jammy sod, but ask yourself this. Would you allow me to drive both of your prized supercars, worth a combined total of £800,000, flat-out at Bedford? Hmm, thought not.
So, you can imagine the scene on the pit-wall when, on the last of my flying laps, the Enzo kicks sideways at the best part of 100mph, and 'poor' Paul clutches his chest in what onlookers hope is a feigned seizure.
Inside the Enzo things are calmer. Yes, it's hairy (good job Paul didn't see his pride and joy snap into oversteer at a V-Box-recorded 105.3mph on the exit of the Palmer Curves), but it's also happier to adopt bigger angles of slide than the tidier but less forgiving Porsche. If you're comfortable with oversteer (and don't own the car), it's the more enjoyable to hustle.
Like the Porsche, the brakes are awesome, but the paddle-shift transmission feels hesitant in a post-599 Fiorano world, and the high-speed oversteer makes you wonder about the Enzo's much-vaunted underfloor aerodynamics. Even so, it's a tough call to make a subjective decision on whether the Porsche or Ferrari is quickest, for it's hard to gauge whether nudging towards the Carrera GT's limits leaves more time untapped than you waste in the process of exceeding the limits in the Enzo.
By displaying a best of 1.21.30 for the Ferrari, the V-Box hands honours dispassionately to Stuttgart.
Specifications
| | |
| --- | --- |
| Layout | Mid engine, rear-wheel drive |
| Engine | V12, 5998cc |
| Max power | 650bhp @ 7800rpm |
| Max torque | 485lb ft @ 4000rpm |
| Weight | 1365kg |
| Power/weight | 484bhp/ton |
| 0-60mph | 3.5sec |
| Max speed | 217mph (claimed) |
| Price when new | c£450,000 |