This week at evo: NSX, Ford GT, Mini JCW, Abarth 695 Biposto and more
A look at the most exciting things from the world of evo this week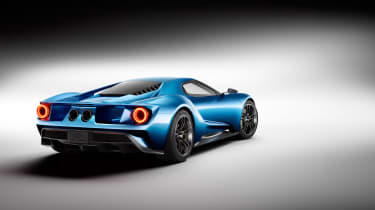 The Detroit Auto Show helped make for a very exciting start to 2015 for evo. Alongside a production ready NSX, Ford lifted the lid on its GT concept, both two cars we had been waiting a long time to see.
But that was only the start, with Henry Catchpole's video review of the 695 Biposto, an in depth look at the new Mini John Cooper works and even more between, evo.co.uk had plenty to get stuck into.
Below is our favourite from evo this week.
Ford GT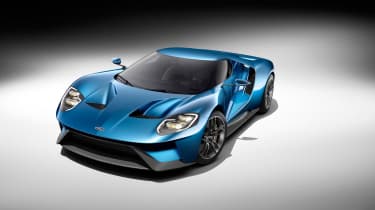 The Ford GT pretty much dominated the show in Detroit. No one quite expected it to look the way it did, despite the obvious nods to the iconic GT40.
Above all else, it has possibly the best looking rear three quarter view of any supercar we've ever seen. The huge flying butresses and rear light design both made their way into our favourite features from the Detroit show published earlier this week.
>Read: Evo's favourite features spotted at the Detroit Auto Show
Right now, the Ford GT is still in concept form, although Ford has hinted that it isn't far off what we will see in production. Power comes, amazingly, from a 3.5-litre twin turbo EcoBoost V6 rather than a V8.
Perhaps most exciting of all about the new Ford GT however is that it's almost confirmed that it will be featuring in the 2016 24 Le Mans 24 hours.
>Read: 2016 Ford GT - Everything you need to know
Honda NSX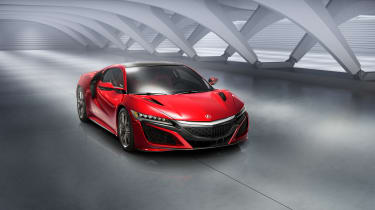 Finally, after years of teasing, Honda unveiled the final production ready version of the NSX. A technical marvel, it features a hugely complex power train that sees a 9 speed dual clutch gearbox mated to a hybrid petrol and electric twin turbo V6.
>Read: Honda NSX - Everything you need to know
Two electric motors drive the front wheels, while a single electric motor is linked directly to the engine. Honda has kept the performance figures of the NSX a secret, but you can be almost certain they will match the Ford GT like for like.
Abarth 696 Biposto
Evo's Henry Catchpole took the hottest Abarth available for some track and road fun in this week's video.
Mini John Cooper Works
The JCW version of the Cooper has always been the most 'evo' of all the Minis. Now it has been unveiled in final production ready form at the Detroit motor show.
Featuring plentiful unique styling features, as well beefed up performance, it's likely going to be the Mini of choice if you're interested in going fast.
We spent quite a long time with the JCW while at Detroit and have put together this handy comparison article of the new Cooper and the Cooper S, should you be thinking about holding out for one.
>Read: Mini JCW vs Cooper S
BMW 3.0 CSL IMSA
With wheels as wide as they are tall, and a paint job to die for, this beautiful touring-prepped CSL is a highlight of Detroit.
The talking points really are the details, which you can enjoy for yourself in this gallery of the 3.0 CSL below.
>Read: BMW 3.0 CSL IMSA - in pictures
New BMW 1 Series
A new look for BMW's entry level model can only really mean one thing - an updated M135i. Interior fixes, new kindey grilles and LED headlights all make for another step towards the 1 series being a little easier on the eye.
>Read: BMW 1 Series range revised