Next Ford Focus RS officially dead
Europe's increasingly stringent emissions regulations have forced Ford to kill off the next-generation Focus RS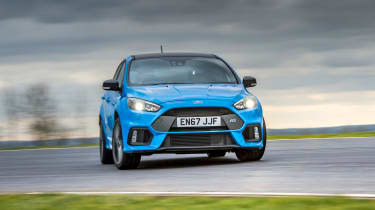 Ford Europe has officially confirmed it will not develop a fourth-generation Focus RS, bringing the model and indeed the RS badge, to a close. Ford has said the increased engineering costs associated with developing a new Focus RS have now become impossible to justify given the low-volume nature of the model.
It was previously confirmed that in order to conform to both new EU emissions standards, and keep the fleet average below 95g/km, Ford would need to engineer an electrified powertrain in the next Focus RS, whether that be of mild-hybridisation or a plug-in system of more substance.
Ford has already invested a large amount into the development of efficiency-biased hybrid powertrains that will be used in its smaller EU-focused models such as the Focus, Kuga and new Puma SUV, but its application in a new generation of Focus RS has proved too far a stretch, insinuating the need for a larger-scale development of new tech, with a larger budget.
All three previous generations of Focus RS models featured some form of specialised engineering, pushing it to the extreme of hot hatchback for the time. Technology, such as the Quaife locking front differential in the Mk1, detached wheel hubs in the Mk2, or the Mk3's torque vectoring rear differential and drift mode all represented a huge outlay in development costs for what in all three instances were extremely low-volume models.
Ford isn't the only European hot hatchback manufacturer feeling the pressure from the EU's new emission standards either, with Peugeot also acknowledging it will need to employ some form of electrification on its next-generation 208 GTi to pass emissions laws, which have become especially stringent in France.
Ford has confirmed its ongoing commitment to its Ford Performance sub-brand though, which includes the current Fiesta ST, Focus ST, Mustang and Raptor Ranger, so don't expect these models to be taken off-sale any time soon. But for many fans, the loss of the RS Focus is not just the cancellation of a hot hatchback to come, but also the end of an RS dynasty, for now.
Click on the links below for our reviews on all the Focus RS models through the years