2019 Ford Fiesta ST Performance Edition review - did the best just get better?
Ford's already brilliant Fiesta ST has been given some choice upgrades and a familiar new livery, but is the Performance Edition worth the extra cost?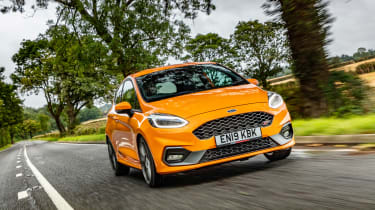 1/8
You won't have trouble spotting a new Ford Fiesta ST Performance Edition when the first cars hit the road in September. With a coat of Deep Orange paintwork and a set of grey ten-spoke wheels, it's probably the least subtle hot Fiesta so far.
We're fans of the standard ST already – so will the Performance Edition, just 600 of which will be made, justify its four-grand-plus premium over the ST-3 trim line?
Engine, transmission and 0-60 time
In terms of outright performance, you're unlikely to see where your extra cash has gone. Power comes from the same 1.5-litre, three-cylinder turbocharged engine as in every other ST. To be fair, that's hardly a bad thing – not only does the three-pot burble along characterfully, but it's still capable of developing 197bhp at 6000rpm, and puts out 214lb ft from only 1600rpm.
> Click here to read our review of the previous generation Ford Fiesta ST
Power is sent to the front wheels alone through a six-speed manual transmission, and in Performance Edition form, the optional Quaife limited-slip differential is standard, as are launch control and shift light indicators. Make use of everything Ford gives you and a 6.5sec 0-62mph time and 144mph top speed are there for the taking.
Technical highlights
The Performance Edition is effectively a Fiesta ST-3 with Ford's performance pack as standard, and a few toys on top of that.
So you get that Quaife limited-slip differential, launch control and shift lights (usually £925 with the performance pack), and the ST-3's standard navigation, TFT instrument display, LED headlights and reversing camera.
> Click here for our review of the Ford Fiesta ST200
Unique to the Performance Edition is the orange paintwork, plus a set of 18-inch, ten-spoke alloy wheels that both look more tasteful than the ST's standard rims, and save a total of 7kg over the regular wheels. Additionally, the special edition gets adjustable Ford Performance coilover suspension, with 12 clicks of bump and 16 clicks of rebound. It's also 15mm lower at the front and 10mm lower at the rear than the regular ST.
What's it like to drive?
The Performance Edition changes aren't transformative, but they're worthwhile if only for one factor: the ride quality.
The latest ST, like its predecessor, can be rather firm on occasion. While this delivers great body control and precision on smooth roads, bumpier surfaces begin to knock the car around, deflecting it from its line and reducing traction as the tyres struggle to follow a road's contours. At a more relaxed pace, it can be a bit annoying when you're pottering around town or commuting on broken A-roads, too.
> Click here for our list of the best hot hatchbacks
With the Performance Edition, the chassis still feels very taut, but the busy feel and occasional harshness seems to have reduced quite significantly – the damping feels, for want of a better word, 'expensive', checking bumps quietly and competently. We're guessing this is more down to the new suspension than it is the lower unsprung weight of those alloy wheels, but whatever it is, the ST is about as liveable as it's ever been.
That's not at the expense of thrills, either. The steering is ultra-quick – perhaps too quick just off the straight ahead, meaning you have to push quite hard before you feel like you're really taxing the chassis. Grip levels are high, even on the wet roads of our drive (and undoubtedly aided by the Quaife diff), and the chassis still agile and nicely balanced.
Throw in a growling exhaust note, boisterous and responsive performance from the three-pot, a swift gearshift and powerful brakes, and the rest of the ST's qualities are as strong as ever.
Price and rivals
Performance Edition pricing comes in at £26,495, or more than £4000 more expensive than a basic ST-3 – and somewhat steep next to the headline-grabbing £19,495 of the entry-level ST-1.
With so few true competitors on the market, that price also means you're more likely to cross-shop the ST with cars from the class above than the more similarly sized Polo GTI (£21,660) or Suzuki Swift Sport (£18,499). We'd be tempted by Hyundai's i30 N – 248bhp, greater practicality, and a hugely talented chassis for its £25,995.