New 296bhp petrol engine introduced across Jaguar range
2-litre 4-cylinder from the F-Type will make its mark on the XE, XF and F-Pace ranges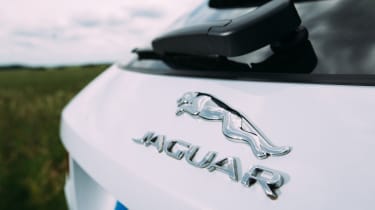 With public opinion on diesel still on the frosty side, manufacturers are introducing more petrol options across their ranges. Jaguar's latest addition to this stable is a new, 2-litre turbocharged petrol, which will be available on three new models – the XE, XF, and F-Pace SUV.
The 2-litre, 4-cylinder turbo offers a power output of 296bhp and 295lb ft of torque. The same unit recently made its debut in the Jaguar F-Type and it's now heading to the remainder of Jag's range, where it sits just underneath the V6-powered S models.
> Jaguar XE SV Project 8 confirmed for production
In the XE, the powerful engine offers decent performance – a 0-62mph sprint of 5.5 seconds sits neatly in between the 5.9 seconds on offer from a BMW 330i, and the 4.9s of a 340i. The heavier XF only sacrifices a little, with a 0-62mph time of 5.6 seconds – again, slotting between its 530i and 540i rivals from BMW.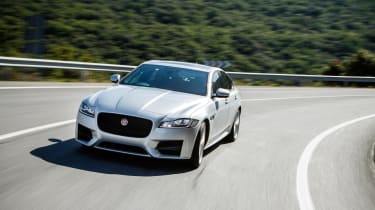 In the F-Pace, 0-62mph takes six seconds dead. There are no equivalent BMW X3 or Mercedes GLC petrols to compare that with, but it stacks up pretty favourably over the 6.2s of a 2.0-litre TFSI Audi Q5, and doesn't embarrass itself next to the 5.4 seconds of a petrol Porsche Macan S.
The engine comes mated exclusively to the smooth, eight-speed ZF gearbox in all three cars. New for this model year is Jaguar's Configurable Dynamics tech, allowing drivers to alter gearbox, throttle and steering settings. There's also a raft of new safety kit.
Jaguar touts the efficiency of the new engine and gearbox combo, too. For those who are interested, the numbers are 41.5mpg for the XE, 40mpg for the XF, and 37mpg in the bulky F-Pace. 
> Jaguar F-Type gains four-cylinder engine option
Any other advantages? Certainly, the noise isn't likely to be anything to shout about because although Jaguar promised a fine-tuned exhaust when launching this engine in the F-Type, there are no such promises for the models included in this further roll-out. Expect it to sound less characterful than the V6-powered S models as a result, but the lightweight engine could compliment the fine handling already on offer from these models. We'll have to wait for a drive to find out the full story.