It's sometimes said that working at evo is like working in a sweet shop. With a rich supply of tasty machinery doing time on the Fast Fleet, not to mention all the short-term test cars we get to sample each month, that's hardly surprising. Sometimes, though, you crave something really special, which is why, back in October 2004, I did something motoring journalists aren't noted for: I spent my own money on a car.
My weakness for the Lotus Exige S2 was exposed in June 2004, when we conducted our first test of the car, pitting it against Noble's M400, Porsche's GT3 RS and Ferrari's 360 Challenge Stradale (evo 068). It was, as I'm sure you can imagine, a cracker of a group test, and while I fantasised about the day when I'd own an example of the test-winning 911, it struck me that a new Exige was within financial reach. I placed my order soon after.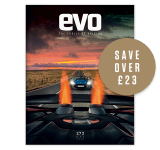 Subscribe to evo magazine
Subscribe today to have every issue of evo delivered straight to you. You'll SAVE 39% on the shop price, and get evo for its original cover price for a whole year!
Having previously commissioned the lightest Caterham ever built - a track-focused, Fireblade-engined, 369kg flyweight - only to cover just 1200 miles in it before selling it, I wanted my next car to be genuinely useable in all weathers, capable of covering hundreds of motorway miles without the need for protective clothing and post-traumatic counselling. But it also had to excel on track. The Exige fitted the bill on all fronts, and came with the added bonus of mini-exotic styling and a mid-engined layout, plus the reliability offered by a bombproof Toyota drivetrain. I also loved the idea of owning a Lotus; the brand holds enduring appeal for me, having grown up lusting after Essex-liveried Esprit Turbos and idolising Ayrton Senna.
Collecting the car from Hethel was a great moment, as was returning a month or so later for it to have its first service and a raspier Stage 2 Lotus Sport exhaust fitted.
To preserve the Exige's lurid Krypton Green paint (a £1010 option), I treated the virginal car to an Autoglym LifeShine treatment (which left the Lotus glistening and made it an absolute cinch to wash thereafter) and then wrapped the nose and sills in VentureShield protective film, which acted like an invisible and impervious bulletproof vest.
I bought the Exige as an indulgence rather than a car that needed to serve as everyday transport, but when tasked with a more humdrum drive, say to the evo office, with a Waitrose stop on the way home, it proved surprisingly useable, even swallowing half-a-dozen shopping bags in the boot. Opting for air-conditioning was expensive (£1295), but added to the car's practicality, keeping the screen mist-free in winter and taking the sting out of the prodigious cockpit heat in the summer.
Highlight of my time with the Lotus was a trip to the Nürburgring in April 2005. RMA's excellent two-day event provided the perfect opportunity for me to enjoy the car's ability to slice through large chunks of France, Belgium and Germany without causing too much discomfort, before shining on the toughest and most challenging race track there is.
Just before that trip I'd got Lotus Sport to fit their Öhlins two-way adjustable suspension kit (along with some Pagid brake pads and race fluid), which sharpened the already keen chassis to near race-car levels of grip and precision. The beauty of adjustable dampers is that you can return your car to a more compliant set-up when using it on the road, but I have to confess that once switched to their track settings I never fiddled with them, as though undeniably stiff, I enjoyed the added sense of connection. At £2500 the Öhlins kit was a significant expense, but one that took the Exige to another dimension on track.
AU54 FNM was also used for evo's 2005 Road & Track Car of the Year test (081), where it finished fourth overall. It managed to shake its exhaust loose in the process (easily fixed), and it also finished off the Yokohama A048 tyres, so a new set was fitted at 5000 miles, restoring the Exige's exceptional dynamics to full health. The £600 bill was one of just two incurred for maintenance, the other being £275 for the 7500-mile service, which was actually carried out after one year's driving.
Now, having just sold the car to new Lotus dealership Lipscomb of Maidstone, I'm left with an empty garage and the horrible thought that, with the trackday season in full swing, perhaps I've done the wrong thing. To be honest, if it wasn't for the spectre of the new Exige S further denting my toy's residual value, I'd probably have hung on to it until the autumn. But, with some unforgettable memories stored for posterity, I know it's the right time to say goodbye to the best car I've ever owned, and the most covetable Fast Fleeter I've ever run.
Running Costs
| | |
| --- | --- |
| Date acquired | October 2004 |
| Total mileage | 6401 |
| Duration of test | 18 months |
| Average MPG | 28.2mpg |
| Servicing costs | £275 |
| Consumables | £599.25 (set of four Yokohama A048 tyres) |
| Extra costs | £1010 (Krypton Green paint), £1295 (air-conditioning), £1795 (Performance Pack) |
| Price new | £34,095 |
| Trade in value | £24,500 |
| Depreciation | £9595 |