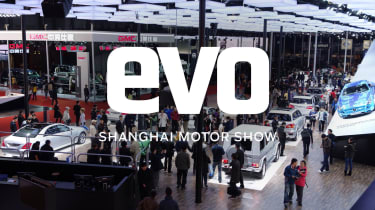 China's motor shows grow bigger every year, keeping pace not only with a growing car industry but also the importance of the Chinese market to American, European and other Far-Eastern car manufacturers.
Alternating each year with the Beijing motor show, for 2017 it's Shanghai's turn. Most of the major manufacturers now exhibit in Shanghai, though domestic marques are taking greater and greater priority every year - not least because Chinese car firms and investment groups hold ever greater sway outside the country.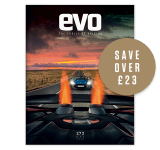 Subscribe to evo magazine
Subscribe today to have every issue of evo delivered straight to you. You'll SAVE 39% on the shop price, and get evo for its original cover price for a whole year!
> Read about 2015's Shanghai motor show here
evo is reporting live from the show floor at the 2017 event so keep an eye on this page for the latest news as it happens.
When is the 2017 Shanghai motor show?
Auto Shanghai 2017, or the Shanghai International Automobile Industry Exhibition, is open to the public between April 21 and April 28, 2017 - though April 19-20 are the official press days, so that's when the majority of the show's exhibits will first be revealed.
Where is the 2017 Shanghai motor show?
Since 2015 the Shanghai motor show has been held at the National Centre for Exhibition and Convention. Chances are you probably won't be visiting yourself (unless of course you're reading this from China), but it's easily accessible from the adjacent Shanghai Hongqiao International Airport.
2017 Shanghai motor show - key cars
Audi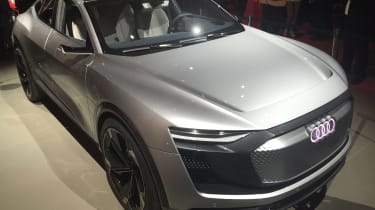 Audi has still yet to put its first EV on sale, but that hasn't stopped it from giving us a glimpse of the second car in the company's three-strong EV offensive due before 2020. This new Audi e-tron concept has been confirmed for production in 2019, after the larger e-tron Quattro is launched in 2018. 
Click here for more on the Audi e-tron Sportback
Based off the same MLB platform that underpins the Q7 SUV rather than the smaller MEB electric platform Volkswagen has developed from scratch, the e-tron Sportback will appeal to those who are after a bit more style than versatility from their electric SUV.
Under the slinky bodywork sits three electric motors – two on the front axle and one on the rear – that combined develop 429bhp and up to 590 ft lbs of torque. A boost function can raise power temporarily to 496bhp for 10-second bursts, and help the e-tron hit 62mph in 4.5 seconds.
BMW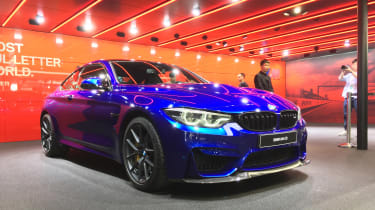 One of few manufacturers (so far) not to be pushing a new crossover or SUV in Shanghai, BMW has something a little more exciting in the form of a hotter version of its M4 sports coupe, named the M4 CS.
> Read more about the M4 CS here
The car sits between the standard M4 and the M4 GTS, and features many of the latter car's motorsport-inspired touches in a slightly less hardcore package. A plethora of lightweight components, reworked suspension and a power boost for the engine improve performance too.
Citroen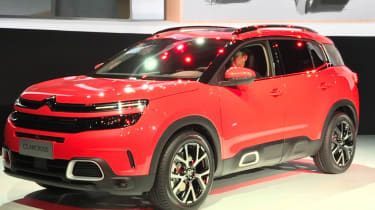 At 2015's Shanghai show, Citroen showed off a crossover concept dubbed Aircross – and here is the production car it spawned. 
Dubbed C5 Aircross, the family sized SUV will take over from the slow selling C5 saloon, a move being echoed across the industry, as buyers look for family cars with a little more versatility.
Not offering the option of Citroen's trademark hydro-pneumatic suspension, the C5 Aircross will instead introduce a new suspension system, effectively replacing the rubber bumpstops with hydraulically actuated cushions, a new technology with over 20 patents attached to it that Citroen insists was at the core of the C5 Aircross' development.
Interestingly, a 300bhp hybrid version will also be launched, featuring PSA's second-generation plug-in electric/petrol hybrid system, which is claimed to be good for a 37-mile electric range. European buyers will have to wait a while for the new C5 Aircross though, with sales in the UK not commencing until the second half of 2018.  
Lynk & Co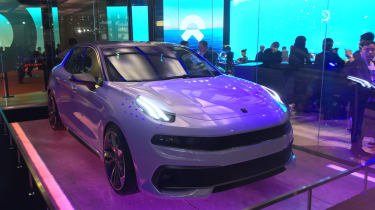 You might not have heard of Lynk & Co - it hasn't really been on evo's radar so far - but you may well have heard of Geely Automotive, the Chinese manufacturer that owns both Volvo and the London Taxi Company.
A bi-product of Geely's investment into Volvo, Lynk & Co is the all-new car brand which Geely hopes will not only revolutionise in-car connectivity, but also the buying and ownership model. After the Concept 01 SUV revealed last year, this Concept 03 is a saloon based on the same Volvo derived platform and drivetrain. 
> Read about the Lynk & Co 03 concept
Sharing its platform and drivetrain options with the upcoming XC40, the Concept 03 Saloon is the second go we have seen giving us a clear idea of upcoming models. Depsite the 'Concept' tag, the 03 looks close to production ready, with details like production spec wing mirrors and door handles clearly visable.
McLaren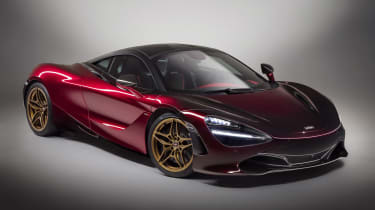 We've already seen the McLaren 720S (virtually everywhere, it seems) but it'll be appearing again in Shanghai, in what McLaren is describing as 'a never-before-seen Saros specification'. We're not entirely sure what that means, but there'll also be a 570GT on display in a specification tailored to the Chinese market.
> Full preview of the McLaren 720S
The British supercar firm will also go into detail on its performance in the all-important Chinese market at the Shanghai show - a market that firms such as Ferrari and Lamborghini are already putting heavy emphasis on. We're not expecting the announcement of a new SUV, but we're guessing McLaren sees plenty of potential in China.
Mercedes
Mercedes-Benz Concept A Sedan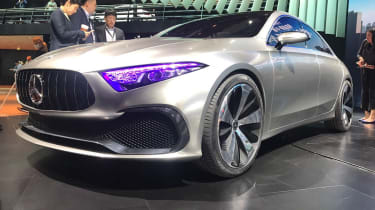 In a game of cat and mouse, alongside the constant proliferation of SUV's at the Shanghai motor show, Mercedes-Benz has shown off its Concept A Sedan to prove the three-box automobile is not entirely dead - yet.
An obvious look ahead at the upcoming 2018 A-Class, the Concept A Sedan also gives us a clue into Mercedes-Benz future family of small cars, with this concept being confirmed as a desired body-style for the upcoming 2018 A-Class.
> Read about the Mercedes-Benz Concept A Sedan here
This could point towards the next generation CLA being more coupe than saloon when it is reinvented towards the end of this decade, and more in tune with the upcoming CLS which should envision Mercedes-Benz' next generation four-door coupe design language.
Destined to run an all-new chassis, the Concept Sedan A is longer, but taller and narrower than the current A-Class, reiterating Mercedes-Benz' desire to improve the next A-Class' versatility. 
Mercedes-Benz S-Class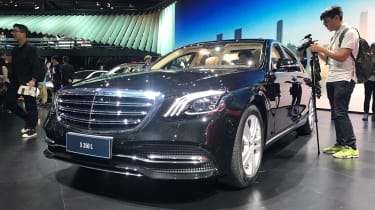 Alongside the upcoming baby Mercedes-Benz saloon, Shanghai is also the launch place of the updated S-class flagship. Set to go on sale in July of this year, the 2017 facelift will upgrade the S-Class with industry leading tech, styling more in line with the rest of the Mercedes-Benz range and even more raw ability to indulge its occupants like few other cars.
> Read more about the updated Mercedes S-class here
Aside from a subtle nip and tuck on the styling front, the new S-Class will also reintroduce a long awaited family of straight-six engines, with a new 335bhp diesel dubbed S 400d, the first hit dealerships. Elsewhere, Mercedes-Benz' 4.0-litre bi turbo V8 will filter out amongst the S560 and S63 AMG models, while a whole line up of other straight-six petrol and hybrid options will also be rolled out in time.
The S-Class will also be the first Mercedes-Benz to make use of a 48-Volt electrical system and particulate filters on petrol-powered models. Inside, trim and infotainment upgrades have been made, including dropping those huge 12.3-inch screens behind a single sheet of glass like the smaller E-Class.
MG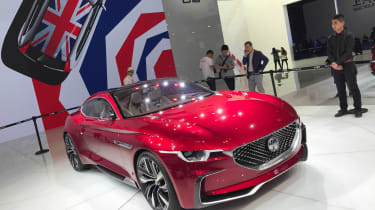 MG has shown off its first attempt at developing an all-new sports car since the Chinese bought what was left of the British marque back in 2005. Of course rather than an old K-series under the hood, the E-Vision is electric, and shows the brand's vision for the future of MG sports cars. 
With a sleek two-door coupe body, the E-Vision is still a world away from its classic British roadster namesake, but it does give us a clue into the future of MG design to be spread amongst its current, albeit limited production car range in the UK. 
> Click here for more information on the MG E-Vision
MG says the E-Vision will manage 0-62mph in under four seconds, with an all electric range of over 300 miles. Although the prospect of an all-new MG sports car will likely excite a very passionate fan base, we don't expect to see the E-Vision on UK roads anytime soon.
Mini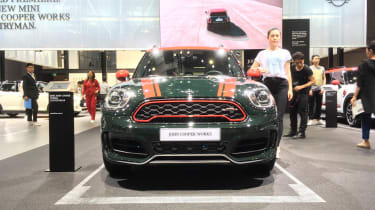 Shanghai serves as the launch venue for the most potent version of Mini's Countryman, in the form of the Mini John Cooper Works Countryman. Revealed earlier this year, the JCW Countryman uses the same 2-litre turbocharged four as other JCWs, making 228bhp and getting to 62mph in 6.5sec.
> Read more about the Mini John Cooper Works Countryman here
There are chassis improvements too, naturally sending power to all four wheels and using adjustable dampers to sharpen up the JCW's handling. Unusually for such a car, a manual gearbox is still available.
Skoda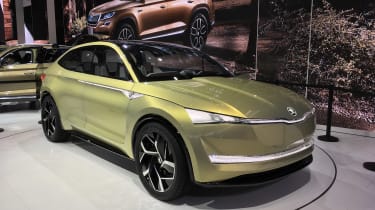 Yet another of the VW Group's electric SUVs at the Shanghai motor show, the Vision E is Skoda's turn at the bourgeoning niche, finally revealing the concept after numerous teasers.
>Read more about the Skoda Vision E here
As expected, the Vision E is a looking glass into the future of Skoda design, something that looks increasingly well resolved and distinctive to the Czech brand. Based on VW's MEB electric platform, the Vision E is powered by two electric motors offering a combined total of 302bhp and an electric range of up to 310 miles.
Add to all this Skoda's first real go at autonomous driving capability and its display at a contemporary motor show such as Shanghai, this is proof of Skoda's intent on being a real voice in the future of mainstream car manufacturing. The Vision E will likely top Skoda's electric car range, with hybridised versions of existing model lines to supplement Skoda's electric car ambitions.
Volkswagen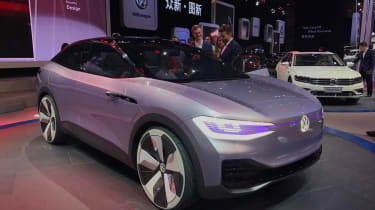 Volkswagen – not one to be outdone by its 'lesser' siblings – has decided to bring the third of its I.D. concept cars to Shanghai. Called the I.D. Crozz concept, it is meant to, yet again, preview the future of VW's all-electric autonomous cars we should see from the beginning of the next decade. 
In the form of a mid-sized SUV, the I.D. Crozz Concept should offer the same interior accommodation as the Tiguan, but wrapped up in a more aggressively designed body. Based on the same MEB platform as the Skoda Vision E and the other I.D concepts, the Crozz is claimed to be capable of around 310 miles on a single charge, deployed through electric motors mounted on each axle.
> Read more about the I.D. Crozz here
Featuring similar design elements as seen on the hatch and people carrier I.D. concepts revealed over the last 18 months, the Crozz supplements this with puffed up wheel arches and a bluff nose to give the SUV a bit more road presence.
We are likely to see the production I.D. Crozz sometime after 2020, with a price comparable to a high spec Volkswagen Tiguan.
VLF Automotive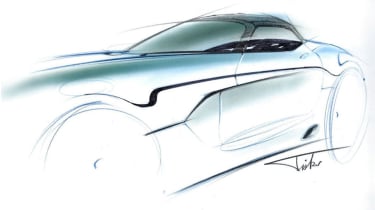 Not a Chinese firm, but an American one: VLF Automotive has Henrik Fisker and Bob Lutz behind it, and true to names most often associated with performance cars and enormous American brands, its Shanghai offering will be a powerful roadster.
> Read more about the VLF Force 10 Roadster here
It's based on the Dodge Viper, and uses the Viper's 8.4-litre V10 - with 745bhp and 638lb ft, high performance is a given. The styling shouldn't come as too much of a shock either, since it's effectively a roadster version of the Force 10 supercar unveiled last year.