If the Tokyo motor show is where Japanese manufacturers get a chance to go a little crazy, January's Tokyo Auto Salon is where the aftermarket takes the idea and runs with it.
Like America's SEMA show, Tokyo Auto Salon is where Japan's tuning firms present their wares for the year, and we're given a glimpse into the next year or two of aftermarket trends. Increasingly, it's also an opportunity for major carmakers to present vehicles that might otherwise be lost among the new metal at a major show, and an arena where official factory accessories can be demonstrated to best effect.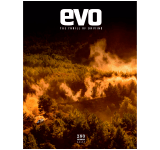 Subscribe to evo magazine
Subscribe today to have every issue of evo delivered straight to you. You'll SAVE 39% on the shop price, and get evo for its original cover price for a whole year!
> Click here for all the latest from CES in Las Vegas
Below is a snapshot of what you can expect to see at this year's Auto Salon, which takes place in the Makuhari Messe in Chiba, across the bay from Tokyo on January 12, 13 and 14.
Tokyo Auto Salon 2018 highlights by brand
Daihatsu
Daihatsu has work to do to top its Tokyo Auto Salon offerings from the last year or two, which included shooting brake and coupe versions of the cute Copen kei sports car, and predictably this year's lineup of tall-boy people-movers aren't quite as appealing.
Most intriguing are the oddly-named Sporza versions of the e:S and Mira hatchbacks - about as close as Daihatsu gets to a hot hatch (at least, in the vein of other kei-class hot hatches like the Suzuki Alto Works). We're hoping one of Japan's aftermarket tuners tackles them (and the Copen) with a little more verve.
Ford
In the past, an American manufacturer would have been a rare sight at a Japanese tuner car show, but Tokyo Auto Salon has become a much more international event in recent years and domestic brands are beginning to tackle imported makes. Such as this completely barmy take on an already barmy car.
Built by bodykit manufacturer Pandem - a brand closely related to Rocket Bunny, known for its wide-body takes on every supercar under the sun - the vehicle is based on the Ford F-150 Raptor, but trades the Raptor's normal offroad ability for a much lower stance. It looks like it'd get stuck on a particularly gnarly speedbump, let alone offroad terrain, but this unusual fusion of American ingredients and Japanese cooking seems oddly appealing.
Honda
Two cars grab our attention from Honda's Tokyo Auto Salon offerings. One is the new NSX GT3, which was announced back in July 2017 and looks absolutely spectacular. The entire body is made from carbonfibre and Honda's show car leaves this exposed so you can truly appreciate it, and there's an awful lot of the stuff inside too.
The GT3 car deviates further from the production NSX in dropping both its hybrid system and its driven front wheels, leaving just the twin-turbocharged V6 sending power to the rear. The gearbox is different too, an Xtrac six-speed sequential rather than the road car's nine-speed DCT. The cost is around the £415,000 mark.
Honda's other TAS offering (we'll ignore the chintzed-up CR-V Custom concept) is a Modulo-badged S660. A bodykit gives the tiny sports car a little more attitude, while five-stage adjustable dampers let owners tweak the car for Japan's twisting touge routes. No power tweaks are mentioned - for that you'll have to turn to one of the many other firms offering S660 improvements.
Nissan
Among a host of glitzed-up Notes, Serenas and X-Trails wearing Autech and Nismo badging, two cars stand out in Nissan's Tokyo Auto Salon offerings.
The first is the Nissan Fairlady Z Heritage Edition, celebrating 50 years of the Z badge (albeit early - the original 240Z/Fairlady Z appeared in 1969). The car has already been shown to an American audience and is functionally identical to the regular Nissan 370Z (a car that almost feels like it's been around since 1969), but the yellow and black colour scheme harks back to a similar combo offered on the original.
Nissan's other nugget of interest is the Leaf Grand Touring. A Leaf? Interesting? Well, potentially - we drove the regular car during the Tokyo Motor Show and there was plenty to like about the drivetrain. All it really needed were some styling tweaks and a tighter chassis - two things the Autech-tweaked Grand Touring seems to offer, though full details will be revealed at the show. The concept of a hot hatch-style electric car is rather intriguing.
Subaru
The Subaru Viziv Performance Concept was one of the highlights of an otherwise slightly barren Tokyo motor show for car enthusiasts. If Lamborghini decided to make a family hatchback rather than dabbling with SUVs, the Viziv is pretty much how it would look, with dramatic creases in the bodywork and box arches like an old Group B car.
At Tokyo Auto Salon, Subaru will show an STI-fettled version of the car, dubbed Subaru Viziv Performance STI Concept. Details are slim at the moment, but the image shows a car much like that revealed previously in Tokyo, adorned with flashes of STI magenta around the grille, front splitter and side skirts, and on the side plates of the rear wing.
STI Performance variants of the Levorg estate and the BRZ sports car will also make an appearance, along with a WRX STI Nurburgring racer and a striking GT300-spec BRZ.
Suzuki
Suzuki never fails to present some of the most joyful and unusual vehicles at its home shows, and TAS 2018 will continue that theme. Kicking things off is a mildly tweaked Swift Sport, its colour scheme influenced by the GSX-S1000 superbike that'll be presented alongside it.
Naturally, there are a bevy of tiny cars set to go on display too. Front and centre is the XBee (pronounced Cross-Bee) Winter Adventure, which is smaller in person than it looks in pictures but not small enough to be one of Japan's kei-jidosha minicars. As the name suggests, it's a winter sports-themed crossover, but looks much more likeable than such a term would lead you to believe.
A range of genuine kei cars, including takes on the neat little Alto Works micro-hot hatch, will make up Suzuki's 12-strong lineup.
Toyota
Toyota might have the most exciting car being presented at the 2018 Tokyo Auto Salon. The GR Super Sport Concept (GR being Gazoo Racing, also responsible for the new Yaris GRMN hot hatch) looks like a cross between a supercar and a full Le Mans prototype, but Toyota itself has tweeted that the car would be a road car if it makes production.
Beyond that, few details are known, so we'll find out more when the show opens. The Yaris GRMN itself is sure to make an appearance, while a factory Modellista body kit will make an appearance on the new Toyota Crown - the fifteenth iteration of Toyota's luxury saloon line, revealed at the Tokyo motor show last year.