SEMA - the Specialty Equipment Market Association - holds a show every November in Las Vegas, at which the great and the good of the worldwide automotive tuning and accessories industry present their wares.
This year's SEMA show is now upon us and as usual, it's turning out a rather wild, often weird and occasionally wonderful selection of vehicles, with many of the major car manufacturers taking part too in an effort to carry favour with the huge global tuning industry and its fans.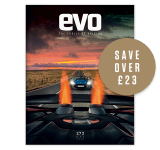 Subscribe to evo magazine
Subscribe today to have every issue of evo delivered straight to you. You'll SAVE 39% on the shop price, and get evo for its original cover price for a whole year!
> Click here for our favourite foreign cars
While the big car launches are still left to traditional motor shows, SEMA is a good indication as to some of the crazier ideas floating around in carmakers' heads...
The cars of SEMA 2017
Acura
The Honda NSX isn't actually a Japanese car, but an American one - and its badging in America as the Acura NSX is one of the giveaways. And it's Acura that's teamed up with ScienceOfSpeed from Arizona to create the Acura NSX Dream Project.
There's a power upgrade - to 602bhp, with 687Nm of torque - as well as forged alloy wheels and a more planted stance thanks to a suspension drop. To help clear obstacles in daily driving though, the front can lift by up to 51mm. It's definitely added a little more presence to Honda's supercar, making it look a little more like the NSX GT3 - also at SEMA.
Audi
No need for aftermarket tuning companies on Audi's SEMA stand, thanks in no small part to the aggressive TT Clubsport Turbo Concept. Based on the Audi TT-RS - and packing the same 2.5-litre five-cylinder engine - it's got performance to match the Audi R8 V10 Plus.
How much? 592bhp, with a 0-62mph time of 3.6 seconds and a top speed of 193mph. The pumped-up bodywork is apparently inspired by the Audi 80 IMSA GTO racers of the 1980s, and while the TT's 5.5-inch wider body isn't quite as broad as those IMSA cars, it's a pretty good look.
BMW
BMW loves its anniversary models recently - we've had "30 Jahre" versions of both the M5 and M3 over the past few years, and even a 100-year jubilee edition of the 7-series to celebrate BMW's centenary. Now it's BMW of America's turn with a BMW M3 30 Years American Edition.
Celebrating… well, you can probably guess, the new anniversary car features frozen red paintwork and gold alloy wheels. An acquired taste on its own, before you even consider the red, white and blue interior treatment. BMW's production new M5, also on display in SEMA, is slightly more tasteful.
Chevrolet
Chevrolet is apparently celebrating 50 years of partnership with diecast car purveyors Hot Wheels, and at SEMA there's a new Camaro to match - the Camaro Hot Wheels 50th Anniversary Edition.
You probably couldn't fit that badge on a Hot Wheels car itself but there's enough space on the real thing. Customers can, for an extra $4995, order a Camaro or Camaro SS in either coupe or convertible form in a special shade of orange. There's a pair of graphite grey stripes down the bonnet (or should that be gray stripes on the hood?), as well as 20-inch forged alloy wheels, and Hot Wheels badging.
Ford
Ford has pulled out all the stops with its aluminium-bodied F-Series pickup at SEMA. There are no fewer than eight different modified examples, based on several different variants and with different aims - from rock-crawlers, to overland expedition vehicles, to low-riding hot-rodded models, and trophy trucks.
The lineup doesn't stop there - from the small Ecosport crossover, to seven Mustangs (one of which is capable of 200mph) to a rally-themed Focus RS and an ST with a drone on top, there are almost as many Fords at SEMA as the other cars put together.
Hennessey
Hennessey, a company not known for its subtlety, is reinforcing stereotypes at SEMA with the VelociRaptor 6x6. It's best to think of this one in stages: At the bottom you have the (already fairly crazy) Ford F-150 Raptor. Then you have Hennessey's tuned VelociRaptor. Then you have that car with an extra axle at the back.
And, true to form, the VelociRaptor is also highly tuned, developing more than 600bhp thanks to twin turbochargers, as well as featuring upgraded suspension with 20-inch wheels and Toyo off-road tyres. An LED light bar improves visibility and gives onlookers even fewer excuses for not spotting it.
Honda
Crate engines - literally entire working power units shipped in crates, ready to drop into a car of your choice - are big business in the United States. And in a sea of V8 options (including a Hellcat motor from Mopar, also revealed at SEMA) is Honda, who now offers its 306bhp turbocharged four-pot from the current Civic Type R.
For about $6520, you could in theory drop it into almost anything - though Honda is restricting it (for now at least) to grassroots racers who are part of the Honda Racing Line programme. So you won't be dropping it into your Jazz just yet, unless you have plans to take that Jazz racing.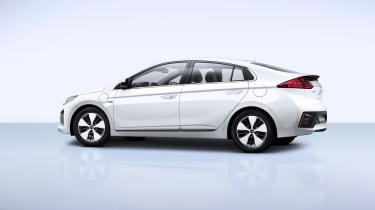 Hyundai
It's an interesting mix at SEMA for Hyundai. At one end is the turbocharged Hyundai Elantra Sport - similar to the i30 sold in the UK - developed with Blood Type Racing, with a dramatic body kit hiding methanol injection, a new exhaust, intercooler and intake.
At the other is the HyperEconiq Ioniq, where Bisimoto - normally known for its huge-power builds - has further improved the economy of Hyundai's hybrid Ioniq by changing the exhaust, uprating the oil and spark plugs and adding carbonfibre wheels and rear wheel skirts for almost 100mpg.
Kia
We like the new Kia Stinger GT-S - it's a solid four-star evo car, with a strong mix of performance, handling and refinement. Things don't remain standard for long at SEMA though, and renowned Californian modification firm West Coast Customs has already delivered its take.
It's wider thanks to a body kit and lower too, with a 35mm front and 30mm rear drop over 21-inch wheels, and there's a smattering of carbonfibre. Does it do anything? Probably not, but this one's all about looks. Also on Kia's stand is the Stinger GT Federation, a bright orange wonder with a subtler bodykit, 20-inch wheels, Eibach springs and a Borla quad-exit exhaust.
Lexus
The new Lexus LC is, arguably, a car that doesn't need much visual alteration. It could be the best-looking car Lexus has ever produced, and it's dramatic enough in the metal that it'd be a struggle to modify it without detracting from what's already there. Not half bad to drive, either.
Or just ignore all of that and promote the upcoming Marvel movie Black Panther, by taking an LC500 and paint it in a swirly custom blue scheme with comic book-related graphics and give its wide body kit blue underglow lighting (it's not still 2001, is it?). The Lexus LC500 Inspiration series car, in "Structural Blue" paintwork, is thankfully much more appealing.
Toyota
Toyota's Qashqai-rivalling crossover the C-HR is actually fairly decent to drive, but if it's got a strong demerit it's the lack of power from its 1.8-litre hybrid and 1.2-litre turbocharged powertrains. The C-HR R-Tuned… does not have that problem.
In fact, it packs a 2.4-litre four-cylinder turbocharged unit (twice the capacity of the current turbo car) making a ludicrous 592bhp. Thankfully, there are also chassis modifications, with DG-Spec Motion Control suspension, motorsport-spec dampers, and enormous Brembo brakes. Toyota's even taken it to Willow Springs to set a hot lap - with a 1:25.22, it's quicker than a Lamborghini Aventador LP750-4 SV.