evo Car of the Decade
50 contenders, one winner: we hand the evo Car of the Decade vote over to you
Over the past two weeks we've been narrowing down the 50 best cars of the last decade down to ten, via polls on the evo Community. We now have your top ten – the car you've voted as the best from each year's evo Car of the Year competition – ready to slug it out for the eCotd title. Below are links to the shortlists from each year, with evo content on each car, while at the bottom of the page is a gallery of the ten finalists to peruse and then pick your favourite. Click here to vote (requires a log in to the Community and a quick scroll to the bottom of the page). And don't forget the evo Forum, where you can share your feelings on the cars that have mattered over the last ten years.
evo Car of the Decade 2000 - Winner Vauxhall VX220 (29%)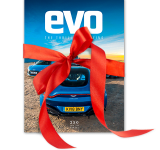 Subscribe to evo magazine
If you're passionate about the world's greatest performance cars, experience the thrill of driving with evo magazine. Try your first 5 issues for £5.
evo Car of the Decade 2001 - Winner Pagani Zonda C12 S (75%)
evo Car of the Decade 2002 - Winner Honda NSX-R (56%)