Nissan 350Z buying guide
The reborn Z-car had old-school character but thoroughly modern build quality. Today, just £5500 could get you into a good one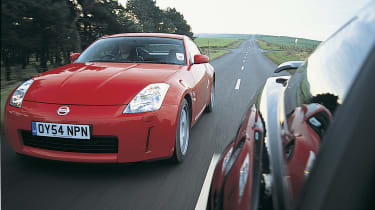 Ever considered how easy it would have been for Nissan to produce a very different 350Z? After all, mass-market carmakers normally take a far more well-trodden path to creating a (relatively) mass-market two-door. Re-shell an existing saloon or hatchback, leave it with a zingy, high-revving four-cylinder motor because it's already there and is cheap, and keep it front‑wheel drive for the same reason. Give it four or five seats to expand its appeal to the college kids market in the US, heaps of trim options to cover all bases, and safe if predictable handling. Job done.
Instead, some proper car guys got the 350Z gig – as they do occasionally, and mass-market sensibilities be damned. So the Zed got evocative, bespoke bodywork, just the two seats, rear-wheel drive and a 3.5-litre V6 knocking out 276bhp. Goodly ingredients for a real sports coupe. Yet, on their own, not quite enough for greatness.
> More: Read our full review of the Nissan 370Z Nismo
What's remarkable about the 350Z is that the car guys were allowed to do justice to the project. Rather than the V6 being rich and silky and refined, it was loud and gargling and snarly, the way sports cars used to be. The six-speed gearbox's shift could have slid delicately and effortlessly around the gate; instead it required real heft, while the lever vibrated and zizzed in the old-fashioned way. Nissan's engineers were perfectly capable of giving the Zed all the grip of a Velcro factory, yet they opted to sacrifice lateral G bragging rights for a chassis that slid and drifted and entertained in well-balanced fashion.
The hairy-chested, vaguely uncouth yet hugely desirable sports car made a welcome entrance to the UK market in 2003 – a year after its Stateside debut. Priced at £24,000, it undercut established coupes such as the Audi TT, and even if its ultimate lack of finesse meant that it didn't win every group test in which it was entered, no drive in the Zed was without a smile.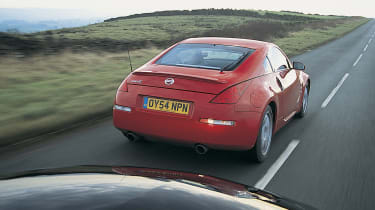 For the British market, the 350Z line-up was wonderfully simple. Either a base model with the engine, the alloys and the bad attitude, or for two and a half grand more, the GT, replete with electric leather seats, cruise control, a Bose sound system and cruise control. And that's the way things stayed until March 2005 when the Roadster arrived; it too had just thetwo trim options, and added £1000-1500 to the price of the respective coupe models.
In June '05, Nissan launched the limited-edition – just 176 units – GT4 (as in the Gran Turismo PlayStation game), also known as the 35th Anniversary (of the original 240Z). Available in black or yellow, this model also bore the distinction of a 20bhp power boost thanks to revised pistons and camshafts and remapped exhaust-valve timing. In 2006 all Zeds would get the upgrade, together with a package of interior enhancements.
A year later and the 3.5-litre V6 underwent major re-engineering, with about 80 per cent of it new and the power rising again, to 309bhp. This engine is known as the HR, for High Response (its predecessor was the DE), and sitting slightly taller it required the introduction of a modest bonnet bulge.
> Also read: Should I keep my Nissan 370Z?
Hero though the Zed may be, prices of early cars with high mileage are now as low as £3000-£4000, though you can expect some work to bring those cars up to a nice standard. £5000 seems a much more common starting point for early cars with under 100k miles, though many are imports.
£5000-£7000 will bag a car with similar miles – possibly lower in some cases – but a UK history. Japanese imports – badged as Fairlady, Version T, Lux or merely described as JDM (for Japanese Domestic Market) – are barely any cheaper these days and lack UK-specific suspension settings and some items of trim, so you can afford to pass them by. If ever you thought you should try a Zed, right now really is the time to do it.
All remain a conspicuous bargain against the car that replaced the 350Z, the larger-engined 370Z. Those are still going for more than £10k in most cases and typically more than £13,000.
'I bought one'
Stewart McIntosh – Aberdeen-based Stewart bought his Azure Blue 350Z back in July 2006, and although a new job means he doesn't drive it as much as he used to, his enthusiasm for the Nissan is undiminished.
'I'd hoped to buy a friend's identical car a year earlier, but a mortgage took priority. I wanted rear-wheel drive combined with good power and torque. The Zed ticked all the boxes. I test- drove most of the competitors, but none came close.
'It's proved very easy to live with and reasonably cheap to run, giving 25-28mpg on a commute, 30-plus on a run. Other than wear and tear items, nothing has gone wrong. And despite that big rear strut-brace, the boot is very accommodating.
'Now I have an office job that's not so far from home, I don't use the Zed on a daily basis. But I prefer it that all my miles in the car – about 6000 annually – are fun miles, which you don't get with a regular commute. I've found that by using it less, I appreciate it more. But I do drive all over the country for 350Z club meets and once a year do a big tour through the Highlands.'
Find Nissan 350Zs for sale on Classic and Performance Car