Regular readers will know I've become a massive fan of the latest-generation Z-car. I reckon it's one of the greatest affordable performance cars of the last ten years and, judging by the continuing waiting lists for new ones, a lot of you agree. But it's far from perfect and we experienced more than a few niggling problems. We ran OV53 YPA for exactly a year, clocked up 26,000 miles, including some truly epic journeys, and this is its story, warts and all.
OV53 arrived in December 2003, already run-in by Nissan's press garage. It was a slightly unusual spec, being the basic £24,000 coupe with the optional-extra Rays forged alloys (an extra £1000), but with the big-hitting Bose stereo that usually goes with the GT Pack. In Azure blue, and even without the Nismo bodykit that would be added later, it looked pretty special. Over the coming months it would never cease to amaze me just how much attention the Z would attract. Honestly, nothing short of a Ferrari swivels more heads. At one French service station, people were actually posing to have their picture taken in front of it.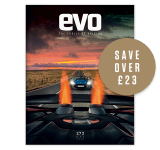 Subscribe to evo magazine
Subscribe today to have every issue of evo delivered straight to you. You'll SAVE 39% on the shop price, and get evo for its original cover price for a whole year!
I was mightily chuffed to be made custodian of the Z. After a succession of perfectly serviceable but slightly ho-hum estates, it was quite a buzz to pocket the keys to something that was designed so selfishly around the driver - pure two-seater coupe (none of your 2+2 nonsense here), big normally aspirated engine up front, drive to the rear wheels through a beefy six-speed manual box, and a general demeanour of good old-fashioned hairy-arsedness. To get a handle on its character, imagine a modern take on a classic Brit sports car - Austin Healey or TR6 (or indeed 240Z) - rather than your typical fizzy, tech-fest Jap sports car (or indeed 300ZX). Factor-in an almost Porsche-like sense of togetherness and sortedness and you're very close.
At first it felt like there was too much engineered-in 'character'. All the controls, but the steering and gearshift in particular, felt gratuitously heavy - and then there was the famous 'tingle' through the gearstick, which you learn is a characteristic rather than a fault - but in time they just gelled with the solid shove from the 276bhp 3.5-litre quad-cam V6 and the muscularly composed ride. The car felt cohesive, with a personality all its own.
The biggest bugbear was the tyre rumble, seemingly amplified by the open rear luggage deck. It became almost laughably loud on coarse surfaces, and at other times sounded exactly like a wheel bearing on its way out. This proved not to be the case. Meanwhile several owners wrote from the States to say there had been a suspension geometry problem on US cars which was leading to the feathering of the inside edges of the front tyres, though OV53's boots seemed to wear evenly.
Several months later, after a most enjoyable morning exploring the Z's appetite for donuts (considerable) at a practice day for the OPT Drift Club, the original Bridgestone Potenza RE040s were ripe for replacement and we decided to try some Michelin Pilot Sports (original equipment in other markets) to see if the rumble would diminish. It did, slightly, and the switch also seemed to knock a few sharp edges off the ride, but the payback was rather less outright grip, particularly on damp roads.
Not that this was the end of the world. Even with the electronic stability and traction control system switched in, the 350Z had a tendency to wiggle its hips before the power was (rather abruptly) cut; with the system disarmed the Nissan was as much sideways entertainment as you felt you could handle. But for overall performance I think we'd have gone back to Potenzas for the next set, even though the Michelins outlasted the Bridgestones by 3000 miles.
Mechanically, the 350Z felt unburstable. The big V6, loosely based on a US-market Infinity saloon engine but with continuously variable valve timing and four valves per cylinder, became noticeably livelier as the miles piled on; by around 7000 miles it was pulling with a keenness not found in low-mileage examples. It used a couple of litres of oil between services and consistently returned 25mpg.
OV53 wasn't without the odd niggling fault though. There was a squeak from the driver's seat under cornering loads and the occasional creak from around the rear hatch aperture. One of the robot arms which was supposed to shoot out and squirt the headlamps packed up. And near the end the driver's side electric window developed an intermittent fault, which on one occasion left the window in the down position for an entire journey.
Our local dealer, Camden Nissan of Northampton, made a decent fist of evicting the gremlins. Although the over-riding impression was of an operation geared to Micras and Primeras rather than a specialist sports car, servicing costs were very reasonable (£114.22 at 10,000 miles, just £70.55 at 20,000) and the car was always returned gleaming.
Several owners reported similar niggling faults to the ones we experienced. Jeremy Conlon was typical. While living in the States he bought a 2003 car, which after about 3000 miles developed a rumbling noise which he was certain was a wheel bearing problem. The dealer initially refused to accept that there was any unusual noise but, when Jeremy persisted, finally agreed that there were problems. Two new front tyres and wheel re-alignment under warranty seemed to improve things though the tyre roar never completely disappeared.
Jeremy was also visited by the electrical gremlins. The Bose CD player started to skip, there was a mystery rattle from around the passenger airbag, and the driver's electric window failed.
None of OV53's niggles was enough to spoil our relationship, though. In fact the longer I kept it, the more I appreciated not just its ability but its soulfulness, even after Nissan UK had fitted the Nismo bodykit (loved the deeper front spoiler; didn't mind the side-skirts; hated the Porsche-wannabee rear wing). Much more to my liking was the DC Sports exhaust system, fitted by ABP Motorsport of Crewe. With ceramic three-branch headers and a stainless cat-back system, it looked terrific, gave a tangible improvement in the V6's breathing with keener pick-up (DC Sports claim more than 20 extra bhp), added some real bombast to the soundtrack and, at around £1500, seemed good value.
The miles continued to rack up at a prodigious rate. Brett Fraser took the Z to the south of France for an advertising shoot and though he reckoned that the engine felt it had more to give, overall he was hugely impressed, not least by the Brembo brakes, which proved strong even on the mountain passes.
Fraser clocked up 2000 miles in less than a week. Lightweight! Real drivers clock up that sort of mileage in a day. Or at least that's what it felt like when Andy Morgan and I drove the Nissan back from Estoril in Portugal. The photogenic Z-car had been in demand again, this time to feature in the TV ads for the PS2 game, Gran Turismo 4, and it was our task to bring it home. On that sort of trip you often form a bond with a car, and so it proved with OV53. Pausing only for fuel every three hours, we clocked up over 1500 miles in a little over 24 hours. Our only beef was with the lack of cabin stowage spaces for our maps, phones and water bottles. The Z was swift and secure, comfortable and long-legged, while the unpromisingly shaped rear deck proved capacious.
Northern Spain was spectacular, the roads memorable. And on one long and deserted stretch of autoroute, late at night, I couldn't resist the temptation to wring OV53 right out. I watched the speedo climb from 110 to 140 with real vigour, then slowly edge up to 150 and finally to just over 155 as traffic began to loom. Call it a genuine 150. A few weeks earlier, in another Z, I'd passengered with road test ed Bovingdon as we lapped Millbrook's banked bowl at a true 151mph. On both occasions the Z-car felt rock-steady.
There's nothing tricky about the 350Z. It's got the engine and the driving wheels in the right places; it's a driver's car without obvious compromises; it's loaded with character; it's everyday-usable but it feels special every single time you drive it. Ours wasn't perfect, but nothing serious went wrong in 26,000 miles. And I'm missing it like mad.
Running Costs
| | |
| --- | --- |
| Date acquired | December 2003 |
| Total mileage | 26,621 |
| Duration of test | 12 months |
| Average MPG | 24.5mpg |
| Servicing costs | £184.77 |
| Consumables | £1703 (two sets of tyres), £21 (2.5 litres of oil) |
| Extra costs | £2500 (Nismo body kit), |
| Price new | £25,000 |
| Trade in value | £22,000 |
| Depreciation | £3000 |