Nissan 370Z
We set a lap time around the West Circuit at the Bedford Autodrome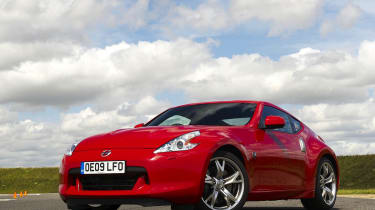 A trip to the Bedford Autodrome's West Circuit seemed long overdue for the 370Z, as amazingly we have never set a lap time in one. It's always interesting when you roll up your sleeves, try to adopt a semi-serious face and pit yourself against the clock, because you never really know how a car is going to react in extremis. It might feel blinding yet set a slow time, or be brilliant on the road but useless on track. You can speculate all you like, but until you download the data from the VBOX it's always a bit of a mystery where you'll qualify on the big, eclectic evo grid.
I'd had fun finding the lock-stops in the wet last month (which is where these photos are from), but on the evening I strapped the timing gear to the Zed it was warm and dry, and the difference couldn't have been more marked. The first corner you come to out of the pits is a hairpin, and the sheer amount of grip on the exit was a big surprise. Where the old 350Z would roll almost lazily into oversteer, the 370Z's shorter wheelbase and firmer springs kept everything firmly in check. The rear simply hooked up and shoved the car out of the corner, hardly sliding at all.
The overall sense as the lap progressed was one of prodigious grip and a chassis working the Bridgestones extremely hard. If anything it's the 370's front end where the grip needs careful management. The V6-laden nose feels a little reluctant to turn in, and with such unimpeachable grip at the rear you have to be patient, because getting on the power will simply push the headlights wider of an apex instead of swinging the tail round (as it had in the wet).
The Synchro rev-matching system worked as brilliantly as always, smoothing out the entry into every corner and allowing you to focus your right foot entirely on getting the most out of the middle pedal. The Nissan would be a very friendly car to take to a trackday.
After three laps the brakes and front tyres had given their best, so it was time to see what the data-logger had recorded. An impressive 1.28.7 was the answer – 1.3sec quicker than the 350Z. The 103.7mph peak speed was nothing extraordinary (101.4mph for the 350Z), showing that it was mostly in the corners not on the straights that it made its time. A lap worth waiting for.
Running Costs
| | |
| --- | --- |
| Date acquired | July 2009 |
| Total mileage | 13659 |
| Mileage this month | 1211 |
| MPG this month | 24.8 |