I'm going to do a girly thing and talk about colour. I like red – always have. I had some red wellingtons when I was about three and I think they kicked it all off, so to speak. It's certainly the reason I liked Ferraris from an early age. But it's got to be the right red – not too pink, not too burgundy, definitely not too orange – and I confess to having one or two moments of doubt before my 370Z rocked up last July. Happily, the Vibrant Red on Nissan's (slightly limited) colour chart turns out to be a very good red and the 370 looked stunning in it.
Apart from the paint, I'd chosen the GT Pack, which, for an extra £3300, gives you full leather, a six CD changer with eight Bose speakers, cruise control and, perhaps most importantly, Synchro Rev Control, of which more later. I also specced the optional sat-nav for an extra £1550 (although that seems like an extravagance when the best TomTom costs a third of that), bringing the total to £33,350. That is obviously a lot to spend on a car but, despite being loaded with options, it is still £5000 cheaper than an un-box-ticked BMW Z4 35iS, and over £12,000 less expensive than a plain-Jane Cayman S.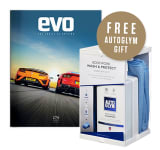 Subscribe to evo magazine
Subscribe today to our exclusive new offer and SAVE 39% on the shop price, get evo for its original cover price of £3.00 an issue, plus get a FREE gift worth £20!
A measly 252 miles had passed under the Nissan's Bridgestones when it first rolled into evo's car park and so the first few miles were taken frustratingly steadily and softly. Fortunately for me they were driven by Ollie Marriage, as I was on holiday and his magpie-like nature meant he couldn't resist the shiny new metal. His self-imposed, mechanically friendly 3000rpm rev-limit meant he also netted the car's most frugal fuel figures – 28.1mpg compared with the more regular 25mpg.
These are clearly not great numbers, and with the Zed demanding an octane rating of 98 or above, petrol stations started to look frightening. The vast 72-litre fuel tank was a mixed blessing, as it stretched the range but also meant a full fill would leave you watching the ever-growing numbers ticking round for what could seem like hours.
I'm a big fan of keyless entry systems (probably because they save me digging out keyfobs from the schoolboy-like clutter of my pockets, spilling change and potentially useful bits of string all over the car park) and the 370's worked brilliantly. Once inside, it was all a big improvement over the old 350Z, starting with the thinner steering wheel rim. Patches of Alcantara throughout the cabin also added to the reassuringly cosy feeling you got when the door thunked shut, and I loved the design of the big dial for the sat-nav.
It wasn't all great, though. The seating position was never a perfect fit whoever was driving (something that I suspect was largely down to the lack of reach adjustment for the steering wheel), road noise used to vie much too closely with the radio on motorways, and as much as there were nice details there were also some, like the clunky heated seat switches, that I recognised from our old Navara pick-up. A certain ruggedness can be good, however, and the interior did wear very well, looking as good at 14,000 miles as it did at 252.
Externally the Zed proved a little less rugged, as the soft paint on the big nose picked up chips so easily that I started wondering if flies were getting tougher. The gorgeous but eminently kerbable Rays alloys thankfully remained unmarked. I stretched the life of the rear tyres to 10,000 miles but regretted doing so when it started snowing early one morning on the A34 and I needed to climb Ilsley hill. Limited-slip diff locked and curious Brake Limited Slip Diff cutting in randomly, we scaled the incline slowly and completely sideways whilst being passed in the white-flecked dark by bullying lorries.
By and large, though, the Zed was actually more fun when the road turned slippery. The big tyres and huge mechanical grip meant that in the dry the car was strangely unadjustable. In the damp, however, things got much more interesting. Although the combination of strong grip and a short wheelbase meant the limit of traction was breached fairly abruptly, once the tail was swinging you could control it easily – there was bags of steering lock and you always felt like you could lean into the slide rather than that it was going to run away from you. The 370 is not the natural, lazy oversteerer that the 350 was, but it's huge fun if you get a damp track to play on. Conversely, on a dry track you will set a decent lap time, but it will be the front tyres that get worked harder than the rears.
And talk of tyres leads me only slightly obtusely to practicality. Open the boot lid (which, incidentally, never seemed to come away cleanly – always getting snagged on the lock if you didn't press the button and lift the lid at the same time) and you were presented with a huge rear deck big enough to take two fat rear tyres (or a bicycle). This improvement over the old 350Z was made possible by the repositioning of the rear strut brace to behind the seats. It's a welcome novelty for a two-seater sports car to be able to carry bags that aren't squashy and could last you more than a weekend. Cake both possessed and consumed.
Synchro Rev Control, the system that heel and toes for you, was perhaps the most intriguing feature of the 370Z. It is an uncannily clever idea, but I wondered if I would find it robbed me of some enjoyment once the novelty receded. No, is the answer. The shifts never ceased to amaze me, and because the 3.7-litre V6 isn't the most freely revving engine it felt ponderous if you switched the system off and did it yourself.
Running Costs
| | |
| --- | --- |
| Date acquired | July 2009 |
| Total mileage | 14670 |
| Duration of test | 10 months |
| Average MPG | 25.0 |
| Servicing costs | £119 |
| Consumables | £18 Oil, £800 tyres |
| Price new | £33,350 |
| Trade in value | £27,000 |
| Depreciation | £6350 |