'I'll reserve the right to have one of Miki Biasion's Martini-liveried Delta HF Integrales'
Meaden's thought up a new twist for the classic three car garage game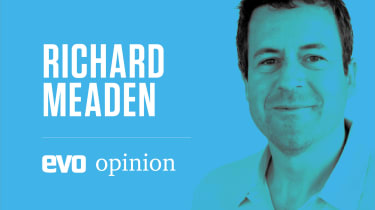 One of my favourite ways to waste time has long been the fabled Three Car Garage game – a kind of fantasy spread bet where you indulge in a bit of escapism by coming up with a list of cars you would like to own.
It's a fiendishly tricky game to perfect. One made a little easier if you apply a few guidelines to help you navigate the otherwise limitless number of cars from which to choose.
Naturally those parameters can have a major bearing on your end list. Though clearly, if you're allowed to choose the criteria for your own list then you inevitably steer yourself towards a predictable outcome.
> Best cars to buy for £35,000 – evo garage
As you can probably guess if you're a regular reader of evo and have seen the frequent jibes pointed in my direction, this column was due to land in managing editor Ian Eveleigh's inbox some weeks ago. As ever it is now deadline day and Outside Line [it's not been called that for years – Ed] is struggling to get going, in the manner of an off-boost, four-speed 930 Turbo. Meanwhile, Ev is bracing himself for its full-boost arrival, at high speed and probably backwards, into his inbox.
Anyway, back to the Three Car Garage. This month's excuse for tardy copy delivery is research, for I think I've created a neat framework of rules to freshen up the familiar fantasy garage game. Ready to disappear down the ultimate automotive rabbit hole? Then have a go at this.
Car no. 1 has to have been on sale during the year of your birth, car no. 2 in the year you passed your driving test. Finally, car no. 3 should be from the present year. If you want to tighten the screw and define the eligible cars list even further then make sure each car was launched in each of the three years. Or, if you're a racer at heart, try picking an F1, Le Mans or World Rally car from each year.
Naturally I've tested the rules and, as someone aged perilously close to 50, I have to say the enforced criteria requires plenty of thought, but makes for an interesting and unpredictable trio.
My first choice comes down to a Ferrari 365 GT4 BB, which was launched in '71, or if I'm allowing myself a bit of latitude, a 'Suffix A' Range Rover, which was launched the year before but still on sale the following year. I know the BB can be a bit of a handful (that 12-cylinder boxer engine feels quite pendulous), but I've always been absolutely bewitched by the styling and they come from a period that I believe was the height of Italian supercar exoticism.
And the Rangie? Well, I've always liked the notion of having a broad spread of characters in my dream trio, and these early two-door models are such charming things I'd tuck one away like a shot. As for the competition cars, I appear to have lucked-out with the Porsche 917K winning the '71 Le Mans, though a Gold Leaf Team Lotus 72 would also be hard to resist.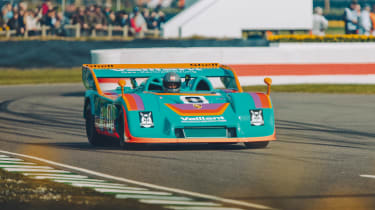 I passed my driving test in 1988. As this was Ayrton Senna's first World Championship-winning season, I'd have his Marlboro-liveried McLaren MP4/4, thank you very much. As this is my game, I'll reserve the right to have one of Miki Biasion's Martini-liveried Delta HF Integrales.
Road car-wise the Ferrari F40 and Porsche 959 were both on sale, as was the Peugeot 205 GTi 1.9, but just because I can – and because I love old Aston Martins – I think I'll take a V8 Zagato Coupe, which was shown in '86 and built between '87 and '90. Complete with an RS Williams 7-litre engine conversion, as it was the period upgrade to end all upgrades.
Which brings us to 2020, a year all of us will be glad to see the back of. It might have been an utter stinker for reasons I don't need to repeat, but it's been a bumper year for new metal. Of those launched in 2020 it's the Toyota GR Yaris that I'm most excited about, so even though I've not driven it yet I can see it parked in my garage alongside the Ferrari BB (or Rangie) and the Aston Zagato.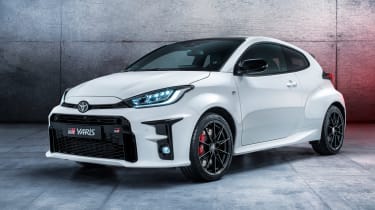 Race car-wise – and in something of a sad reflection on the disconnect between motorsport and car enthusiasts such as me – there's very little from the top levels of racing or rallying that I genuinely lust after. F1 cars are as big as buses, LMP cars are ugly brutes, while WRC cars look spectacular but don't resonate with me in the way Group B or Group A cars did.
All of which means I'd have a 2020 Porsche 911 RSR, in GTE AM class spec, with the twin rear-exit exhausts that sound so, so good and not the left-right side-exit pipes that dull the RSR's feral howl.
So there you have it. A fresh take on familiar favourites and the perfect reason (as if you need one) to go trawling through your stash of old car magazines (or indeed, Google) for your definitive, tailored-to-you Three Car Garage.