'Kei-cars like the super-sexy Honda Beat remain some of the most joyous road cars ever made'
What we need right now, says Meaden, is a kei-style framework for sports cars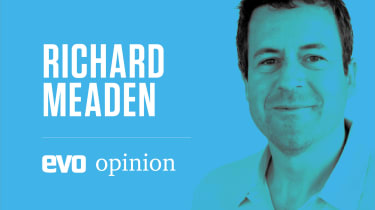 Many years ago I built a Fireblade-engined Caterham Seven. Actually that's not strictly true. I paid a nice man called Paul Harvey to build it for me, as I wouldn't want to drive anything I'd laid a spanner to. Anyway, the result was something rather special. In fact I believe it's still the lightest road-registered Caterham ever built, with a wet(!) weight of 369kg, thanks to a carbon-rich diet that extended to the steering wheel – quite a novelty in 2003. 
Stupidly I sold it years ago (if you know of it, do get in touch) and for a while I consoled myself by driving it on PlayStation's Gran Turismo 4, as Kazunori Yamauchi kindly included it as a bonus car within the game. The whole project was hugely enjoyable and, of course, I wish I still had it. 
Even in Caterham terms the driving experience was unique, with a freakish combination of zero inertia and a sense of almost anti-gravitational lightness. That lack of mass combined with the hard-as-nails delivery of the screaming, carb-fed 900cc Honda superbike motor and its push-pull sequential gearbox made it the most delicate-yet-demented machine I've ever had the pleasure of driving.
> Caterham Seven 170 revealed – super lightweight Seven stripped to the extreme
A decade earlier, another small car had made a big impression. It was the Daihatsu Cuore Avanzato TR-XX R4. Many of you will be familiar with the cult of the Japanese kei car, and will certainly know of the Suzuki Cappuccino (which looked like a Dodge Viper put through a hot wash), super-sexy Pininfarina-designed Honda Beat and wild gull-winged Autozam AZ-1. Fascinating cars all.
Kei cars were built to strict guidelines that governed engine size, power, top speed, sale price and even their dimensions. Tax incentives ensured they were affordable, modest power outputs meant the younger drivers who bought them didn't end up pinballing down the Bayshore Route's guardrails, and their diminutive dimensions meant a tiny footprint for easy parking in congested Japanese cities. Meanwhile the fevered imaginations of countless Japanese auto manufacturers saw to the rest. They were and remain some of the most joyous road cars ever made.      
Where am I going with this? An automotive alliance, that's where. Think about it. We all know car manufacturers will never make a truly committed return to building exciting, small, relatively affordable lightweight sports cars. Largely because legislation is against them (as is the spectre of heavy hybrid/EV tech), but also because they cost lots to develop and don't have much margin in them if they're to remain remotely affordable. 
If the success of the GR Yaris has reminded us of anything, it's that enthusiasts respond to brilliant, refreshing and – crucially – attainable cars. Especially if they're underpinned by a big manufacturer and available on tempting finance packages. So, imagine this: a new kei-style framework for truly small and lightweight sports cars, agreed and supported by a group of car and motorcycle makers who can work together without egos getting in the way.
To keep things simple they all agree a deal whereby an independent specialist such as Dallara or Multimatic is commissioned to design and build two chassis derivatives – one front-engined and one mid-engined – from carbonfibre. Strict weight targets would be set, and every car/bike brand would agree to a minimum number of units. Bike companies would be contracted to supply engines and gearboxes (nothing displacing more than 999cc, or perhaps 1199cc so Aprilia and Triumph can come and play) and the car companies can decide how they dovetail the co-branding with their two-wheeled cousins.
I'll admit I've become mildly obsessed by the idea, but when you consider today's 'litre bikes' – even the Euro 5 emissions-compliant versions – produce 200bhp or more and are packed with supercar-rivalling technology, it's all too easy to imagine some extraordinary machines. It would be the perfect way to break the dumb cycle of cars that are so excessively potent you simply can't exploit their performance meaningfully or responsibly on the road.
What would I have? Well, a mid-engined Lambo-Ducati V4R with mini Huracán, or maybe even modernised Miura, styling has huge appeal. But then so does a front-engined baby Lexus LFA-style coupe with a Yamaha R1 motor tucked in its nose. An Alfaholics-esque Alfa TZ1 with Aprilia power? Hell yes! The possibilities and permutations are endless. 
Sadly it'll never happen. Still, if nothing else, my Super-Kei fantasy is a welcome distraction from the pointlessness of 2000bhp EV poster cars that no one wants or cares about.