Lamborghini Miura louvred engine cover - Art of Speed
The louvred engine cover is a common sight in today's performance cars. We look at the model that started it all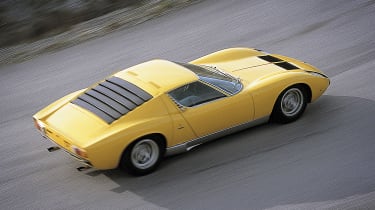 The Lamborghini Miura, the unsanctioned project of seven young maverick engineers at Sant'Agata that became the sexiest thing on wheels anyone had ever seen, didn't just create the mid-engined template for the modern supercar, it ignited a trend for black louvred covers that can be stuck to the rear windows of any car. It's an accessory business that still thrives in some markets, most notably North America, no doubt buoyed by the fact that many subsequent Lambos had slatted rear window/engine covers as a nod to the Miura. As, indeed, does the new Huracán, if so optioned.
The functional benefits of the aftermarket variety are dubious at best. evo's Ian Eveleigh opined, of an Escort XR3i he saw thus equipped, that it might be to cool the filaments in the Ford's heated rear window. Their makers, perhaps more seriously, claim that as well as improving the 'performance look' of any car, they increase privacy (presumably if you're being tailed by an octocopter drone packing a GoPro) and minimise cabin temperature.
> Lamborghini Huracán Evo RWD 2020 review
Heat was certainly a factor when it came to translating the two-dimensional drawings of an inspired young Bertone employee called Marcello Gandini into a three-dimensional production reality. The Miura P400 appeared first as a knock'em-dead concept car at the 1965 Turin Salon and then, thanks to the sensation it caused, as a work-in-progress prototype at the 1966 Geneva show. As seen, it had a Plexiglas rear screen/engine cover through which the transverse mid-mounted V12 could be easily viewed in all its glory.
Great for a show stand, not so wonderful when development continued on the road and the big, highly strung motor quickly overheated. So it was the imperative of necessity rather than aesthetic expression that led to the rear louvres being developed, the six slats being arranged in such a way that they protected the engine and its wiring from the elements (the tiered, full-width slots vented rearwards) while allowing engine-generated heat and noise – and what a noise – to escape.
Slats featured on several series Lambos - Urraco P250, Diablo, Murciélago to mention just a few – and numerous Bertone concepts, including the 1967 Lamborghini Marzal and 1970 Lancia Stratos Zero. Their imitative presence became all but de rigueur for the derrieres of US muscle cars through the '70s and '80s, too, especially tin-top Mustangs. The Miura must feel sincerely flattered.