The art of disguising a car – what's happened to it?
Manufacturers used to exhibit extraordinary creativity in disguising their prototypes. Porter laments the loss of these pantomime cars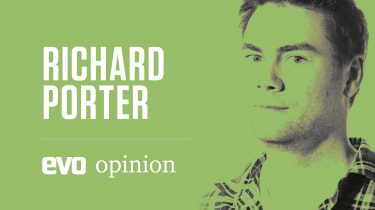 Last week I fell down one the those internet rabbit holes. You know the sort. One minute you're checking the weather, the next it's gone dark outside and you know 17 new things about turtles. Or, in my case, past midnight/staring at a picture of a Rover 800. But this wasn't a normal 800 because it looked more like an attempt to create a Lancia Delta S4 replica by starting with an Audi 100 Avant.
A bit more pinging around the dark and musty corners of the internet revealed it to be a prototype from back when the car wore the mysterious codename 'XX', and the boxy panelwork was a cunning ruse to disguise the lines of the secret car underneath. Rover was never accused of being thorough with aspects of the 800 like, say, door fits and electrical connectors, but it did a ruddy comprehensive job on the camouflage kit, adding a false bonnet, a misleading quad-lamp nose, a huge glassfibre rear hunch and fake door skins so that the speculative sketch artist at your favourite '80s car mag had nothing to work with.
It was an amazingly complete piece of concealment and seeing it made me strangely nostalgic, because this sort of thing doesn't happen anymore. Look at spy shots today and, without fail, they'll depict some future model lazily swathed in nothing more than swirly techno-zebra body wrap. It's effective, I'm sure, but it's not intriguing or interesting. It certainly doesn't capture the imagination and cause you to scrutinise the pap shots,trying to distinguish real metal from glassfibre falsehood. Stare at a camo- wrapped prototype now and all you'll get is a splitting headache. The last secret car I can remember going beyond the usual rolls of madly patterned tape was the current Jaguar XJ, which could be spotted prowling the Midlands dressed up like a Mad Max battle- cruiser, all covered in screwed-on panels and insane roof fins. This car needed the extra camo, firstly because it was so radically different to its predecessor, and secondly because, as someone at Jag later admitted, they wanted to 'create some intrigue'. Which is exactly what happens when you go to town on the fake panels.
Unfortunately, for the people tasked with developing cars, these things are also a pain in the arse, adding weight, ruining aerodynamics and blocking access to the real bits underneath while creating wind whistles, rattles and other false reads unhelpful to the process of getting things production-ready. Once the dazzle-ship wrap had been invented, it was pretty much the end of days for extravagant mouldings riveted to prototypes. And if you're a nerd who gets excited by the cloak-and-dagger nature of camouflaged test cars, that's a very sad thing.
But it's not all bad news for anyone disproportionately fascinated by car companies' future plans and their attempts to conceal them. Great swathes of physical testing have been replaced by computer modelling, which means production-spec prototypes happen later in the process and don't need to be cloaked with such extravagant efforts when the reveal is so close. Yet despite this, there will always be components that need testing in the real world, and the common way to do this is under the cut 'n' shuts hells of current models. They call them mules and, while these mash-ups usually give little outward clue to what's coming up, their swollen and mutated shells are as perversely fascinating as any prod-spec test car hidden under false panelwork.
The mule is a brilliant thing and one that led Porsche, for example, to complete initial 928 development under the hacked-up bodies of some Audi 100 Coupes and an old Opel Admiral. Likewise, McLaren completed an early shakedown of the F1 underneath a couple of Ultima kit cars before returning to an Ultima for work on the MP4-12C, while adding a couple of discreetly modified Ferrari 360s into the mix. By the same token, a few years ago visitors to a well-known UK test venue never guessed that the noisy Lamborghini pounding the high-speed track was ironing out bugs in the transmission for the Veyron, just as few outsiders realised that the stretched 348 on gold wheels was an early test car for the Enzo or that the scruffy Metro van ragging past them on the A40 was an MGF underneath.
The glassfibre cladding has largely disappeared, but if you're of a nerdish bent then at least the test mule keeps the intrigue alive. And if you're really into the stuff I've just mentioned, you can find pictures of many of these mules online. Just watch out for the rabbit hole containing madly camouflaged Rover 800s.
Find more evo opinion though the links below...