'For the modern urban crawl, the relaxing, untaxing Nissan Leaf is perfectly fit for purpose'
Admire a car that's fit for purpose? Then if you do most of your driving in an urban environment, Porter reckons you need a Nissan Leaf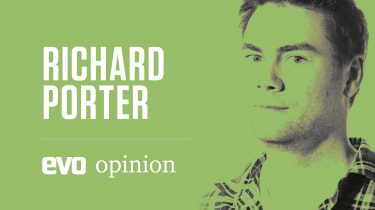 What more do you want from a car? You might say performance or handling but it's more than those things alone. What you really want is a car that's fit for purpose. A Porsche 911 GT3 chasing the soft light across the Scottish Borders soon after dawn on a summer Sunday. That's fit for purpose. A VW Golf R hammering through the gloom on a dismal Tuesday when all in front of you is sluggish but well-sighted A-road and all you want to do is get home. That's fit for purpose. An old-shape Land Rover Discovery tracking straight and true through the lashing rain of a Welsh winter with the kids happy in the back and your heated seat on max. That's fit for purpose too. Because fit for purpose means a car which, in a given circumstance, makes you struggle to think of anything you'd rather be driving. And to this list I'd like to add the circumstance of the modern urban crawl and, weirdly, the Nissan Leaf.
I've been fuss-arsing around electric cars for a while because I find them intriguing and, after all, one day most of us will have one. Twice I came close to signing a deal on a BMW i3 and twice I baulked at what happens to your monthlies when you think that, actually, yes I would like heated seats and alloys that don't look like the trims from an '87 Astra. Then a nice man from Nissan offered me an attractive deal on a short Leaf lease and for the past six months my new friend's been electric.
I've considered this an experiment, not least to see if the future is practical when you can't charge at home. Which I can't, unless I buy a bloody long extension lead and become comfortable with the idea of garrotting a neighbour. So charging happens only at the public point around the corner or from a three-pin socket when I visit the Grand Tour office, assuming TV's Jeremy Clarkson isn't around to accuse me of 'literally stealing' his electricity. You might think this sounds inconvenient. The lack of home charging, I mean, not the having to deal with Jeremy Clarkson. Well, yes it is. The dealing with Jeremy Clarkson, I mean, not the lack of home charging. Being unable to plug in at my house is actually fine, because most of us don't drive as far as we think.
With a realistic range of just over 100 miles, my Leaf can hum around London for over a week before it needs juicing up again, and that's perfectly manageable. It helps that I have another car, of course. If someone rang and asked me to be in Leeds, pronto, I'd probably take the internal combustion powered option. Or maybe not. There are fast chargers in service stations. If the appointment in Leeds wasn't so urgent, maybe I'd give it a go.
But motorways are not where the Leaf shines. They aren't where it's wholly and completely fit for purpose. No, that's in town where the Leaf is an absolutely brilliant companion. It rides pretty well. It has no gears so it's zero aggro in coagulated stop-start traffic. And it's incredibly smooth and quiet, which in turn makes it extremely soothing. In fact, there's nothing short of a Rolls Royce Phantom that can touch it for calm in the face of the urban crawl. Plus, like a Phantom, it has the greatest easy-going quality a car can possess: lashings of torque. In the Leaf it's all delivered from zero rpm, which makes it relaxing, yet also capable of absolutely smoking other motorists away from the lights. It's not the point of the Leaf, but it's enormous fun nonetheless. Some chancer in a Ford Focus ST or low-spec Porsche Boxster pulls alongside in the front row of a dual-carriageway junction and when the lights go green you simply plant it and watch them recede into the silent void behind you. There's even a point when they visibly drop back a bit more and you know they're changing gear.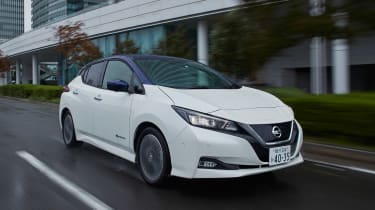 Naturally, the Leaf is not perfect. It's a fugly old thing for starters, and its interior is 2011's idea of futuristic. It also has weird brakes, it runs out of puff at higher speeds, and though the steering has an admirably consistent weight right from just off-centre in a way that's almost Porsche-ish, I wouldn't call it a drivers' car in the conventional sense. But I would call it a perfect urban cruiser. It's smooth and balming and it makes you feel like you're beating the system because it's also very cheap to run, especially if you steal Jeremy Clarkson's electricity.
I wouldn't recommend a Leaf if you're about to attack the fine roads across the Black Mountains. But then I wouldn't really want a Porsche 911 GT3 RS if I was about to sludge from north to west London dropping a child at nursery along the way. For that I would want the relaxing, untaxing Nissan Leaf. Because in that circumstance it's perfectly fit for purpose.
Find more evo opinion though the links below...