With talent comes raised expectations. Peugeot has turned out some seriously impressive cars in recent years after a decade or more hobbling its new models with wonky styling and lacklustre chassis.
The best of Peugeot's recent output are its hot hatchbacks and left-field options like the now-defunct RCZ-R - cars that mean we now expect Peugeot to deliver like it did back in the 1980s and 1990s. But its crossovers come under more scrutiny too, particularly when painted in Peugeot Sport's distinctive two-tone "coupe franche" colour scheme.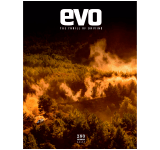 Subscribe to evo magazine
Subscribe today to have every issue of evo delivered straight to you. You'll SAVE 39% on the shop price, and get evo for its original cover price for a whole year!
So, presented with the usual evo-fringe dilemma (fun car already in the garage, non-soul-destroying family hauler needed for daily duties) our expectations are high for the chunkily-styled new 3008.
Engine, performance and 0-60mph time
If diesel is what you need, then this is the diesel to go for in the 3008 range. It's a 2-litre, four-cylinder unit and develops 178bhp at 3750rpm. There's a brawny 295lb ft of torque from 2000rpm, made easy to access by a six-speed automatic transmission - controllable through paddles behind the steering wheel should you so desire. Despite appearances, power is sent to the front wheels alone (no 3008 is four-wheel drive), though Peugeot's intelligent "Grip Control" traction system should make it effective even on snow and ice.
Despite a relatively light kerb weight (1465kg) the GT won't set your hair alight, reaching 62mph in 8.9 seconds from rest and topping out at 131mph, but you'd question whether any more is really necessary in a car like this from a non-premium brand. Much more important is refinement - which the 3008 has, at least when the revs are kept low - and responsiveness, which is improved by prodding the Sport button or selecting gears yourself (ideally both).
What the engine isn't, is in any way memorable to use. It quickly becomes vocal and breathless at higher revs, and the 3008 never feels particularly brisk even when kept in its sweet spot. The automatic 'box is also keen to downshift when maintaining a higher gear might make better use of the engine's torque curve.
Technical highlights
The 3008 benefits from PSA's EMP2 platform, which you'll also find underneath the 308 and the upcoming DS 7 crossover, among others. Use of high-strength steels, aluminium and magnesium alloys and plastic composites means PSA has been able to shed weight compared to similar cars on the previous platform and many rivals. This has given even this bulkiest 3008 a sub-1500kg kerb weight figure when an equivalent MQB-based SEAT Ateca can't dip under 1600kg.
Inside is the latest development of Peugeot's divisive i-Cockpit layout (small and low-set steering wheel, high dials), most notable here for its Audi Virtual Cockpit-style TFT instrument display. Like Audi's equivalent, you can cycle through various menu options and graphical layouts, all animated smoothly and all boasting impressive clarity and easy to read at a glance.
What's it like to drive?
The 3008 doesn't quite approach the realms of GTI-on-stilts, but it's not a bad effort and makes rivals like the Nissan Qashqai feel positively blancmange-like without resorting to a punishing ride or uncivil road manners.
True, the ride on the 19-inch wheels can occasionally feel overly firm, mostly when crashing through unavoidable potholes that might be soaked up by something with more sidewall squidge, but otherwise this is another Peugeot that hints that someone within the company has a knack for damping. There's pliancy here, but the 3008 avoids excess body movement in corners.
It'd be even better if it felt a little less ponderous. The steering (through Peugeot's now-customary small-diameter steering wheel) is relatively high-geared, but the 3008 is never quite as eager to turn into a corner as its smaller, lighter, more conventional siblings. The steering weights up quickly - perhaps exacerbated by the roller-like 235-section tyres in this trim - which means deft steering inputs aren't rewarded by instant, lively response like they are in a 208 or 308 GTI. Surprising? No. Disappointing all the same? Yes.
Thankfully, the 3008's typical buyers will find a great deal else to like, even if they must find their thrills somewhere else. This is perhaps the best interpretation of Peugeot's i-Cockpit yet, at least visually.
Most regularly-touched surfaces feel great, the aged wooden trim is up there with the BMW i3's for feel and ambience, and the TFT instruments are clear and less likely to be obstructed than they are in other Pugs, thanks to a naturally higher driving position. It's also hushed and comfortable. Our test involved driving to Belgium and back for the fourth round of the FIA World Rallycross series, and aches and pains were minimal.
A pity, then, that Peugeot's touchscreen infotainment system is infuriatingly bad. It's slow to respond to inputs, slow to process routes and addresses, and frequently requires far too many layers of menus to carry out simple tasks. In a cruel move, while Peugeot has now made the menu buttons (for accessing the navigation, audio, heating etc) physical items, it has positioned them low on the dashboard, out of your natural line of sight.
Price and rivals
The GT sits atop the 3008 line and wears a substantial price tag to match: £33,695. You do get a comprehensive level of equipment for your troubles, including a panoramic glass roof, 19-inch wheels, aluminium roof bars, electrically adjustable massage seats and Nappa leather trim, as well as the extra horsepower and the automatic gearbox, compared to the GT-Line model a notch below in the range. What you don't get, but our test car came equipped with, is £1300 of Coupe Franche paintwork (the two-tone effect first debuted on the Peugeot Sport-prepped 208 GTIs). We reckon it looked better than expected.
Above we mentioned the possibility of finding your thrills elsewhere in this class. No car in this segment will blow your socks off, but a few might unlace your shoes - SEAT's Ateca is dynamically adept with good body control and direct steering. It feels and looks a little more conventional than the Peugeot, but may have wider appeal as a result. 3008 GT money gets the absolute range-topper, a 187bhp TDI in Xcellence trim with DSG and all-wheel drive.
Conventional is not a word you'd use to describe the Toyota C-HR, but "fun" might be. Neither of its powerplants are particularly punchy, but the chassis is throttle-adjustable, it grips strongly, and has precise steering and a quirky cabin, albeit not quite as high-end in feel as the Peugeot. There's even well-implemented automatic rev-matching on the manual. £28,050 buys a top-spec 1.2 Turbo with an auto 'box and all-wheel drive.
The new Mazda CX-5 displays moments of talent too. Its styling is less adventurous than the 3008's and it's perhaps not as neat to behold as the smaller CX-3 or Mazda's MX-5, 3 and 6, but it's possibly the best car in this class to drive and one of the best to sit in too.