'What would you commission as your one-off supercar?'
Money no object. Three words, endless possibilities for the imaginative petrolhead. Meaden gets the ball rolling with his own fantasy car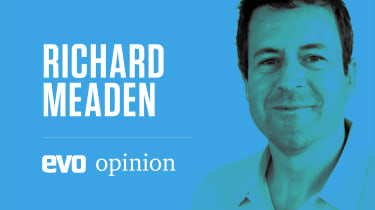 Thinking. Always a dangerous pastime. Especially when you're a freelance journalist who has turned procrastination into an art form. Still, what is life without daydreams? That's what I say. Especially when you can turn a few hours of staring out of the window and drinking copious cups of coffee into a long-overdue evo column. I blame my colleagues for prompting my latest catastrophic distraction and litany of missed deadlines.
Where am I going with all this? Rather pleasingly, the haphazard wiring in my brain has taken random sources of diversion and arrived at what is surely one the most pressing questions of any petrolhead's life. Namely, what would you commission as your one-off supercar?
As is always the case with these flights of fantasy, money has to be no object. Likewise, I rarely allow my tenuous grip on engineering to inhibit my desires. In any case, if anyone dared say something wasn't possible, I'd refer them back to the 'money-no-object' bit, for as Bugatti proved with the Veyron, unlimited budget is the ultimate engineering solution.
So, the six million dollar (or in all likelihood, rather more) question is: what to build? After considerable deliberation, a number of blind alleys and one or two changes of heart, I've settled on... a Porsche. Surprise, surprise, I hear you cry, but incredibly, given you're reading evo, it has nothing to do with a 911. You see, while I have major lust for Stuttgart's rear-engined icon, I've got a real thing for Porsche's early sports prototype racers. Naturally this includes the 917, but the true apple of my eye is the unspeakably gorgeous Porsche 908/01 from 1968.
Why? Years ago I had the immense privilege of driving one of the original factory 908/01s during a trackday at the Nürburgring. Given the very same car raced in (but sadly retired from) the 1968 Nürburgring 1000km, this was truly a day to remember.
The beauty, delicacy, speed and exquisite engineering of this fierce and fragile machine stuck with me, only to return to the forefront of my mind during my aforementioned daydream. Imagine, I thought, what it would be like to make a modern homage to the 908/01, in much the same manner Jim Glickenhaus did with his spectacular Enzo-based, Pininfarina-designed P4/5.
Initially I thought a 918 Spyder would be the ideal basis. But then I had to concede it would be too big and complex. And even if you could junk the batteries and motors, it would have a V8 when the 908 had a jewel-like 3-litre air-cooled flat-eight good for 350bhp.
It's at this juncture I should give special mention to evo's resident curmudgeon, Stuart Gallagher, for his enduring tirade against the 718 Cayman's less-than-sonorous flat-four. I'm not a great fan of the engine myself, but if two were joined at the crank I reckon I'd have the perfect modern flat-eight. Strip away the turbos, drop in some high-compression pistons and prickly cams, have a play with the firing order and speak to Mr Akrapovic and my project has a suitably special motor.
The 908 was built around a spindly alloy tubular spaceframe, which the bodywork wraps like an eggshell, only thinner. My 908 will have a chassis made from tubes, but ones fabricated from carbonfibre, perhaps collaborating with a bicycle manufacturer, as they understand the material. The body would also be carbon, the contours of which would be shaped by Rob Dickinson, obsessive genius behind Singer Vehicle Design. Not only would the panels be flawless, but Dickinson's eye and lightness of touch would capture the essence of the 908/01's perfect proportions while adding a contemporary twist to elevate the car from re-creation to 21st century tribute.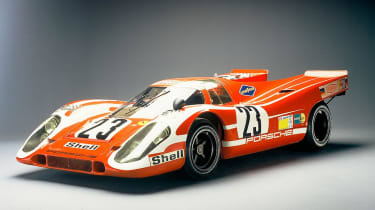 Naturally my 908 would have a manual transmission, complete with birch gearknob, and the finished car would be painted white, like all Porsche's factory prototypes, perhaps with a flash of red or blue around the nose. It would have 600bhp and weigh less than 1000kg. It would be road-legal but track-capable; trimmed for minimalist comfort, but well suited for long European drives.
The trouble with this kind of fantasy is the whole process gets rather addictive. Indeed, as I prepare to conclude this column, I'm thinking the perfect accompaniment to the 908 would be a more ambitious, 917LH-inspired machine. Perhaps powered by an 8-litre, 1000bhp flat-12 made from a spliced pair of GT3 RS motors. It needs more thought, obviously, but I'm sold on the idea. Now if you'll excuse me, I think I'd best make myself another coffee.