Porsche drops diesel for good
Porsche to focus on hybrid and electric powertrains after dropping diesel from the range earlier in the year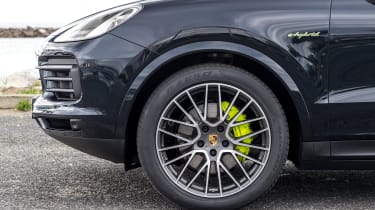 Porsche has officially announced that it will no longer manufactuer diesel-powered models, as the marque commits to its adoption of electric and hybrid powertrains. Porsche has not had a diesel-powered model in the range in the UK since February this year, after dropping the diesel-powered Macan from the range due to changing emissions regulations. 
In a statement to evo, a Porsche spokesman said: 'Diesel engines traditionally play a subordinate role at Porsche. Porsche does not develop or build diesel engines itself. Currently, the demand for diesel models is falling, whereas interest in hybrid and petrol models is increasing significantly.'
> Click here for more on the Porsche E Cross Turismo Concept 
The decision will be most felt in the SUV ranges, as diesel still represents a large proportion of sales for in the Cayenne and Macan. The current Panamera was actually launched with an Audi-sourced V8 diesel engine, but after consistent delays, it never quite made it to production and now never will. 
Porsche introduced its first diesel-engined road car in 2010 with the facelift of its first-generation Cayenne, this after then CEO Wendelin Wiedeking said there would never be a diesel-engined Porsche. With Macan S diesel production having ended, that is the case once more.
Talking to evo at the Geneva Motor Show, Porsche CEO Oliver Blume said "diesel isn't important to the future of Porsche, we have a three-pillar (powertrain) strategy: petrol, plug-in hybrid and fully electric."
While Porsche has seen a decline in demand for diesel engined models, in 2017 it saw a 60 percent increase in plug-in hybrid sales. The Panamera is currently available in two hybrid variants, with an entry level E-Hybrid on sale from £81,141 specification or range-topping £137,140 Turbo S E-Hybrid trim. The all-new Cayenne also has an e-Hybrid variant available, sharing its hybridised petrol V6 powertrain with other Volkswagen Group SUVs like the Audi Q7 e-Tron and Bentley Bentayga Hybrid. Porsche has not announced whether the recently facelifted Macan will also pick up a hybrid powertrain, so far only confirming V6 petrol variants. 
Porsche's full range of electrified vehicles, headlined by the Mission E sports-saloon, is scheduled for launch in 2019 with the Cross Turismo concept revealed at the Geneva Motor Show scheduled for production in 2020 to rival Jaguar's I Pace.