The 991-generation Porsche 911 broke with five decades of heritage in some major ways – turbocharged Carrera models and electric power steering being the headline revisions. Nonetheless, it remains the most rounded sports car on sale and with an expansive model range there's a variant to suit all tastes.
Fans of old 911s might be a little nonplussed by the devastating, vice-free (arguably character-free?) competence of the latest 991 generation range, but there can be no denying that Porsche has moved the game on in a number of crucial areas.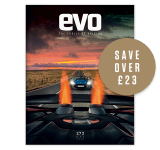 Subscribe to evo magazine
Subscribe today to have every issue of evo delivered straight to you. You'll SAVE 39% on the shop price, and get evo for its original cover price for a whole year!
> Read our review of the new 992 Porsche 911
Turbocharging across the Carrera line-up and electric power steering in all models were regarded with suspicion by some fans – and they undoubtedly do erode some of the charisma of earlier models – but to Porsche's credit it's implemented both in such a way that neither spoils what is a truly great sports car.
We do miss the old normally aspirated models, but the range of turbo engines are among the most impressive forced induction motors on sale anywhere. Performance ranges from strong to ballistic, quality is high and even running costs are respectable. The half-century lineage has had its ups and downs, but there's never been a class act quite like the 911. 
In the hardcore GT3 and GT3 RS Porsche delivered thrilling driving experiences right out of the top drawer, while the Turbo models are consummate everyday supercars with enormous straight-line performance. For those buyers who are less concerned with outright performance and more interested in turning heads, the Cabriolet and Targa versions are stylish, refined and less compromised than ever in terms of driving dynamics. 
Find a used Porsche 911 on the Classic and Performance Car site
Porsche 911: in detail
Performance and 0-60 time > The entry-level manual 991 manages a 0-60mph time of 4.6sec and they only get faster from there. All are more than a match for the competition.
Engine and gearbox > With a wide range engines to choose from, there will be a 991 to suit most tastes. Both the auto PDK box and manual seven-speed are fantastic, and the six-speed manual and naturally-aspirated GT3s are even better.
Ride and handling > High levels of grip, an adjustable balance and reasonable ride, with range topping GT3 and GT3 RS offering incredible performance and feedback.
MPG and running costs > If running costs are your top priority then perhaps Porsche's famous sports car isn't the best choice, but they're not bad by standards of the class. Make sure you put aside £1000 for each service. 
Interior and tech > It's a bit button-heavy in here, but this is one of the best 911 cabins yet, beautifully-built, tastefully-styled and comfortable. Tech improves further with each model update.
Design > The 911 boasts arguably the most iconic sports car shape in the world. Evolved since its inception in 1963, you can still see hints of the original in the 991 generation all these years later.
Prices, specs and rivals
The Porsche 911 range is more diverse than ever, with choices between two- or four-wheel drive, manual or automatic and turbocharged or naturally aspirated engines. The Carrera range kicks off with a manual, rear-wheel drive Carrera at just shy of £78k. From there, the price increases for faster models, starting with the Carrera T at £85,576 before moving onto the Carrera S at £87,335 and the Carrera GTS at £95,795. Opting for four-wheel drive on relevant models adds £5k to the price, with different body styles carrying premiums, too: Cabriolet and Targa models are £9k dearer – the latter is exclusively available on a four-wheel drive platform.
> Porsche 911 Carrera T review
Moving up to Turbo and GT models pushes prices into six figures. The Turbo and Turbo S cost £128,692 and £147,540 respectively, with the Cabriolets carrying the £9k premium. The GT3, GT3 RS and GT2 RS are priced at around £112k, £141k and £208k respectively, although actually getting hold of any of them can prove problematic. Each is built in limited numbers so getting your name down for one is difficult, especially if you're new to the Porsche brand.
In short, there's a 911 to suit all needs, and there's scope for further customisation with the extensive options list. We've cherry picked some options that we'd consider for an evo-spec 911. The PDK 'box warrants consideration and is a £2.5k-£2.9k option, depending on which model you equip it to, while Sports Chrono offers switchable driving modes that alter the engine mapping, gearbox and suspension settings.
The active sports exhaust, controlled by a button on the transmission tunnel, has a bespoke back-box with the two tailpipes mounted more centrally. Pricey at £2.8k, the figure-hugging bucket seats, make sense for track day regulars. The £500 Bi-Xenon lights have a long throw, and certainly help on twisty roads at night and are good value compared to the £1.8k LED units. Porsche Dynamic Chassis Control (PDCC) active anti-roll system is a little more controversial. It's the one we'd leave off the list.
There's no shortage of rivals for the 911 and the competitor cars change according to the 911 model you choose. The £81,995 Nissan GT-R trounces an equivalently-priced 911 in performance terms, but goes about its business with far less finesse.  For 911 Turbo money, the Audi R8 V10 is a bonafide supercar with an awesome soundtrack, albeit far less practical than a 911. The Nismo GT-R is certainly a competitor and similarly priced to GT3s on the used market. Lotus's top-end, special edition Evoras compete on price with the 911 and offer something different with supercharged power, bucking the current turbocharged trend.