The GTS is the fastest, most athletic model in the 911 Carrera line up. If you want even more responsive handling from your 911 you'll have to look to the GT3 or GT3 RS, and if you're after even more straight-line performance you'll be interested in the Turbo versions. As far as the Carrera is concerned, the GTS is top dog.
There are five variants of the GTS at launch – Coupe, Cabriolet and Targa, with the first two available with two or four driven wheels – but this rear-wheel drive Coupe with a manual gearbox, sticky track-biased tyres and bucket seats could just be the pick of the GTS range, and therefore the entire Carrera line-up.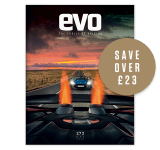 Subscribe to evo magazine
Subscribe today to have every issue of evo delivered straight to you. You'll SAVE 39% on the shop price, and get evo for its original cover price for a whole year!
Engine, transmission and 0-60 time
The GTS borrows the 3-litre twin turbo flat-six from the standard Carrera models, with power lifted to 444bhp. That's a 30bhp gain over the Carrera S and a useful 20bhp advantage over the previous, normally-aspirated GTS. Peak torque is 406lb ft.
The standard transmission is a seven-speed manual, driving the rear wheels via a mechanical limited slip differential. Porsche's twin-clutch PDK gearbox and four-wheel drive system can be specified. So equipped, a GTS Coupe is the fastest accelerating model in the Carrera range, setting a 3.6 second 0-62mph time. The model tested here is no slouch, though, recording a time of 4.1-seconds. Its top speed is 193mph.
Incidentally, it wasn't all that long ago that a near-450bhp 911 with a pair of turbochargers, no front driveshafts and a manual gearbox was badged 'GT2'. Let's call it progress.
Technical highlights
Just like before, the GTS is more of an options list cherry-picking exercise than a thorough reengineering of the existing Carrera. All GTS models are based on the wider 911 bodyshell, be they two- or four-wheel drive.
This range-topping model features Porsche Active Suspension Management with the sports chassis as standard, which means the GTS rides 20mm lower than a base-spec Carrera and 10mm lower than the Carrera S (although you can drop the S just as low by specifying the sports chassis). Interestingly, Porsche's engineers were prepared to modify the GTS' springs and anti-roll bars to suit the wider shell, but in testing they found it just wasn't necessary.
Sport Chrono is also standard fit, which incorporates dynamic engine mounts and a switchable sports exhaust system.
> Read: Porsche 911 review - Why turbocharging hasn't ruined the Carrera
Rear-wheel steering and Porsche Dynamic Chassis Control (adaptive anti-roll bars) are available as optional extras. A certain W. Rohrl reckons rear-wheel steering is only much use in an emergency lane change and in our experience no 911 has ever been more enjoyable with PDCC fitted, which means neither option is a must-have.
Porsche quotes a fairly absurd 7min 26sec Nurburgring time for the GTS, which is cut by four seconds if the car is fitted with the optional Pirelli P Zero Corsa tyres, as this one is.
Visually, the GTS is distinguished from the rest of the Carrera family by its smoked rear lights and the thin black strip that runs between them, plus the centre lock wheels and some minor styling tweaks. Finally, Porsche will delete the rear seats if you so wish, which both saves a bit of weight and encourages those GT2-lite comparisons.
What's it like to drive?
The main criticism we've made of current day 911s is that they just don't feel much like 911s of old, which is to say their steering is a touch vague and wooly and their bodies are so tightly controlled at speed you could drive one flat out for 1000 miles and never feel like you were working it particularly hard.
The new GTS, in this specification at least, feels more like a 911 of old. Or, in other words, it's the best 911 on sale short of the Turbo and GT3 models. In fact, as a road car it's more fun than the Turbo and as a daily it's much more usable than the hardcore, track-focussed versions.
It's difficult to pin down exactly what it is that makes this car more fun to drive than a Carrera S since the chassis settings are more or less unchanged. The wider rear track must count for something, but more likely it's the optional Corsa tyres that make the difference, this being one of the rare occasions where a stickier, more robust tyre actually makes the car more enjoyable to drive – in the dry, at least. It's also very possible that by ramping up the mechanical grip the steering and the chassis as a whole have become more communicative and easier to read.
> Watch: Porsche 911 GT3 video review
That means you feel so much more involved in the process of picking apart of good stretch of road. Whereas certain Carreras can be aloof and distant even when driven quickly, this GTS is with you every step of the way, whether you're stroking it along or scaring yourself silly. The manual gearshift is fantastic and the steering is very good for an electric system, too.
It is true that this turbocharged 3-litre engine doesn't get close to troubling the previous normally-aspirated unit for soundtrack and delivery, but it's also true that the six-pot is one of the most linear and responsive turbo engines on the planet. It revs well to the limiter at 7400rpm and it delivers massive overtaking punch, too.
Price and rivals
At £94,316 the GTS is rather pricey for what is effectively a tricked-up Carrera. Add £4000 of bucket seats and sticky tyres and you'll be troubling the six-figure mark. A handful of options on top of that would almost certainly see it matching the cost of the forthcoming new 911 GT3. At least you can walk into a dealership and order a GTS, though.
Outside of the Porsche stable Audi's R8 is a stern rival for the GTS. Even the entry-level V10 model starts at £122,450, though, which suddenly makes the 911 look like pretty good value. Jaguar's F-type SVR is a little closer on price at £110,000 and it does have a certain brutish charm, but the Porsche is the more enjoyable sports coupe.