Elan is looking Elysian again the following morning as we head back to finish the photos. I hang back in the Nismo, which feels better when you let it find its own rhythm and don't try to keep up and push too hard. As Vivian commented yesterday: 'It's at its best – by which I mean reasonably pleasant – at about seven-tenths with some wallop in reserve for overtaking.' Although he's also unsure that he'd ever experienced steering with absolutely no feel whatsoever until he drove the Nismo…
While the Juke's fifth place isn't really a surprise, fourth place is a shock registering eight on the Richter scale. Jumping back into the Clio after the other hatches, it just feels too big and heavy. The extra weight is telling over the crests and through direction changes, and it doesn't feel spritely like a junior hot hatch should. (When we get back to the office we'll put all the cars on the scales and find the Clio is the heaviest of the lot, coming in at 1294kg despite Renault's claim that weight is unchanged from the 1204kg of the old Clio Cup.)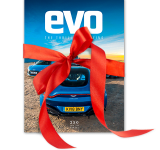 Subscribe to evo magazine
If you're passionate about the world's greatest performance cars, experience the thrill of driving with evo magazine. Try your first 5 issues for £5.
But it's the gearbox that is Harry's biggest gripe: 'Ditching the manual could have worked, but the new 'box needed to be absolutely perfect. This feels like a tardy first-generation effort and it just gets in the way.' Vivian is succinct in his summation: 'From hero to zero. It almost makes you want to weep.'
I can't resist one last drive in our third-placed car. The handbrake turn in the gravel car park at the end of the road is indicative of the sort of childish exuberance the 208 GTI instils. It's not perfect (a bit more character to the engine note and a bit more weight and feel to the steering would be nice), but you can drive it right up to and even over its limits and it won't get ragged. As Vivian puts it, the chassis' lithe agility works brilliantly on these roads but also makes it refined in everyday life. We could hardly get Harry out of it at one point: 'Surprise of the test for me and it's great to have a Peugeot that we can champion again.'
There's no doubt that the Mini feels the fastest of the bunch across the ground; at times its eagerness almost makes it the most difficult to settle into a rhythm with, but Vivian's really fallen for it: 'It has that lovely feeling of pivoting around the point where the seat of your pants meets the driver's seat – and seemingly heroic levels of grip. If a lamb suddenly jumps out in front of you, it's the car you'd want to be in thanks to the acuity of the steering and its hard-wired responses. You feel you can place the Mini more precisely on the road, nail apex after apex and, well, just generally have a blast.' Although the JCW is a chunk costlier than the others, we agree that a standard and price-competitive Cooper S would fare almost as well, so it's a solid second for the ever-classy Mini.
Which just leaves the Fiesta ST – everyone's clear winner. 'Everything considered – and you do get the feeling Ford has considered everything – this is how a junior hot hatch should be,' says Vivian. It's organic, with feel and accessible adjustability. And while it might not be the outright fastest, the most pliant or the grippiest, the whole package feels 'just right', perfectly balanced with all the elements in harmony, from driving position to the generous bandwidth of the power delivery to the weighting and progression of all the controls. It all gels so that you can throw it down an amazing stretch of remote road in Wales on a sunny day and not for a moment wish you were in any other car.
In This Review