Impreza versus Evo is one of the classic running battles. A bit like England against France but with more loyal armies, or Boeing versus Airbus but with bigger wings. It has bred a startling rate of development over the years as Subaru and Mitsubishi have striven to gain a decisive advantage, both on the stages of the WRC and in the showrooms. Arguably, Evo has edged ahead of STI in generations VIII and IX, but there are plenty of Subaru fanatics who would differ.
Now there are two very new versions of these protagonists. STI might be the same initials and X might be a very logical Roman step on from IX but these two cars are much more than headlight updates. For the first time these cars are trying to be a bit more mainstream.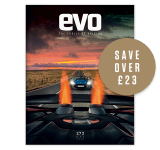 Subscribe to evo magazine
Subscribe today to have every issue of evo delivered straight to you. You'll SAVE 39% on the shop price, and get evo for its original cover price for a whole year!
In the red corner (hustling south down the M5) is the new hatchbacked Impreza, packing 296bhp from its turbocharged 2.5-litre flat four. The 4wd system is based on a viscous centre differential with limited slip diffs on the front and rear axles and VDC (Vehicle Dynamics Control) keeping everything rubbery-side-down. The gearbox has six forward ratios and is operated by a clutch pedal and gearlever. The STI weighs in at 1505kg and £24,995.
In the ever so slightly darker red corner (and already pacing around, somewhere out on Exmoor) is the new pointy-nosed Lancer Evolution X FQ300. It comes with 291bhp from the new all-alloy 4B11 turbocharged 2-litre engine (replacing the iron block 4G63). Its chassis has four abbreviations in its arsenal - S-AWC (Super All Wheel Control), which juggles the AYC, ACD and ASC (Active Yaw Control, Active Centre Differential and Active Stability Control). The biggest change, however, is the introduction of a new Twin Clutch Sport Shift Transmission (TC SST) actuated by two paddles on the steering column. The FQ300 SST tips the scales at 1590kg and £31,999.
It has gone teatime when the two protagonists square up to each other with unblinking xenon stares. The shape of the new Subaru has had to put up with a lot of bad press, but sitting next to the Evo X the STI is arguably the more impressive looking car. The Lancer looks great from a distance and photographs well, but get up close and the gaping grille with the guts on display behind looks messy, while the rear looks like a middle management saloon with a plastic diffuser and a big wing tacked on. Somehow where previous Evos looked homologation- hard, this one looks like it has only seen a rally stage in a computer game. The STI seems to sit lower, and the wider arches look much more purposeful, even if the front and rear still appear to have been designed by completely different people and the 17in rims look tiny.
With the promise of a long, light evening to come and any residual traffic trickling off the moors to find shelter for the night, this empty wilderness is a perfect arena. The roads are made for these cars: fast and committed across the moors then switching into steep descents and climbs that are too narrow for supercars as you jink between walls and trees and round hairpins towards the coast. Everywhere there are unseen bumps and even the most well-sighted corners can catch you out, no matter how many times you've driven them. Four-wheel drive feels essential if you want to attack.
First up, the Impreza. Drop into the soft, velvety Alcantara bucket and you're presented with glowing red dials, quite a big steering wheel and a deep, dry rasp as you twist the key and the engine turns over a couple of times before catching. The gearshift is tall, tight and very upright in its short movements around the gate. The steering is nicely weighted, but it's curiously indistinct around the dead ahead. There's a certain amount of roll as you turn into a corner too, so there's a moment before you really feel the chassis start to bite and the steering start to feed back. If you're timid or just ambling along, then the Subaru can seem slightly reluctant. What you need to do is be bold; turn in hard and, once into the meat of the steering, you'll feel the front Dunlops grip and possibly scrub a little into understeer if you're carrying good speed. As soon as you're into the corner you should be thinking about getting back on the power. With 300lb ft you're not short of urge whichever gear you're in, so it's just a case of how you deploy it. The slightly slow-acting viscous coupling of the central diff works best if you progressively squeeze the throttle to the carpet rather than just jumping on it. This way you'll feel the tail move round before the front pulls you out of the corner in one smooth flow.
There is of course another way to approach a corner, which is to trail-brake as you turn in. The brakes make a slightly odd sound (like a huge computer powering down) but with the weight over the front axle the steering weights up instantly and the rear swings round nicely as you turn in. Down the next straight you can hold onto the revs up to 7000rpm though it seems more natural to change just after 5500rpm. If you're chasing an Evo, you're unlikely to need to wring the engine out anyway, because the big red wing in front of me isn't exactly storming away into the sunset…
You always feel like you're sitting slightly higher and more upright in an Evo. The steering wheel is tiny and the leather it's wrapped in is beautifully soft. The magnesium paddles attached to the steering column (rather than the wheel) are cool to the touch and make a sonorous ting! if you flick them with a fingernail. They're also a good length so you can still reach them if you need to change up or down while entering or exiting a corner. The Subaru has various bewildering settings for the throttle mapping and central diff (Sport Sharp and Auto seems the best balance), all controlled by a silver knob and switch behind the gearlever, but that's nothing compared with the Evo, which really needs a series of evening classes to fathom. The gearbox has three settings controlled by a rocker switch: Normal and Sport simply seem to refer to how the 'box will react if you ignore the paddles and leave it in Drive. Have a squint at the owner's manual, however, and you'll discover a third way, which is only accessible if you are at a standstill. Hold the switch forwards for three seconds and now you're in S-Sport, which, according to the manual, is only to be used on race tracks and not your local roads…
Then there's a button to let you worry about whether Tarmac, Gravel or Snow would be the most fun setting for the chassis (Tarmac seemed best on road, Gravel on track). Then, after a while of playing around, you might decide that you'd like to banish the stability nanny. This is not, as I discovered, done by pressing the button next to the chassis settings marked 'AFS off'. Press this and the lights will merely stop swivelling to show you around corners. You need the button to your right marked 'ASC Off'. Obviously.
And what does all this leave you with once you actually settle down to driving? A slightly unsatisfying car, I'm afraid. Somewhere inside the Evo X is the brilliantly pointy, adjustable chassis that has been improving for nine generations. But Mitsubishi has tried to civilize the tenth gen and it's missed the mark. The steering is more direct than the Impreza's and therefore initially nicer, but you very soon realise that it has no real feel. For a car that you want to drive on its nose this is not good, because you just don't have the confidence to throw it into corners. It feels up on tiptoes and it's more instantly sensitive and adjustable than the STI but you can't enjoy it because you feel like you're controlling what's going on underneath you by remote. It really is like playing a computer game.
The engine is disappointing too, feeling very thin in its delivery and lacking in grunt compared with the STI. It is also possibly the dullest sounding engine ever to drone from a performance car – it's like listening to someone Hoovering a couple of rooms away. The gearing is very short, which is fine when you can flick up and down the box so easily, but as Roger Green says, there's a permanent flurry of activity going on yet somehow you're never quite in the right gear. The best solution is to leave it in Drive and let the spookily intuitive computer program shuffle cogs for you. Not something I ever thought I'd say about an Evo.
The Evo X SST is still a very quick car across the ground, its ability to carry speed is phenomenal and there are moments when you catch glimpses of why we love Evos, but they're fleeting thanks to the layer of desensitising civility Mitsubishi has added in. A car like the Evo is not, should not, be a mainstream car.
Jumping back into the Impreza as the sun sinks, it's clear the STI wins this battle. It's more engaging to drive, the engine feels much stronger and there's simply more of what you want, what you expect, from a thrilling rally-stage refugee. When you add in the price difference too, it's a clear winner. The worrying thing for both manufacturers, however, is that we'd have an Evo IX over either of them…
Extra Info
The Last Samurai
I'm a devout Evo fan, always have been. They're so singularly loopy and so unapologetic about it; a genuinely unique driving experience, as special in their own way as a 911 or an Elise or a big V12 Lamborghini. But if the Evo X is a different sort of animal, maybe it's time to get yourself an Evo IX and enjoy the last samurai… There's another advantage to the last 'proper' Evo – not that the razor-sharp reactions, deft balance and superb steering aren't already compelling enough – and that's the amassed knowledge about its heart and soul, the 2-litre turbocharged 4G63 engine. It is massively strong and massively tuneable. A word of caution, though: go too far and its characteristic wide powerband and predictable, progressive delivery disappears. Mitsubishi UK briefly offered the Evo VIII in FQ400-tune, with 405bhp. It was awful: terribly laggy and probably slower than a bog-standard car point-to-point. Ever since, I've been suspicious of big-power Evos. So I approached this Turbo Technics-tweaked Evo IX with caution, despite Turbo Technics' assertion that not only did it have more power than the old FQ400 (410bhp) but that they'd also kept the delivery as near-standard as possible, with power coming in early and building smoothly up to the rev-limiter. They're right, y'know. Bloody hell this thing is fast, boost from the hybrid turbo already surging the IX forward at 3800rpm and then going into hyperdrive as the revs climb. It's still got that terrific top-end bite too, crisp and urgent and relentless. The engine works the chassis very hard, but the Evo IX feels best when it's howling in oversteer but still driving forwards hard. With 410bhp it's all the easier to get into that magic zone. At £1620, the Turbo Technics conversion seems like good value. But more than anything else, it's a timely reminder of just how special a Mitsubishi Evo can – and should – be. Jethro Bovingdon
Lap Times
| | | |
| --- | --- | --- |
| Model | Evo | STI |
| 0-30 | 1.9 | 1.7 |
| 0-40 | 2.7 | 2.7 |
| 0-50 | 3.9 | 3.6 |
| 0-60 | 5.2 | 5.1 |
| 0-70 | 6.9 | 6.5 |
| 0-80 | 8.8 | 8.3 |
| 0-90 | 11.1 | 10.4 |
| 0-100 | 13.9 | 12.7 |
| 0-110 | 17.5 | 15.8 |
| 0-120 | 22.4 | 20.8 |
| 0-130 | 30.2 | 25.7 |
| 1/4 mile | 13.9 sec | 13.6 sec |
| Speed | 100mph | 103mph |
| 20-40 | 5.2 | 9.1 |
| 30-50 | 3.5 | 7.4 |
| 40-60 | 3.0 | 6.0 |
| 50-70 | 3.3 | 5.0 |
| 60-80 | 3.7 | 4.8 |
| 70-90 | 4.3 | 5.0 |
| 80-100 | 5.2 | 5.4 |
| 90-110 | - | 6.1 |
| 100-120 | - | 7.3 |
| Braking 100-0 | 4.2sec (305ft) | 4.5sec (301ft) |
| Max speed | 155 (claimed) | 155 (limited) |
Comparison
| | | |
| --- | --- | --- |
|   | Impreza | Evo |
| Engine | Flat-four, turbocharged | In-line 4-cyl, turbocharged |
| Location | Front, longitudinal | Front, transverse |
| Displacement | 2457cc | 1998cc |
| Bore x stroke | 99.5 x 79.0mm | 86.0 x 86.0mm |
| Cylinder block | Aluminium alloy | Aluminium alloy |
| Cylinder head | Aluminium alloy, dohc per bank, four valves per cylinder, active valve control system | Aluminium alloy, dohc, four valves per cylinder, variable valve timing |
| Fuel and ignition | Electronic engine management, multipoint fuel injection | Electronic engine management, sequential multipoint injection |
| Max power | 296bhp @ 6000rpm | 291bhp @ 6500rpm |
| Max torque | 300lb ft @ 4000rpm | 300lb ft @ 3500rpm |
| Transmission | Six-speed manual gearbox, four-wheel drive, centre diff with viscous coupling, front and rear limited slip differentials, VDC | Six-speed twin-clutch sequential manual gearbox, four-wheel drive, S-AWC, AYC, CD, ASC, |
| Front suspension | MacPherson struts, coil springs, gas dampers, anti-roll bar | MacPherson struts, coil springs, gas dampers, anti-roll bar |
| Rear suspension | Multi-link, coil springs, gas dampers, anti-roll bar | Multi-link, coil springs, gas dampers, anti-roll bar |
| Brakes | 330mm ventilated front discs, 305mm ventilated rear discs, ABS, EBD | 350mm ventilated front discs, 330mm ventilated rear discs, ABS, EBD |
| Wheels | 8x17in, aluminium alloy | 8.5x18in, aluminium alloy |
| Tyres | 235/45 R17 front and rear, Dunlop SP Sport 01 | 245/40 R18 front and rear, Yokohama Advan A13 |
| Weight (kerb) | 1505kg | 1590kg |
| Power-to-weight | 200bhp/ton | 186bhp/ton |
| 0-60mph | 5.1sec | 5.2sec |
| Max speed | 155mph (claimed) | 155mph (limited) |
| Basic price | £24,995 | £31,999" |