If you're wondering what the Volkswagen e-Golf is like, you might be happy to know it's just like a Golf. It's just as well made, practical, spacious, classless and comfortable as any other. The e-Golf is especially refined too, thanks to the tall tyre profile and, oh hang on, the lack of an engine constantly igniting fossil fuel in controlled explosions in order to create forward motion. That also helps.
It's devilishly quiet in fact, exhibiting little more than a distant whirr on smooth tarmac, while the torque-rich electric motor makes it feel considerably perkier than even a reasonably powered petrol version (a recent foray in the entry-level 84bhp 1-litre three-cylinder Golf proved it to be slower moving than the Icelandic glaciers it's indirectly sending into the North Atlantic).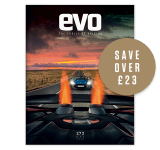 Subscribe to evo magazine
Subscribe today to have every issue of evo delivered straight to you. You'll SAVE 39% on the shop price, and get evo for its original cover price for a whole year!
> Click here for our review of the standard VW Golf
The e-Golf doesn't wear its electric car kudos of trying to save the world quite as loudly as other electric cars, but away from the 'green' image, does the e-Golf actually represent a viable electric car you would want to use every day?
Engine, transmission and 0-60 time
Now let's get this right. The e-Golf is a fully electric car without any form of petrol or internal combustion engine. This is not a hybrid. The electric motor is mounted under the front bonnet as normal, while the batteries reside under the rear seats.
The electric motor is a direct-drive unit, producing 135bhp and 214lb ft of torque, both of which are instantly available in the typical style of an electric motor. Acceleration to 62mph is a leisurely 9.6sec, but feels substantially faster thanks to that instant torque. It'll reach a top speed of 93mph, but considering how quickly that will drain the battery when driving at that speed, it's probably not an issue.
> Click here for our review of the BMW i3s
Technical highlights
Feeding the electric motor is a 35.8kWh lithium-ion battery pack that sits under the rear seats in the space usually occupied by the fuel tank. For context, the entry-level Tesla Model S uses a 90kWh battery back, so that tells you that by usual electric car standards, the Golf's battery is fairly small.
It may be small, but it's still a heavy load, weighing a hefty 318kg, but its placement does help keep the centre of gravity low. The e-Golf's total weight is 1615kg, which sounds reasonable enough until you realise a standard Golf 1.4 TSi tips the scales at a scant 1171kg. Inside, the Golf is like any other, with the usual combination of high-quality infotainment and exceptional build quality.
What's it like to drive
Get in, drive away, and the e-Golf could be any other Golf. The steering is instantly familiar, being slick and smooth, but is ultimately feel-free. The brakes do take some getting used to as they switch between regeneration and friction braking, but power is still strong and once the brakes have switched over to friction, they respond naturally.
It's also a tidy handler, as most of its (battery) weight is mounted low in the chassis, and combined with that instant torque hit dare I say, it's almost a laugh around town. Turn-in is impressive, despite the tall, narrow eco tyres, and the electric motor's torque keeps the e-Golf feeling spritely. Performance is notably dulled as the speeds get higher, so it's at its best around town, which is a good thing considering the merely average battery range.
Volkswagen quotes a range of 144 miles from a single charge, but even with care this road tester got around 100 miles before chickening out and finding a charge point. Of course finding a suitable charge point proved to be far trickier than expected, as most public charge points (the only option for this London dwelling journalist) are all run by different companies, none of which I had appropriate memberships or accounts with. The stand off led to a frustrating two hours hanging around a Waitrose carpark while just enough juice was fed in to get me back to the office. If you don't have a driveway, or charging facilities at work, it's just too hard to keep the e-Golf juiced up, although it's not something we can blame on VW, rather the woeful infrastructure. 
As with many electric cars, there is a separate drive mode that uses the regenerative brakes to mimic engine braking, topping up the battery by capturing kinetic energy usually lost in braking. In its most aggressive mode, lifting off the throttle sharply introduces so much regen that the brake lights activate, but be measured with your inputs and it's entirely possible to drive with only the throttle pedal, needing only to use the brakes to come to a complete halt.
But the e-Golf's issues start and end with the compromised way it is constructed, dealing with the same packaging confines as an internal combustion automobile, when there is little need, thanks to its electric powertrain. Tesla, despite its shaken reputation, proves what is possible in vehicle packaging when the electric car is developed from scratch, something that the decidedly Golf-like e-Golf makes no attempt to replicate.
Things will change with VW's bespoke electric ID models, but till then the Golf remains a half-baked EV, with slightly aged tech in a rapidly ageing body that made perfect sense at the beginning of the 'electric revolution', but which has since been overtaken by 'blank sheet' electric cars from rival manufacturers.
Price and rivals
Like all VWs the e-Golf isn't cheap, but then not exceedingly expensive either. Prices start at £32,730 (before relevant tax breaks or incentives), and there is only one relatively high-specification model featuring top-spec infotainment, parking sensors and adaptive LED headlights. It doesn't have leather seats or big fancy wheels, but that would likely be at odds with its 'friendly' ethos.
Rivals are varied and becoming increasingly common. Renault was one of the first to offer full EV models such as the Zoe, and although size-wise it is closer to a Polo, it's one that's been designed from the ground up to be electric. Two models are offered, a high-range model and a quick-charge model, and both have much higher ranges and bigger batteries, yet cost less at around £29-31k depending on the model.
The Nissan  Leaf is the Golf's most obvious, and in its second generation, most rounded rival. It's quicker than the Golf (7.9sec to 62mph), has a marginally better range (168 miles), and is cheaper, starting at £23k and topping out at just over £29k. BMW's i3 is only just pricier than the VW at £35,175, has a bigger range again at 222 miles and is definitely more visible on the Portobello Road in the eco stakes. If you're going to go electric you may as well shout about it.
All of these rivals aren't as well considered as the Golf to use every day though, and it's this familiar feel that the e-Golf will likely use to draw in its buyers, but if you weren't already sold on the idea of an electric car as you walked into the showroom, the e-Golf probably won't be the one to convert you.