What is it?
As well as being the fastest and most powerful Bentley ever the new Continental Supersports is also the most agile, according to the engineers who developed it. Rightfully, it slots in right at the top of the Continental GT range. The numbers surrounding the Supersports are so colossal they actually start to lose all meaning – 700bhp, 750lb ft of torque, 2280kg and 209mph. 
The Supersports will be limited to 710 units globally across coupe and convertible body styles, making it much more exclusive than the 2009 model, of which some 1800 were built.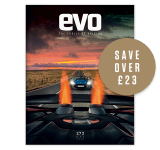 Subscribe to evo magazine
Subscribe today to have every issue of evo delivered straight to you. You'll SAVE 39% on the shop price, and get evo for its original cover price for a whole year!
This is perhaps as bold and as striking as the Continental GT has looked since its 2003 introduction. It is hugely menacing, but in certain colours and with the optional rear wing in place it can hardly be described as subtle. Bentley offers the Supersports in a range of garish two-tone paint schemes – yellow and black is particularly eye-catching – with various tri-tone interior trim options. The customers demand it, says Bentley, only half-defensively. 
Engine, transmission and 0-60 time
The familiar 6-litre, twin-turbo W12 engine has been reworked with new intake and exhaust systems, bigger turbochargers and strengthened main and conrod bearings. Compared to the previous Supersports this latest version develops an additional 79bhp and 160lb ft. 
> Bentley Continental GT review
The 750lb ft peak torque figure is developed between 2000 and near on 5000rpm, giving a vast, tabletop torque curve. The Supersports reaches 60mph in just 3.4 seconds. The 7.2 second 0-100mph time, meanwhile, is a full 1.7 seconds faster than the previous Supersports. 
Drive is sent to all four wheels, nominally split 40:60 front to rear, but 85 per cent or so can be sent to either axle in extreme conditions. The eight-speed automatic gearbox, supplied by ZF, has a faster-reacting torque converter compared to the Continental GT Speed. 
Technical highlights?
Whereas the engine has been extensively modified compared to the Speed the chassis is carried over unchanged. That means it rides 10mm lower than a standard W12 Continental GT, with 25 per cent stiffer springs and 50 per cent stiffer anti-roll bars. 
In a bid to overcome some of its mass the Supersports uses the torque vectoring system that was first introduced on the GT3-R two years ago. Rather than actively distributing torque between the four corners using electronically controlled differentials, the Bentley's system simply tickles the brakes into and away from corners. It isn't as effective as the more advanced differential-based method, but it's an awful lot more effective than no torque vectoring at all. 
Carbon ceramic brakes are standard fit, saving 22kg. The total weight saving over the Speed is 40kg, thanks also in part to the titanium exhaust. 
What's it like to drive?
Given the Supersports' more focused chassis settings there are, inevitably, other models in the Continental GT range that ride more fluidly than this. That said, the range-topping model still rides smoothly enough on its air springs to give the car an effortless, cosseting gait onthose apocryphal cross-continental journeys that marketing people speak so fondly of. 
The Supersports is also very refined in terms of wind and road noise, but a Mercedes-AMG S65 Coupe is appreciably quieter. What the Supersports does do better than most, though, is dull the sensation of speed on the motorway – it's not unusual to look down at the speedometer and see it reading well into three-figures. 
All Continental GTs are built like Victorian houses and they weigh something similar, so the assumption is they'll handle like one. In actual fact these cars can be uncannily agile and amusing to drive, and that's particularly true of this more athletic Supersportsversion. 
The basis of that agility is tremendous body control, even over cresting, yumping, bucking road surfaces. The Supersports keeps it masses in check quite brilliantly. Beyond that, the chassis balance is actually very neutral,rather than being woefully nose-led. It is actually possible to bring the rear end around when off throttle on the way into a corner, which means the front axle doesn't simply wash wide hopelessly bend after bend. 
There's also good pliancy over bumps and the steering is light, direct and completely free of slack, which also helps to reduce the sense of mass and inertia. The torque vectoring system, meanwhile, is subtle and you can't particularly sense it working, but you are aware of a certain eagerness on the way into a corner and real positivity under power on the way out. 
> Bentley Bentayga - the ultimate luxury SUV?
This all needs some qualification. The Supersports remains a 2.3-tonne leather-lined lump and no amount of torque vectoring or clever electronics or trick suspension is going to make it handle like a Porsche 911. But for one so big and heavy the Supersports is actually rather good fun to drive. 
It's phenomenally quick, too, that almost entirely flat torque curve and four-wheel drive giving the kind of any-speed, whatever-gear, all-conditions acceleration that Porsche 911 Turbo owners will be so familiar with. From the passenger seat in particular the Supersports feels relentlessly fast in a straight line, as though the usual problems of weight and drag just don't apply. The engine is responsive and keen to rev, but it's one that trades on its tidal wave of torque rather than a zingy, exciting power delivery. 
The automatic gearbox works effectively for the most part, but quite why it ever needs to kick down a gear in manual mode under wide throttle openings when there's so much torque on hand is a mystery. 
The titanium exhaust, meanwhile, isn't terribly musical under load but on downshifts and on the overrun it emits the most demented crackles. The first few times you hear it you'll swear the exhaust, and perhaps also sizable parts of the rear axle, have actually fallen off and are being dragged down the road behind you.  
Price and rivals
Costing £212,500, the Supersports is £43,600 more expensive than a regular Speed. The car that best combines performance, dynamic ability and long distance usability right now is Aston Martin's £154,900 DB11.
Ferrari's GTC4 Lusso, which costs £230,430, is a little less powerful than the Bentley with 681bhp, but it is sharper to drive. The £187,670 Mercedes-AMG S65 Coupe, meanwhile, is quite possibly the best long-distance machine currently on sale.