It could be all too easy to dismiss German machinery as being too dull, too predictable, too Teutonically efficient to be truly inspiring. While that might be true of an average office car park populated by diesel-engined saloons, hatchbacks and SUVs, Germany has also delivered some sublime performance-orientated machinery. BMW Ms, RS Porsches and Audis, thundering AMGs and a smattering of delectable hot hatches make Germany a rich hunting ground.
For almost every uninspiring 318d or 1.6-litre TDI Golf there's an equally bonkers offering to be savoured and enjoyed. Not only are German performance cars exciting to drive, they tend to be well put-together with a hewn-from-solid-rock feel that makes them an excellent ownership prospect and accounts for why so many of the country's past masters are still on the road today.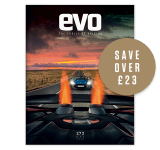 Subscribe to evo magazine
Subscribe today to have every issue of evo delivered straight to you. You'll SAVE 39% on the shop price, and get evo for its original cover price for a whole year!
We've selected a handful of Germany's best ever efforts – five old and five new – below, illustrating the breadth of talent available from the country's carmakers and why you don't have to worry about Teutonic efficiency. These ten cars offer excitement by the barrel-load.
Top five best new German cars
The five best German performance cars that you can buy new today are listed below.
Porsche 991.2 GT3 RS
It seemed scarcely possible that Porsche would be able to significantly improve on the Gen 1 991 GT3 RS, but it did, and then some. With a glorious, naturally aspirated 4-litre flat-six and a stratospheric 9000rpm red line, the engine is spine-tingling in its response. Quick too, 0-62mph taking a scant 3.2sec and with an unfettered 193mph top speed.
But there's so much more to the GT3 RS than its impressive raw figures. Rose-jointed suspension and stiffer springs might have taken the edge off the ride, but the steering response is telepathic, allowing unparalleled levels of accuracy in the way the car can be positioned on the road. Every aspect of the GT3 RS has been finely honed and improved – one of the world's truly great cars.
BMW M2 Competition
Proving that great things do come in small packages, BMW's M2 Competition is currently the best M-car in the range, harking back to the feel of machinery such as the E46 M3. The Comp pack brought more power from the turbocharged straight-six along with a chassis set-up that's been sharpened and revised for even greater poise and involvement.
With a smattering of parts such as solid bushings and additional bulkhead and strut braces from the M4, the M2 offers better precision than before and resists understeer far better. With recalibrated settings for its diff and traction control it's now endowed with a nimbleness that was previously sorely lacking. The ride can be firm at times, but it still offers four-seat practicality and manageable running costs, while being a hoot to drive.
> Best British cars – the greatest sports and performance cars from Britain, past and present
Porsche 718 Cayman GT4
The current 718 Cayman, like its Boxster sibling, has won few friends for its four-pot turbo motor, but there are no such worries with the rabid GT4 incarnation, as sitting amidships is an atmospheric flat-six derived from the 992's 3-litre. With 414bhp on tap it's hugely quick and offers a better soundtrack, but it's the chassis and aerodynamic addenda that really make the car.
Objectively it's hugely capable – and a monumental 12 seconds a lap quicker around the Nürburgring than the previous GT4 – but it's the GT4's emotional appeal that's so convincing. It's every inch the proper Porsche GT car with effectively 911 GT3 spec suspension that gives you a wonderful connection with the car, both on road and track. With a base price of £75k it really should be considered a bit of a bargain, too.
Mercedes-AMG GT R Pro
In its standard form the AMG GT R is a hugely appealing machine, yet add a smattering of upgrades and the GT R Pro model comes perilously close to being Mercedes' equivalent to Porsche's iconic 911 GT3. The 572bhp hot-V twin-turbo V8 delivers monumental performance – 0-62mph takes a scant 3.6sec and top speed is a heady 198mph – yet it can still be remarkably docile.
But that's not why you'd buy one. Enhanced (manually adjustable) suspension, rose-jointed bushings, increased aero and ceramic brakes point to a deliciously appointed track weapon with a wonderful sense of theatre, and a chassis that's surprisingly adjustable and not as intimidating as you might think. But at £188k does it offer enough over the GT R to justify the additional £30k outlay?
Audi R8 V10 Performance
In a world obsessed with engine downsizing, turbocharging and hybridisation, it's hugely refreshing that Audi has retained its glorious 5.2-litre ten-cylinder in the R8 V10 Performance. Over 600bhp and a red line getting on for 9000rpm is a recipe for automotive nirvana, and even if the rest of the car was a shonky disaster zone it would be worth buying for the engine alone.
But it's not, the recently revised R8 proving it's still a glorious thing to drive, with excellent four-wheel-drive traction coupled with quick-witted steering that allows you to place the car precisely while revelling in that naturally aspirated engine's throttle response and spine-tingling soundtrack. Enjoy it while you can – cars such as this are not long for this world.
Top five best classic German cars
With a back catalogue of M-cars, RSs and GT2s and 3s there's something for everyone to enjoy in Germany's classic car offerings.
Porsche 997.2 GT3 RS
There was always a nagging doubt with the 997 GT3 and GT3 RS that the latter wasn't really worth the additional outlay over the former, but with the Gen 2 RS there was a greater differentiation between the two. There was more power, wider front arches, a titanium exhaust and a single-mass flywheel, endowing it with better throttle response and a spikier soundtrack.
Revised gearing made it slightly quicker and overall it was a better-balanced machine to drive, with enhanced front-end grip and endless possibilities for personalisation thanks to the adjustable suspension (and an extensive options list). While many could have dismissed the RS as a track weapon, it was a devastating road car with a pliant ride and enough comfort to get by.
VW Golf GTI Clubsport S
When the annuls of front-drive hot hatches are written, long after we've all swapped unleaded for electric motors and batteries, the GTI Clubsport S will undoubtedly be right up there at the top of the tree. With over 300bhp from its turbocharged 'four' it was, for a time, the Nürburgring lap record holder for front-wheel-drive cars, and while its very raison d'être was to break the track record, it made a surprisingly good road car too.
The suspension was a perfect match for a lumpy British B-road and its tactile steering and immense traction from its mechanical limited-slip diff allowed it to really punch out of corners without scrabbling for grip. Devoid of fripperies – such as a rear seat – it might not have been the most practical Golf, but it was one of the best to steer.
> Best Japanese cars - the greatest performance cars from Japan, past and present
BMW M5 (E39)
Debate will rage over which was the greatest of the M5s, but for those of a certain age the E39 represents the pinnacle of the breed. Its suitably sonorous 4.9-litre V8 developed 394bhp and 369lb ft of torque, good enough for a 5.3sec 0-62mph time. With a brilliant hewn-from-solid-rock build quality, practical packaging and a docile nature, it was the consummate all-rounder.
As good as it was at doing normal car things, when you took it by the scruff of the neck it was the epitome of a supersaloon, with a glorious chassis balance, a meaty six-speed manual 'box and communicative steering once it was loaded up. And for those who like to indulge in a bit of oversteer it was supremely controllable, the length of the slide only dependant on the weight of your right foot. The last of the (more or less) analogue M5s and destined for classic status.
Audi RS4 (B7)
If you've ever laboured under the misapprehension that Audis are a bit dull, a bit too inert, then you need to drive a B7 RS4. Initial impressions will no doubt centre on the brilliant naturally aspirated V8 (4.2-litres, 414bhp) that'll rev to 8250rpm and sound utterly sensational while doing so. You may also be seduced by the short-throw, six-speed manual 'box, but it's the RS4's chassis that equally impresses.
All-wheel drive with a default 40:60 rear-biased torque split might not sound like a recipe for excitement, but the front end is pretty pointy, with decent levels of grip, and if it does understeer a momentary lift brings the rear end into play. It rides well and the overriding impression is of a playful chassis that interacts with you and responds deftly to your inputs.
Porsche Cayman 981 GT4
The first generation of Cayman GT4 was an enticing prospect, the first 981 Cayman to be given the full Porsche Motorsport treatment, and the resulting machine was an absolute belter. With a 380bhp flat-six derived from the 911 Carrera S and a six-speed manual it was certainly quick, although overly-long gearing could frustrate.
As good as the engine was, it was the 981 GT4's chassis that brought an outpouring of superlatives. The standard car's natural balance was retained but it was much keener to hook up early in a corner, with sharper, more communicative steering providing tremendous feedback. Needless to say, grip was prodigious. The only fly in the ointment was its limited production and inevitable speculator price hikes this encouraged.