Downsizing and turbocharging are old hat now, but back in 2011 they were still the cause of much soul-searching. Especially when the outgoing model was powered by a race-bred 5-litre naturally aspirated V10. Somehow a 4.4-litre V8, even one with twin turbos, didn't have quite the same cachet. Most perturbing of all, the engine note would be supplemented by synthesized sounds from the hi-fi ...
On the other hand, the V8 in the new, £73,040 F10 M5 did have one or two things in its favour. A peak power figure of 552bhp overshadowed even the V10 E60's fabulous 500bhp, making the new model the most powerful road car BMW had yet built. In terms of torque, the V10 was simply monstered. Where the old unit made its 384lb ft at 6100rpm, the new one had 501lb ft all the way from 1500 to 5750rpm, delivered in near-seamless fashion thanks to a dual-clutch gearbox in place of the previous automated single-clutch manual. The performance figures – 0-62mph in 4.4sec and a restricted top speed of 155mph, or 190mph with the optional M Driver's Package – told only part of the story. On the road, and despite weighing a massive 1870kg (115kg more than the E60), the new car was effortlessly, breathtakingly, dizzyingly rapid.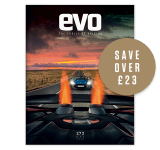 Subscribe to evo magazine
Subscribe today to have every issue of evo delivered straight to you. You'll SAVE 39% on the shop price, and get evo for its original cover price for a whole year!
There was even more power if you specced the £6700 Competition Package, introduced for the 2014 model year alongside a minor facelift and interior revamp. The pack lifted peak power by 15bhp to 567bhp, cutting the 0-62 time to 4.2sec. It also included a louder exhaust, a tauter chassis and a drivetrain recalibrated for sharper responses.
Even a 'regular' F10M had a hugely impressive armoury of hardware and software to manage its prodigious outputs, with a new electronically controlled Active M Differential, multiple modes for damping, steering and throttle, and not one but two M buttons on the steering wheel to call up your preferred combinations.
In 2015, BMW launched the limited-edition '30 Jahre M5' to mark the 30th birthday of the M5. It was essentially a Competition Package with another 25bhp, lifting the total to 592bhp and trimming the 0-62mph time to 3.9sec. Just 30 were brought to the UK, all in striking, matt-finish Frozen Dark Silver, with a list price of £91,980. The same mechanical spec was used for the swansong Competition Edition, launched in 2016 with a run of just 200, laden with extra M goodies and priced at £100,995.
But then even a regular M5 could be specced close to £100k. Temptingly, one of these magnificent machines could today be yours for as little as £30k. Here's how to find a good one.
Specs
| | |
| --- | --- |
| Engine | V8, 4395cc, twin-turbo |
| Max power | 552bhp @ 6000-7000rpm |
| Max torque | 501lb ft @ 1500-5750rpm |
| Transmission | Seven-speed DCT,rear-wheel drive,Active M Differential |
| Weight | 1870kg |
| Power-to-weight | 300bhp/ton |
| 0-62mph | 4.4sec (claimed) |
| Top speed | 155mph (limited, 190mphoption) |
| Price new | £73,040 (2011) |
Checkpoints
Engine and transmission
The 'S63' twin-turbo V8 didn't get off to the best of starts, with a number suffering oil pump failures leading to severe engine damage. Around 700 M5s and 6s built between July and September 2012, including 19 UK cars, were recalled and the defective parts replaced. Happily, the recall nipped the problem in the bud, and the engine is since proving extremely reliable, observes Munich Legends' Stuart Draper.
'The one issue we do occasionally see is high oil consumption,' says Stuart. 'I'd say it affects around one in ten cars, usually where the first owner didn't stick to the running-in guidelines and drove it harder than they should over the first few hundred miles. Cars seem to fall into two camps. Most use no oil or very little oil, but in the worst cases they can use a litre every 500 miles.' So look for the usual clues: blue smoke, specks of oil on the rear bumper, an oil container in the boot...
'We've seen occasional problems with injectors and airflow meters, which can be expensive if the car's not under warranty,' says Stuart, 'but generally it's a good, robust engine. Same goes for the transmission, which is proving incredibly hard-wearing. We've seen no selection issues.'
Servicing intervals are variable, depending on usage. The S63 uses timing chains, so there are no belts to replace, but the third service is the biggie, as it includes transmission fluid, spark plugs and other pricey items.
Suspension, steering and brakes
No serious issues to worry about here. 'The F10 chassis was so stiff that the drivetrain and suspension could be pretty much solid-bushed.' says Stuart Draper. 'Consequently they don't have as many wear and tear issues as earlier cars.
'The brakes are a big improvement on those of most earlier M-cars, with proper discs and six-pot calipers. Very few buyers went for the carbon-ceramics. Today anyone looking for an upgrade for trackdays tends to go for a Brembo set-up.'
To replace a set of front discs and pads is about £1300, and it's a similar sum for the rears, which actually wear at least as fast because they're used by the traction control. 'In fact the brakes seem to wear extremely well, usually lasting 30,000 miles or more,' says Stuart.
A few owners prefer the ride and lower road noise on 19in wheels, but the vast majority of original buyers went for the 20in option. Check their condition carefully, including on the inside of the rims. Tyres seem to last surprisingly well, with some owners even reporting getting 20,000- plus miles from the rears. Budget around £250 per corner if the tread is marginal.
Body, interior and electronics 
No serious issues here. Do check that the air conditioning works as it should – F10s were subject to recalls for air-con failures. Some cars suffer slight but irritating rattles from around the B-pillars and door trims, which can take time to trace and rectify.
Prices
Parts
Prices from munichlegends.co.uk. Tyre price from blackcircles.com. All prices include VAT but exclude fitting charges and are correct at the time of publishing.
| | |
| --- | --- |
| Tyres (each) | £252.42 front,£266.90 rear (MichelinPilot Super Sport) |
| Front pads | £478.99 (set, includingsensors) |
| Front discs | £852 (pair) |
| Damper | £869.33 (single) |
| Air filter | £33.06 (per bank) |
| Oil filter | £23.75 |
| Spark plugs | £194.11 (set) |
Servicing 
Prices from munichlegends.co.uk, including VAT, Servicing is condition-based with variable intervals and are correct at the time of publishing.
| | |
| --- | --- |
| Minor service | £418.09 |
| Major service | £954.32 |