Most of us have felt the compulsion to buy a 'real' sports car at some time or other. Whether you're into hot hatches, rally specials or powerful GTs, the lure of something simple, low, rear-driven and fast remains strong. Moreover, the thought of a lightweight, hardcore sports car, typically of the low-volume British variety, takes that notion even further: it takes – and shows – commitment, and is a decision that puts driver appeal at the top of the priority list.
So, what are the options if you want to make that step into something more extreme? Let's begin with the ubiquitous Caterham Seven. You may choose to buy new or used, and if it's the latter there's a bewildering array of models to choose from, built over successive decades. However, one obvious constant is that Sevens appear to be static in terms of price: regardless of age, there are few genuine Caterham Sevens to be seen under £12k, with most examples built in the last 20 years and to a decent specification commanding at least £15k.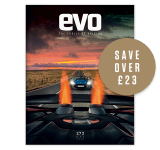 Subscribe to evo magazine
Subscribe today to have every issue of evo delivered straight to you. You'll SAVE 39% on the shop price, and get evo for its original cover price for a whole year!
> Best track day cars to buy now
Andy Noble of Sevens and Classics (sevensandclassics.com) says: 'The majority of Sevens we sell are between £18,000 and £26,000. If you were to keep the car three years, and not put too many miles on it, it'd probably be worth the same sort of money when you sold it. In terms of running costs they're perhaps the cheapest sports car you'll ever buy: a service should be £220 a year, and insurance probably only £250. They're so light on brakes, clutches and tyres. If you're going to use the car on track a lot then a limited-slip differential and a six-speed gearbox are a good idea. If you're just pootling around country lanes then a car without an LSD and with a five-speed 'box is fine.'
> Caterham Seven Donington Edition review
Even something as exotic as the old Rover K-series-powered R500 is available for around £25,000, and while it has a reputation for being highly strung, as long as you keep oil and water in it you should get 25,000 miles between rebuilds.
There is, of course, a complete range of new Caterhams available, and here too there are plenty of options – see Expert View.
Strong residuals are also associated with the Ariel Atom, a car now firmly established as the great Seven alternative. With its largely open 'body', the Atom is even less practical in a real-world sense than the Seven, so really is just a weekend toy. That's just one factor that makes an Atom purchase a really personal thing. Another is the buyer's relationship with Ariel. The company sees a lot of its cars back for servicing, and sells many of them on in the used market. In most cases, a dialogue with the factory is part of the experience.
'We always say to come down and see us, take one out for a drive,' says Tom Siebert at Ariel. 'We also try to ascertain what the customer is looking for, and the spec will vary a lot between a Sunday-morning driver and a committed trackday-goer. I suppose 90 per cent will use their cars on the road, with up to ten trackdays a year. So we'll try to tailor the car to them, and their budget – if they overspend they'll end up resenting that much money sat in the garage.'
That last point is applicable to all of these cars: you need to be comfortable tying up equity in something that you may not see or use very often, particularly through the winter months.
At the far end of the scale is something like the Radical SR3 (see Expert View). Although the company does make the incredibly fast RXC for the road, the little SR3 – a shrunken LMP car with a frenzied motorbike engine – is these days solely offered in track-only form. Radical has built more than 1100 SR3s since production began in 2002, and you only need to take one look at it to know this is a level of performance way beyond most road cars, even if the base model only has 1340cc. You may end up blitzing trackdays, then look to racing. Given the SR3 starts at £63,000, this is obviously a very different introduction to competition than something such as the Caterham Academy, but strong residuals underpin it all, with used SR3s still commanding £40,000-50,000.
One manufacturer that takes that modern racing vibe and puts it on the road is Lotus, with its Lotus 2-Eleven and 3-Eleven. The latter, with its £82k starting price new, is probably a bit too pricey for here, but it's much more affordable predecessor also combines the extreme personality of a windscreenless track car with the security of the Lotus chassis tub and polished dynamics that have a knack of making it feel more friendly than it has any right to be.
'These are a great buy,' says Jamie Matthews of Bell & Colvill. 'The Toyota engine is tried and tested, and it's a cheap car to keep going on the track. Don't be put off by loads of owners on the V5 as they're really a toy, but it's a shame when owners service the car themselves – a good history is still important.
'You'll need £35,000-40,000 for one. They've been that way for a while now, and prices have started to creep up over the past year.'
Summary
Whether you're after something to take for a quick blast on your favourite roads on a Sunday morning, or looking for the first rung on a racing career, there's still no real substitute for a lightweight British sports car. Apart from budget, the key thing is to define what you're going to use the car for. Try a few different options, buy the right car, and you can feel secure in the knowledge that depreciation isn't going to bite.
Expert View
Josh Doran – Radical Cars
'The SR3 is our most diverse car. You can use it just for trackdays or do a complete race series in it. We get lots of people buying one for trackdays, then after a couple of seasons they look further afield and get into racing with it. The cars can be driven by anyone who's competent, but there's loads of room for developing your skills. 'At Radical we can do everything from simply supplying the car to arranging a customer's ARDS test, getting their kit and running the car for the year for them – it takes the hassle out ofracing. The standard car uses a 1340cc engine but most upgrade to the 1500cc car at £69,650, and that's the one used for racing. There are loads of options, but most we'd only advise you to go for if you're racing – data-logging, for example. 'We have a parts store online and a spares truck at every race. Brake discs will do a full season and brake pads three or four races or trackdays. We also offer a warranty with our engine builds , which requires they're rebuilt every 40 hours or 12 months . That costs £3500-4500, but you can even send us the data after you run the car so we can check all is well.'
Dave Ridley – CCO, Caterham Cars
'People come to our showrooms saying, "I have a 400bhp Impreza; I need a 250bhp Caterham." But our cars have performance through lightness, and not everybody needs that much power – an Academy car only has 125bhp but there are few things quicker on a trackday. 'The spec of the car is all about how you intend to use it, which is why we now offer the S and R packs, for road and track use respectively. On the used market no two cars are the same. There is currently a nine- or ten-month lead time on new orders, so a lot of people are buying a used one on an agreed buy-back value while they wait for their new one. 'It's the same with the Academy: 40 out of the 56 cars for the 2018 season are already sold, and some are buying older Academy cars to test this year ahead of getting their championship car for next season. All of that is due to the residual values of the cars. 'If you want to build the car yourself, we'll talk you through that and advise what you'll need. You can even hire one from us for £175 to get an idea of whether it's right for you. If you do buy a car, we'll refund you that amount.'