Downsizing. A dirty word for some, particularly when cars like the Porsche 718 Boxster and 718 Cayman swap their much-loved flat-six engines for turbocharged fours.
There's no doubting that both are excellent cars, but it's almost indisputable that such changes have come at the expense of character. And it wouldn't be for the first time: think Golf R32s becoming Golf Rs, BMW inline-six 330is becoming turbo four 328is, and the almost complete disappearance of five- and six-cylinder engines from hatchbacks and coupes.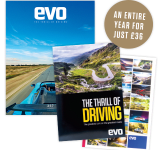 Subscribe to evo magazine
evo is 21 and to celebrate, we're returning to 1998 prices! Subscribe now to SAVE 39% on the shop price and get evo for its original cover price of £3.00 an issue, plus get a FREE gift worth £25!
It's enough to give the humble four-pot a bad reputation. But we're rather fond of fours at evo. To redress the balance, here's a selection of the best four-cylinder engines we've ever used – inline, flat and 'vee's, and on both two and four wheels.
Nick Trott – editor
'My old GSX-R600: 600cc, 16000rpm, 125bhp.' Motorcycle four-cylinders certainly have more in common with race engines than anything found in the car sector, typically running high compression (nearly 13:1 in the GSX-R600's case), individual throttle bodies for each cylinder and short stroke lengths for high engine speeds.
Stuart Gallagher – managing editor
'The Type 587/3 four-cam flat-four in the Porsche 904. Not the most powerful by Porsche standards (198bhp), but one of the best driving experiences I've ever had. Also, the 848cc A-series fitted to my first Mini - my first road car. Many a brilliant time wasted trying to coax the speedo needle round to the ignition light.'
Dan Prosser – road test editor
'The 3-litre unit in a Prodrive BMW E30 M3 rally car. It had massive torque, but also revved so hard at the top end. With side exit exhausts you could actually feel the noise hit you from a quarter of a mile away as it sped past.'
Henry Catchpole – features editor
'I know it has its issues, but I have a real soft spot for the K-series. In its rortiest forms it brought real character to cars like Caterham Sevens and Lotus Elises. That hunger for revs is something that you don't find often these days.'
Richard Meaden – contributing editor
'Far from exotic, but the Rover K-series in the S1 Lotus Elise Sport 135 always sticks in my mind. Such a sweet and characterful engine, but just the right amount of power and torque for the car. A bit leftfield (and classic), but the little V4 in the Lancia Fulvia is also a cracking engine. Likewise the Alfasud's boxer engine.'
Will Beaumont – staff writer
'Nissan's SR16VE N1, as found in the Japanese-market Pulsar VZR N1. Produced from 1997 to 1998, the 1.6-litre unit developed 197bhp at 7800rpm, briefly setting the bar for specific output from a naturally-aspirated four-cylinder car engine at 123.1bhp/litre. Honda's F20 unit from the S2000 moved the goalposts further in 1999, at 123.5bhp/litre.'
Antony Ingram – staff writer
'Probably the K20A2 engine from the EP3 and FN2-generation Civic Type Rs. 197bhp and an 8600rpm red line. Not nearly as fast as most modern hot hatchbacks, but synaptically responsive to throttle inputs, beautifully smooth-revving and a rousing soundtrack. Makes you wonder whether we're really better off now everything is turbocharged.'