The last few years have been something of a renaissance for Honda. While the Japanese company has never failed to produce sensible and reliable vehicles - a worthy aim, given that sensible and reliable are what put Honda on the map in the first place - the firm has undoubtedly had a bit of a dry spell of late as far as driving enthusiasts are concerned.
The current NSX and Civic Type R turned the tide on that - the diminutive S660 too if you live in Japan - and with a "next-gen S2000" circling the rumour mill, the good times look set to continue.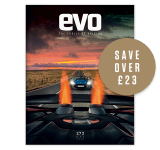 Subscribe to evo magazine
Subscribe today to have every issue of evo delivered straight to you. You'll SAVE 39% on the shop price, and get evo for its original cover price for a whole year!
Yet it's still a great privilege to drive some of the cars that put Honda where it is today, and an even greater privilege to do so on the smooth, bone-dry roads of Spain, far from the UK's broken Tarmac and cloying traffic. So with a selection of iconic Hondas to try - plus a few not-so-iconic ones - evo set off, key in hand, for a day in the Iberian sun.
1989 Honda Prelude EX
A step back in time for our first drive, to the days of pop-up headlights and 13-inch wheels, even on cars with sporty aspirations. Honda had wanted to procure a four-wheel steered version of its distinctive third-generation Prelude coupe, but when this immaculate example came up for auction it couldn't resist adding one to the fleet.
You can see why. It's at once a dainty and handsome design, with an ultra-low bonnet line (owing partly to double-wishbone suspension and a compact 2-litre engine, and partly to a world where pedestrian crash regulations didn't exist), slim pillars framing the glasshouse, and those dinky steel wheels with their plastic covers. They belie the fact that this EX was a fairly basic car - no 4WS, no air conditioning, a twin-carb 12v four-cylinder making 114bhp rather than a fuel-injected 16v with 150bhp, and a modestly-trimmed interior.
But it's a comfortable cabin with outstanding visibility, and Honda's traditionally low scuttle, which gives you a good view of the road despite a relatively low-set driving position. The steering is positive and throttle response excellent, and while a sticky clutch hampers gearchanges, the shift itself snicks between ratios cleanly and quickly. Prelude prices are on the up - and it's not difficult to see why.
2010 Honda S2000 Edition 100
2009 marked the last year of Honda S2000 production. It's vexing to many that Honda never replaced it, though rumours persist of a revival. The likelihood of any new S2000's engine being quite as central to the experience as it is here is slim.
Driving this S2000 was going to go one of two ways: Either I'd fall in love, prepared to overlook any faults in favour of an engine I already knew would be incredible, or I'd concede that the car is indeed closer to the motoring press version of events than the reverence it's held in by people across the internet.
Alas, it turns out to be the latter. I now understand those mixed early reviews, not least those from evo, and particularly the original concerns over the quick but taciturn steering, and the level of involvement from the chassis. And while the engine is a zinger and the gearshift Caterham-tight, the gearing itself is long enough that you don't get to enjoy that VTEC rush as often as you'd like.
1989 Honda NSX
And so to another of Honda's defining cars. The gearbox is a stand-out feature in this car too, but perhaps for the wrong reasons: It's an automatic. A four-speed slushbox at that, and auto models produced only 252bhp from their 3-litre V6 engines, rather than the full 270bhp enjoyed by the manual.
Disappointing in a sports car, and several years ago I tried a manual 2005 car that to this day remains a career highlight, but any drive in an NSX is an event so I refused to let it trouble me. Yes, it could be snappier and could certainly be quicker (the S2000 out-sprints it and even that need stoking to feel quick) but that 3-litre is still a sonorous, spine-tingling joy to extend and the heavy, long-travel throttle pedal is tactile and responsive.
It's satisfying through the corners too, albeit driven here at considerably less than race pace in deference to its scary six-figure insurance value. Like in the Prelude you sit low but feel high, with a fantastic view of the road ahead and a talkative, weighty, non-assisted steering wheel ahead of you. This automatic example might not be a pure sports car, but it'd be a fabulous grand tourer.
2010 Honda CR-Z GT
Rushing quickly towards the future now, a future where we scurry around in compact but sporty hybrids, enjoying agile handling and excellent fuel economy - evo and eco going hand-in-hand.
It didn't really work out like that, did it? Manufacturers ditched coupes some time ago in favour of crossovers, and Honda had its fingers burned by relatively slow sales and people complaining the CR-Z wasn't quick enough. Around a decade on it's still not a brisk car, but the Honda CR-Z is reasonably good fun even so, and now you can pick them up for £4k they're a lot more tempting than they were at a Yen-inflated £18-21k brand new.
This 2010 model just creeps under the 10-second barrier to 62mph, and against a claimed 56mpg combined. Past experience suggests you'll get 40+ fairly easily and 50+ if you try. Sport mode tightens up the steering and throttle response and it feels fairly lively like this, while the cabin still feels modern yet blissfully free of out-of-date touchscreens and the like. Oh, and if you had to ask - yes, the gearshift is peachy.
2001 Honda Insight
As an ex-owner I have to disclose some bias here, but I firmly believe the Insight is one of the best cars Honda has ever built. It's as single-minded in the pursuit of economy as an NSX or Integra Type-R is in performance terms, and its abilities in its chosen field are equally remarkable. I owned mine for two years and without any great effort, it averaged 73mpg. Sometimes over 80mpg. On some single trips, over 100mpg.
It's not as hair-shirt as you expect, either. The styling is an acquired taste (as someone who likes the CRX that preceded it and the CR-Z that followed, I'm a fan) and many evo readers positively couldn't live with its 12.5-second 0-62mph time (though that's not bad from a 1-litre engine). But numb steering aside (something that improves if you pull the electric power steering fuse - ask me how I know) it's nimble and grips harder than its skinny 165-section tyres would suggest, thanks to an 852kg kerbweight.
And the engineering intrigue is off-the-scale. Built at the same factory as the NSX and S2000, the body structure and panels are aluminium. It was one of the most aerodynamic road cars on sale when new (Cd0.25), uses both hybrid assistance and lean-burn, a plastic fuel tank, magnesium sump, and mostly aluminium suspension components. Supercar engineering on a city car scale.
2001 Honda Integra Type-R
Of course, we're saving the best until last. You can expect a full feature on this car soon, but in the meantime it's probably worth pointing out that it's still perhaps the best front-wheel drive performance car ever made.
Tactile, engaging, exciting and addictive, the DC2-generation Integra R is as special today as it was on launch in the UK in 1998 - though the Japanese domestic market enjoyed the DC2 R as early as 1995. In Championship White paintwork with red Recaros, it may not have been beautiful but it's a seminal 1990s shape.
While the performance game has moved on since the 90s, it's also important to realise that the Integra R is still very quick: 0-62mph in 6.7sec officially, and one of the great four-cylinder soundtracks to accompany it. The Integra is, and will always be, one of our absolute favourites.
We drove these too…
Mental note: Wake up earlier. Driving a regular five-door, 1.6-litre hatchback from the mid-90s wasn't part of the plan, but everyone else had taken off in the quick stuff at the start of the day and given Honda had specially spruced up this green 1995 Civic ES for the event - until now dormant in a corner of a Swindon workshop and with fewer than 250 miles on the clock - it would have been churlish to refuse.
And it really wasn't bad - fine-riding, quiet, responsive engine and gearbox and a wieldy size. Strangely, Honda's 1999 CR-V wasn't bad either. Not a car you're ever likely to see again in evo, and we can blame cars like this for popularising road-biased SUVs, but the usual Honda traits reappear here (slick gearshift, precise steering, a feeling like it'll last forever), and it's honestly more fun than most modern performance-orientated SUVs, because it's relatively tactile by modern standards.
Lastly, there's the cute 1976 Civic Deluxe 1200. The first-gen Civic is one of the cars that made Honda's name, and driving one today is a pleasure, given how few are left. By modern standards it's tiny - it was a supermini rival back in the day, only really jumping up a class size in the 1990s - but it feels anything but delicate to drive, with positive steering and a smooth drivetrain. Even the brakes work well, which is always a blessing in cars of this vintage.