It took a good 1500 miles for the Coupe to fully loosen up. The engine felt quite breathless to begin with, seeming to struggle to deliver its promised 165 horses and sounding painfully wheezy when fully extended. Almost overnight, however, the 2.7 V6 released all that tightness and revved with more enthusiasm, so we celebrated by popping in a few laps at a Brands evoactive day.
The trackday confirmed that the Coupe had the potential to become a proper road-and-track car, with decent steering, neat handling and a very slick gearbox. The question was, what to change first.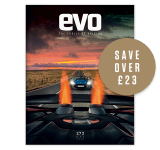 Subscribe to evo magazine
Subscribe today to have every issue of evo delivered straight to you. You'll SAVE 39% on the shop price, and get evo for its original cover price for a whole year!
Now, when you're modifying a car for trackdays, the most sensible option is to start with the brakes and tyres. And as evoactive manager it's obviously important for me to set a good example, so I got things underway with... the motor. Well, I reckon the V6 is the most under-utilised part of the package. Of course, we've instantly blown the five-year warranty, but when has sensible ever been fun?
First up, a trip to Pipercross in Northampton to have a new induction kit fitted. The standard paper-filtered airbox seemed a little restrictive and this promised to be a simple and relatively cheap way to gain more power. They had two systems to choose from, the first a cone filter system costing about £90 that would allow more air in and increase the induction noise too. I plumped for the quieter, trackday-friendly £212 Viper system, complete with carbonfibre heat-shield and a large 100mm inlet pipe that draws colder and therefore denser air from the inner wheelarch, increasing power further.
It takes just 20 minutes to fit, and the results are instant. Throttle response is noticeably sharper, and it seems to have added at least 10bhp to the total. The V6 now kicks on above 5000rpm and it's developed a usefully more aggressive howl too. There's still plenty more to come from those 2.7 litres and you can be sure we'll be going after it. However, with the Coupe being a front-driver we need to be able to transfer that power to the road. What we needed next was a trick diff.
Ford used the Quaife ATB (Automatic Torque Biasing) differential for the Focus RS and happily it can be fitted to almost any make (and, incidentally, any drivetrain configuration). The ATB senses which wheel has better grip and biases the power to that wheel, thus increasing drive. After the work was completed (it takes a day and a bit) I picked the car up in heavy rain, which was handy because the improvement was marked and highlighted by the very first roundabout. Half-way round, I floored the throttle and where the Coupe would previously have ploughed on, it now just accelerated away with no wheelspin at all. There's also now a stronger self-centring action, although it hasn't affected feel, and the Coupe dives more assertively and faster into corners. Excellent! Ready for more power then...
Running Costs
| | |
| --- | --- |
| Date acquired | August 2005 |
| Total mileage | 3581 |
| Costs this month | £957 (incl Pipercross induction kit £212, Quaife diff £450, plus £250 fitting) |
| Mileage this month | 1432 |
| MPG this month | 25.4mpg |