I stood and watched until the XFR was out of sight, mainly because I thought Jaguar's collection driver might appreciate a bit of guidance negotiating our tight car park, but also because separation from the big Jag – my big Jag – was a genuine wrench.
At least it was at the time. But now, looking back, I can't put my finger on exactly why. Surely this is weird, a 500bhp supersaloon that doesn't pack the memory banks full to bursting. Hold that thought, because I'll be coming back to it later.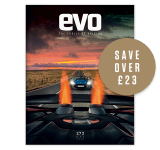 Subscribe to evo magazine
Subscribe today to have every issue of evo delivered straight to you. You'll SAVE 39% on the shop price, and get evo for its original cover price for a whole year!
It's not that I didn't do memorable things in our XFR. Henry may have whisked it away on its first road trip, but in reply to his Le Mans jaunt I trotted off to the Weekend de l'Excellence Automobile. France's answer to the Goodwood Festival of Speed has a slightly lower profile than the 24-hour race, but I did at least get to take part, driving the 600bhp, 225mph XFR Bonneville around the historic Reims-Gueux GP circuit. With the V8's NASCAR bellow carried into the cabin on warm waves of late afternoon air, the Bonneville was unforgettable.
It made the 'regular' XFR feel rather pedestrian, but also highlighted just how manageable and useable a modern supersaloon can be. As a companion on trips like these it was largely faultless. Journeys were so laid-back that I even started letting the radar cruise control (usually my number-one bugbear) dictate the car's pace, happy to sit back in the thick seats and be carried along.
The interior design was superb. Someone drew on real-world experience to make sure there was plenty of stowage for phones, keys, iPods and wallets. In fact my only cabin moan was that the gearshift paddles were mounted fractionally too close to the wheel rim, so your fingertips didn't have anywhere else to rest and thus sometimes pulled a paddle accidentally.
So calm and approachable was the XFR that it took some beating as a family car. This, of course, is the essence of a supersaloon, to be totally adaptable, to have a big enough boot and back seats that I could load up the wife and kids and pop down to Cornwall for New Year, or fold the back seats flat and sling in a bike (or, on one occasion, two).
In fact the only thing stopping us taking it on a week-long family ski trip was that the cold-weather tyres hadn't turned up in time. Ah yes, the winter tyres. Now, first things first. £1294 is a shed-load of money for rubber that you may only genuinely need on a handful of occasions during a year. The reason they were so expensive was the limited supply and the fact we wanted the Pirelli Sotto Zeros to fit the Jag's standard 20in rims. A cheap second set of wheels and smaller rubber would have made us winterproof for far less.
And make no mistake, when the conditions are bad, you do feel close to invincible. We did some back-to-back testing at a snowy Bedford Autodrome. On standard Dunlop Sport Maxx tyres an otherwise identical XFR lapped the West Circuit in 2min 35sec. A summer-tyred Mitsubishi Evo X we took along for its four-wheel-drive prowess managed to lop 6sec off that time. And the Jag on cold-weather tyres? Another 25 seconds faster. Point proved.
No wonder that when the snow started falling properly, Range Rover drivers were left scratching their heads as the Jag managed to apply an unseemly amount of its 461lb ft to roads where gritters feared to tread. In fact as long as the weather stayed cold the tyres were superb, but the softer compound and squidgy tread blocks struggled to manage two tons of supercharged Jag as warmer temperatures arrived. Rear-end squirm, hyperactive traction control and a lack of steering crispness had me back at Tyres Northampton in early March to switch back to the Dunlops.
Other pit-stops were few and far between. There was a first service at 15,000 miles, which at £290 wasn't cheap and failed to cure the intermittent Adaptive Dynamics fault that saw the car select the harder of its two suspension settings. There was no rhyme or reason to this. Sometimes it wouldn't happen for a week or two, sometimes it happened most days. Thankfully it was never a problem simply because there wasn't that much difference between the two suspension modes. I found the glowing orange warning message more irritating than the fault itself.
That wasn't the only glitch. The exhaust occasionally rattled under full-bore acceleration, while the coolant warning light cried wolf so often that I gave up checking the level – then chickened out in the depths of winter and found it way below the recommended minimum. Oops. There were a handful of other electrical glitches, but otherwise the XFR was a plain brilliant car to live with, one that went like stink and combined its pace with superb refinement and habitability.
Which brings me back to where we came in. Having had a good think about it, the reason I don't really miss the XFR is the one thing it lacked – edge. It's my only real criticism of the XFR, but in hindsight it's become a biggie (although if I'd bought it myself, the fact it shed a third of its value in 12 months would be hard to swallow). I wanted the XFR to be more overt, to make more noise, deliver more drama and set a new tone for future R-branded Jaguar products. For me it didn't quite go far enough. Yes, I admired the way it made difficult roads feel breathtakingly easy and drove with such incredible panache, but it came across as a car aimed at an older age group: the ride and refinement were too good, the supercharged V8 too muted.
And yet for large chunks of my time with it I couldn't think of a car I'd rather be running than the XFR – certainly not an Audi RS6 (even more muted) nor a BMW M5 (too harsh). So maybe I'm being unnecessarily hard on the Jaguar, a car whose only fault was that it was too polished.
Running Costs
| | |
| --- | --- |
| Date acquired | June 2009 |
| Total mileage | 26,891 |
| Costs this month | £193 front brake pads, £1294 cold weather tyres, £290 service, £11.99 coolant, £8 screenwash |
| Duration of test | 12 months |
| Average MPG | 21.4 |
| Price new | £59,900 |
| Trade in value | £41,250 |
| Depreciation | £18,650 |