Lamborghini Murcielago
A slightly nervous meeting with some traffic cops, and an even more worrying starting problem for the now-out-of warranty Murcielago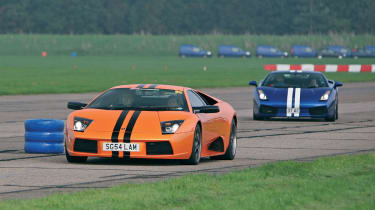 Heading north up the A1 recently, I noticed a scamera van parked on a bridge overlooking the road. I was fairly sure I'd seen it in time – until, through the Lambo's rear slats, I spotted a Volvo police car accelerating down the slip-road behind me. Sure enough, on came the lights, whereupon I pulled into a lay-by.
Fortunately I was greeted by a smiling face. As it turned out, it was one of the group of evo-reading traffic cops who had stopped me over a year ago (evo 080) having recognised the Lambo from these pages. After spending a good bit of time catching up, I was back on my way, albeit a little more slowly this time…
SG54 has been running faultlessly for the last couple of months, but I had noticed the starter motor labouring badly and the oil pressure light flickering occasionally, especially when the V12 was idling and hot. All slightly worrying, of course, with the warranty now expired.
Booking the Murciélago in with Lamborghini Manchester quickly resulted in the starting problem being traced to a couple of corroded earth-straps, and a faulty oil pump diagnosed as the cause of the low oil pressure. This was very bad news as a new pump is an engine-out job. How does four and a half grand grab you?
There was a glimmer of hope, though, as service advisor Saj Hashmi thought it worth putting in a request to the factory anyway as a 'goodwill' claim. And hats off to Lamborghini Italy, a few days later they authorised it. Result! Since the lump is now coming out, I'm going to replace the clutch plate at the same time for the sake of the additional £300 or so that will cost.
Talking of Lamborghini Italy, I paid a quick visit to the factory at Sant'Agata recently. Walking up through the LP640 production line with Cristina Guizzardi, curator of Lamborghini's in-house museum, I was all ears for a couple of hours as she talked of her years with Lamborghini and her first noisy introduction to the marque, courtesy of a young Valentino Balboni. As a schoolgirl back in 1973 she used to see and hear Balboni hammering a green 'periscope' Countach LP400 prototype through her village a couple of times a day. Coincidentally, that same Countach now resides in the Lamborghini Museum she looks after. Marvellous stuff and well worth a visit.
Memories of Le Mans are now fading fast, and with the Union Jack gone from the roof I didn't have a problem when asked to add a couple of Ford GT-type stripes to SG54 for a recent photo-shoot. They've really grown on me and go well with the anthracite wheels, which were painted at the same time.
Now, I realise that orange is becoming ever more popular, but recently I've been amazed by the number of orange Focus STs travelling in the opposite direction that flash their lights at the Murciélago. After scratching my head a few times I'm now responding likewise and am even first off the mark occasionally. Just hope the B&Q trucks don't start doing the same…
Running Costs
| | |
| --- | --- |
| Date acquired | September 2004 |
| Total mileage | 35,952 |
| Costs this month | £520 (rear tyres) |
| Mileage this month | 938 |
| MPG this month | 10mpg |