It seems scarcely credible that the Elise has been with us for over 20 years, but it's as excellent a demonstration today as it ever was that good things come in small, lightweight packages.
The Series 1 Elise arrived in mid-1996 and at its heart was the Lotus-designed extruded aluminium chassis that was glued, rather than welded, together. The car was powered by a transversely mid-mounted 1796cc Rover K-series engine with a 16-valve DOHC aluminium head. Its 118bhp output may have sounded somewhat paltry, but with just 731kg to shift, the Elise was quick (0-60mph in 6.1sec) and beautifully balanced.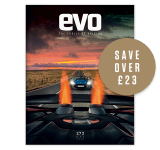 Subscribe to evo magazine
Subscribe today to have every issue of evo delivered straight to you. You'll SAVE 39% on the shop price, and get evo for its original cover price for a whole year!
Power was transmitted through a five-speed manual 'box, suspension was via double wishbones all-round, and the lightweight theme was even carried over to the brakes, which utilised Metal Matrix Composite aluminium discs. Bar a couple of minor updates – such as introducing a removable hard-top – the Elise remained more or less unchanged for its first couple of years. However, there was a track-only Elise Sport 190 in 1997, which featured a VHPD (Very High Performance Derivative) version of the 1.8-litre K-series, good for 187bhp. An even lower weight (just 670kg) ensured it was blisteringly quick (0-100mph took just 10.7sec), but the Sport 190 was never officially homologated for road use.
The following year saw more minor spec changes – a modified soft-top, the adoption of traditional cast-iron discs, improved luggage provision – and late in 1998 the first new road-going Elise derivative made its debut: the Sport 135, which thanks to a reworked cylinder head offered 135bhp. It was initially launched as a limited run of 50 cars, all painted Quicksilver, with headlight covers, driving lights and '135' graphics, red sports seats and a red steering wheel, plus drilled brake discs, a close-ratio gearbox and a sports exhaust without a catalytic converter. A further 35 examples were produced in 1999 and were virtually identical bar having later 111S wheels (more shortly), a black filler cap and '135 99' decals.
Manufacturers love to celebrate their birthdays and the 50th Anniversary Elise came to market early in 1999 to commemorate Lotus Cars Limited's half century. Apart from its exclusivity – just 50 were built – it was a cosmetic exercise, with all examples finished in metallic green with gold wheels and a grey/brown leather interior.
The next significant upgrade also arrived in January 1999, with the debut of the 111S. It gained variable valve control (VVC) and 143bhp, endowing it with improved performance (0-62mph in 5.4sec). It also had Lotus-designed six-spoke wheels (up half an inch in width at the rear to 7.5 inches), a new front grille, headlamp covers, a composite engine cover and an optional rear spoiler extension.
That year also spawned several Elise special editions. The first was officially known as the Heritage for the Italian market (where 100 were sold) or the Type 79 in the UK, although it's often called the 'JPS' thanks to its black and gold colour scheme. Buyers could base it either on the standard or 111S model.
At the London motor show, the Type 49 was revealed, painted in the iconic red, white and gold colour scheme of the late-'60s Lotus F1 car. Again, it could be based on the standard car or the VVC model.
The last of the 1999 specials was the Millennium Edition, painted in Atlantis Blue with seats in black leather and blue Alcantara – colours that also adorned the steering-wheel centre and the sill trims. The Millennium could also be ordered with the standard or 111S engine. The most extreme of road-going Elises, the 340R, made its debut early in 2000. Minimal bodywork, a 190bhp VHPD version of the K-series, a close-ratio 'box and sub-660kg weight in road trim ensured devastating performance, including a 0-60mph time of 4.5sec.
The last of the S1 Elises, the Sport 160, arrived in February 2000. The first 50 were produced with Single Vehicle Approval and featured a 160bhp engine; later cars passed Whole Vehicle Type Approval and had to make do with 150bhp, although many of these cars were upgraded after purchase. The 160 was loosely based on the 111S but had a new ECU, revised suspension, different wheels and a plinth-mounted rear spoiler.
The more hardcore, hard-topped Exige made its debut in mid-2000 and in November that year so did the Series 2 Elise, with updated styling to continue the Elise dynasty for the next generation of buyers.
| | | |
| --- | --- | --- |
|   | Lotus Elise | Lotus Elise Sport 160 |
| Engine | In-line 4-cyl, 1796cc | In-line 4-cyl, 1796cc |
| Max power | 118bhp @ 5500rpm | 160bhp @ 7000rpm |
| Max torque | 122lb ft @ 3000rpm | 128lb ft @ 5200rpm |
| Weight | 731kg | 770kg |
| Power-to-weight | 164bhp/ton | 211bhp/ton |
| 0-60mph | 6.1sec (tested) | 5.1sec (claimed) |
| Top speed | 126mph (claimed) | 135mph (claimed) |
| On sale | 1996 | 2000 |
| Price new | £18,950 (1996) | £28,995 (2000) |
What we said 
Icon review, April 2017 - evo 235, John Barker
The first hundred metres down the road in an Elise is rather like hearing the opening bars of a favourite song on the radio; it's hardly begun but already you know you're going to be entertained. Sure, the intro is a bit wobbly (think the opening chords of The Smiths' 'How Soon Is Now?') because the steering is disconcertingly light and the floorpan clatters noisily over bumps, but you know that once it hits its stride you're going to be right into it.
When the Elise appeared in 1996 it seemed almost to have come out of nowhere. Three years earlier, GM had sold Lotus to Italian businessman Romano Artioli. It's unclear why Artioli acquired Lotus for £30million at a time when his gloriously ambitious resurrection of Bugatti with the EB110 was taking him to bankruptcy at 213mph, but he gave Lotus just what it needed – the freedom to build an all- new sports car. The small, affordable and truly innovative Elise was the result and Lotus is still enjoying the benefits today.
Steered by Lotus's guiding principles of light weight and simplicity, the best minds at Hethel concluded that the chassis of the new car should be formed from extruded aluminium sections. Welding was a possibility but aluminium is tricky stuff and thicker sections are needed at weld points. But not if you glue the sections together. Danish company Hydro Aluminium had been working on adhesive bonding, which is also neater and more consistent than welding, and Lotus worked with them to develop the process for its first automotive application.
The bare chassis, minus roll hoop, suspension arms and aluminium brakes (more on them later), weighed just 67kg. For reference, Lotus reckons the carbon tub of the more recent Alfa 4C weighs 65kg... Every new Lotus since the Elise has used a form of that chassis, including even the Corvette ZR1-engined GT1 Elise racer, and if back in 2001 you'd got a close look at the aluminium chassis underpinning the new Aston Martin Vanquish you'd have seen Lotus's fingerprints all over it.
> Alfa Romeo 4C review, specs and video
Mid-mounted beneath the rear deck of the Elise was the ideal engine: the compact and lightweight, all-aluminium Rover K-series. Lotus selected the 1.8-litre version of the British-built, 16-valve 'four', producing a modest 118bhp. However, because the Elise weighed in at just 731kg, the multiplication effect of its sub-ton kerb weight gave it 164bhp per ton. That's about the same as a contemporary Z3 2.8, so still modest, but the gutsy little K-series proved the perfect match for the Elise's mass and grip, helping create a deliciously well rounded and satisfying car.
Despite being so avant-garde at its core, the Elise was given a retro look by Julian Thomson, with fared-in headlamps and lots of curves, perhaps to distance it from the wedgy Elan M100 that preceded it. That car, which was famously front-wheel drive, had never really hit the spot. Some reckoned it was a good car in a bad market, restricted from reaching its full potential by the early '90s recession. But, like many potential Elan customers, I didn't buy that. It was impressively competent but you had to go hunting for the magic, whereas the Elise gave it up freely, at ordinary speeds, to anyone who took the wheel.
Twenty years on, nothing has changed. This is a very early example, registered just a couple of months after the launch in September 1996. Its current owner, Ian Lain, bought it in '99 and although it was his daily driver for a couple of years, the Stack instrument cluster shows only 62,000 miles. It's not totally original. The springs and dampers were uprated to S2 spec when they needed replacing, because they were better and less expensive, says Lain. And OE supplier Pirelli no longer makes the diddy Pirelli P Zeros – a mere 185/55 R15 at the front – so instead there are Yokohamas all round, the fronts being mildly fatter 195-section Neovas that slightly muffin-top the alloys.
Up close with the Elise again, I'm reminded that achieving a kerb weight of 731kg meant interrogating every part, hence the wind-up windows, no internal adjusters for the door mirrors, basic slider heater controls and very little interior trim: just a square foot of mat each side, a coin tray at either end of the dashboard and a pad the size of a geography teacher's elbow patch on each sill. That's it. There's a little bit of genius in the exterior 'door handle', which is just a small plastic ridge hidden under the overhang that your fingers naturally find when you push the lock button.
Caterham Seven-style cars are even lighter, but part of the broader appeal of the Elise is that it has real doors, with glass that goes up and down. And don't underestimate the reassurance you get from the deep-sided aluminium tub when you've slipped down into the shell-like seat (which looks painted-on but is surprisingly comfy and accommodating). The downside is that, with the roof in place, you have to struggle in through a narrow slot. Lain is 6ft 1in and broad of shoulder and says getting in with the roof on is like 'using the letterbox to get into your house'. Perhaps it's no surprise that in the early concept stage of the Elise it was what Lotus calls a 'stepper', that's to say a car without roof or doors that you step into, like a bath. Explains where the 340R came from, doesn't it?
Once you're settled, the dynamic initiation can begin. How light is that unassisted steering? Well, if you've ever sat in your car with the front wheels jacked off the ground and twirled the wheel, that's pretty much the Elise's steering at town speeds. And that's with wider Yokohamas. In the wet, with so little resistance to work against, you have no sense when the front tyres are slipping wide. And that's not all to watch out for when it's raining...
Aluminium brakes sound right up there with chocolate fireguards, but the car's low mass allowed the use of an innovative technology. The Elise's Metal Matrix Composite (MMC) discs were made from aluminium with 30 per cent silicon carbide and it was estimated that they would last up to 100,000 road miles. Lain's car still wears its original discs and, with their mirror-like finish, they look better than brand-new cast-iron discs. They haven't been available for years and it's increasingly rare to see them; they go for about £200 a disc, so some owners have them stashed in the loft.
Back in the '90s it was feared that, rather like carbon discs, they could be destroyed by severe overheating, and some owners swapped them, foregoing the very real benefits of lower unsprung mass at each corner to wheel control, and a lovely short pedal, too. But because they use a different principle to regular disc brakes – adherent friction instead of abrasive friction – the first application in the wet can be worryingly unresponsive. Again, not unlike early carbon brakes.
No such worries today, with the spring sun beating down and the south coast calling. Clear of town, the Elise starts to get into its stride and turn on the charm. The clatter you hear over sharp bumps and ridges is a characteristic not a fault and you learn to ignore it, realising that the ride is in fact remarkably supple and unusually fluid. The stiff aluminium platform and light brakes allow this comfort and control, this remarkable ride quality that is the original Elise's outstanding, defining dynamic characteristic. You fear no road surface, relishing the challenges the surface throws at the car, guiding it with confidence onto precisely the line you want.
Greater pace transforms the steering. You find yourself carrying speed and committing confidently to turns and then it dawns on you that the tiny Nardi wheel is suffused with feel, changes of weight revealing the level of grip. The car feels four-square, planted, balanced – you can hustle it, but it's not necessary to get great cross-country pace out of it. This is the reward for low mass. It's also the reason why you rarely hanker for more urge from the K-series at your back; it's so instantly responsive, so generously torquey that it becomes a natural part of the blend, the flow. It sounds eager, too, thanks to the sports exhaust that adds fruitiness rather than shouty volume.
The gearshift is less slick than I remember. The little wand has a snappy throw but the gate feels dry, like there are burrs on the edges of the H-pattern. It's all good if you add a bit of exaggeration, a bit of a flourish to your cross- gate shifts. A shame, though, that the brakes squeal like a fork across a plate until they're up to temperature. They're powerful, with superb feel and response, but it's a bit distracting.
It will kick the tail wide if you're keen, and do it tidily, but that's not really its style. It's the Elise's deftness, its effortlessness across the ground that was unique and compelling back in 1996 and still is now. Back then, I got as many people into it as I could and it entertained and delighted them all, whether they drove or rode in it. Well, almost all. Not Jez Coates, technical director at Caterham Cars. The maker of the Seven had been looking for years to expand its range with a more habitable, lightweight sports car and in August 1996 launched the 21. A month later, Lotus launched the Elise.
It was Caterham's worst nightmare come true. Beneath the 21's swoopy bodywork was a Seven spaceframe with lateral extensions for side impact protection, and there was a boot and real doors, too. It drove well, like a Seven in fact, and in entry-level, 115bhp K-series trim weighed about 60kg less than the Elise. But it was more expensive. Only a bit, but enough.
Jez didn't believe the Elise was deserving of all the praise my fellow journalists and I were heaping on it. So we went for a drive on roads with lots of tricky bumps and surfaces. His mood got darker the further we went and after one particularly challenging section of asphalt that the Elise dispatched as if it was a large rubber conveyor belt, I shouted over: 'Impressive, isn't it?' The reply was a grudging grunt. The 21 wasn't a bad car but it was doomed, and we both knew it.
Inevitably, when you make something that handles so well, even if it seems to have just the right amount of power, more potent versions come along. I can claim to be the only journalist to have driven the first of them, the 143bhp Elise Sprint, fitted with the VVC K-series. Sprint is an evocative name with authentic Lotus heritage but you'll know the model as the 111S because at the time the use of the Sprint name was successfully contested by another brand. Think about that the next time you're overtaken by a Mercedes Sprinter van...
Just over 10,600 S1 Elises were made before the more grown-up, better-equipped S2 took over in 2001. It's a testimony to the concept that, almost 21 years on from launch, the original 118bhp S1 still delivers. As with other great drivers' cars such as the E30 M3 and the original Elan, all things feel in balance – power, grip, handling and mass. Indeed, the dynamics of the Elise are so fluid that the ride and handling are the same thing. It makes for a uniquely satisfying experience – and guaranteed five-star evo icon status.