Mercedes announces UK recall of 400k cars
Spread across various model lines built between 2011 and July 2017, the recall covers a large portion of the Mercedes passenger car range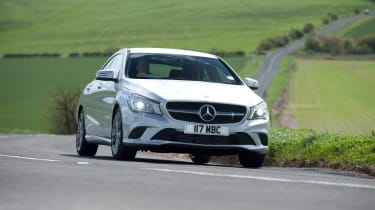 Mercedes-Benz has announced a major recall in light of malfunctioning airbags in cars built between 2011 and July this year. Affecting A, B, C, E and CLA model lines, the recall will see over 400,000 units return to dealers. 
Although there have been no reported incidents in the UK resulting from the fault, there have been 30 cases of accidental airbag deployment in other markets, thankfully with no fatalities recorded thus far.
> Click here for our new vs old showdown
Mercedes-Benz assures owners that a warning light will show to pre-empt the malfunction and is urging owners to contact their local dealerships ASAP if an airbag warning light does switch on. The core of the problem is said to be a malfunctioning clock spring in the steering column, which could cause accidental detonation of the airbag system.
After the turmoil created by the Takata airbag scandal of the last few years, it is not at all surprising to see car manufacturers tread extremely lightly around the issue of malfunctioning airbags.