Mercedes-AMG E43 4Matic review - good pace from latest load-lugger
Ignore the over-promise of the AMG badge and the E43 is a quick, stylish and luxurious way to travel
AMG's 43-badged offerings can be considered an interim step between AMG Line look-alikes and the full-fat V8 models in the manufacturer's range.
The Mercedes-AMG E43 4Matic, available in both saloon and estate form, serves exactly that purpose, whetting the appetite before the V8-powered E63 arrives in the next year or so.
Engine, performance and 0-60mph time
You'll find the same engine under the E43's long bonnet as you will in other 43-badged AMGs, albeit in a slightly higher state of tune here than in smaller, lighter models.
The 3-litre, twin-turbocharged V6 gets increased boost and software tweaks to realise 396bhp at 6100rpm and 384lb ft of torque – 34bhp and a single pound-foot more than the same engine in the C-class. It's paired to a 9G-Tronic nine-speed automatic transmission – with obligatory gearchange paddles for manual control – and uses 4Matic permanent all-wheel drive.
> Click here to read our review of the Mercedes-AMG C43 Coupe
The result of these combined factors is a 4.6-second 0-62mph time in saloon form, with the Estate a tenth behind. Top speed in both is electronically limited to 155mph.
The traction of that all-wheel drive system means the E43 feels brisk off the line, but acceleration through the gears never quite has the punch you expect of something carrying the AMG badge, nor the drama associated with AMG's usual rear-wheel drive offerings.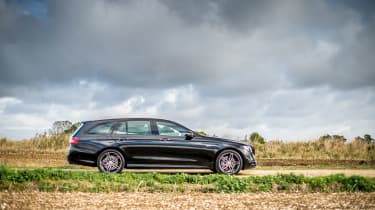 The E-class's spectacular refinement can take some credit for that however, as a quick glance at the speedometer usually reveals you to be travelling quicker than you expected. There's a slightly artificial feel to the AMG's exhaust note, presumably a necessary evil to provide some drama in such a quiet cabin, but the constant burble is enough to remind the driver they haven't chosen one of the diesels.
Throttle response is good too, but left in automatic mode the nine-speed transmission can occasionally take a few moments to work out which gear is required when it kicks down for overtaking. Responses to flicks of the paddle in manual mode are quick, though it can sometimes take a few tries for the 'box to okay your request for a lower gear when charging into corners.
Technical highlights
Like other 43s, the E43's V6 uses a 'Nanoslide' coating for the cylinder liners, a technology developed from Mercedes' experience in Formula 1. It's claimed to be low-friction and wear-resistant. Low friction is also claimed of the all-wheel drive system's transfer case, which can be varied model-to-model to adjust the front-to-rear torque split. In the E43, 69 per cent of the engine's torque is sent to the rear axle.
What's it like to drive?
The E43 does not feel like a product of Affalterbach. It doesn't have the rampant performance, it doesn't have the soundtrack and it doesn't have the slightly naughty feel that defines the brand's V8-engined, rear-wheel drive products.
Partnership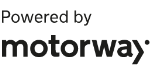 Need to sell your car?
Find your best offer from over 5,000+ dealers. It's that easy.
It's also lacking in tactility, with steering that performs its task with decent weighting but little feel, and slightly dulled turn-in responses. Nor is it as adjustable – such is the lateral grip, traction and stability of the chassis you'd really need to be going some for throttle inputs to significantly adjust your trajectory.
With a significant input into the steering wheel and a lift of the throttle you can force the rear tyres to relinquish their grip of the road, but so swiftly is it caught by the stability control (even with the traction control in sport handling mode) and so mighty is the E43's traction when you get back on the throttle that there's little incentive to try and play.
Instead, you're better off exploiting the E43's virtues to cover distance both safely and at surprising speed, a task it performs with aplomb.
And while the E43 never feels like a light car – it's 1855kg in estate form, so braking always needs a slightly firmer prod than you expect and you're never pinned into your seat when accelerating – it's always a surprise to step out of the car and find so much bodywork behind you.
The suspension controls the car's movements incredibly well; large bumps, crests and undulations do little to fluster the E43. And even with the dampers in their firmest setting, the ride isn't unbearable on UK roads. The E43's incredible composure and grip means it's never really engaging you and doesn't make you feel integral to its rapid point-to-point pace. However, you can't help but respect its ability to achieve such poise in demanding situations.
It can't be understated just how lovely a place the E-class cabin is to spend time, either. It feels infinitely more special than any 5-series, Jag XF, Audi A6 or similar, is trimmed beautifully throughout, and in Estate form in particular, is utterly vast inside. However, the blue light that extends the width of the dash is just on the wrong side of tasteful while occasionally being distracting, too.
Prices and rivals
There's no direct rival for the E43 from the BMW range, with the 535i M Sport significantly underpowered next to the Mercedes and the 550i M Sport both more powerful and endowed with an extra pair of cylinders. It's also getting on a bit – there's a new 5-series on the way very soon.
> Click here to read our Audi S6 review
It's the same deal with Audi, whose S6 (in saloon and Avant form) matches the power and cylinder count of the BMW and whose A6 offers no equivalent petrol model whatsoever, just diesels. Jaguar and Lexus? The XF S and GS 450h get closest, but neither has an estate option and the hybrid Lexus in particular is significantly more serene than it is sporty.