BMW's 190mph M3 GTS
More information about the BMW we really want to drive, the 190mph, GT3 RS-rivalling M3 GTS.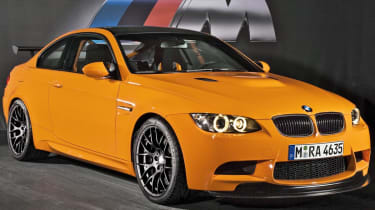 BMW has released more details about the M3 GTS. Some stats: 190mph top speed, 0-62mph in 4.4sec, 444bhp, 325lb ft, 70kg lighter, 30mm larger brake discs. It's every bit the GT3 RS rival we've been waiting for and makes up for the minor modifications carried out to the M3 Competition we drove recently. 
The engine now features a longer stroke (up from 75.2mm to 82mm), increasing capacity from 3999cc to 4361cc and releasing an extra 30bhp and 29lb ft. Peak power arrives at 8300rpm, with maximum torque from 3750rpm. The DCT twin clutch gearbox is fitted as standard, as is a thinner exhaust system that features titanium silencers.
View the M3 GTS in action on the Ring here
The suspension is based on the standard M3 Coupe's, although the rear subframe is now rigidly bolted to the chassis and the ride height can be adjusted by up to 16mm at the front and 12mm at the rear. There are also separate adjustable dampers and camber angle can be varied, too. Brakes diameters are up 18mm at the front and 30mm at the back although there's no word if they're carbon-ceramic stoppers or not. 
On the trim front, glass windows have been replaced with plastic on the rear sides and back, the rear seats are gone and in comes a roll bar. In a further bid to save weight, noise insulation has been ditched, lightweight materials have been used on the centre console and door panels. This has helped bring weight down to 1530kg – 70kg less than the equivalent M3 coupe apparently, although that's not as much of a saving as 110kg BMW managed to strip out of the E46 M3 to create the fabulous M3 CSL.
The cabin will feature racing seats, six-point safety harnesses, a fire extinguisher and an alcantara steering wheel and door linings. Colour choice? Just the orange…
Dr. Kay Segler, CEO of M division said: "Our aim was to develop a model variant that would prove its outstanding potential both on the road and at club sport racing events. The BMW M3 GTS is pure M feeling."
UK market production (it will be right-hand drive) won't start until next January, with the price announced closer to the time. Anticipate a six figure sum.
Click here to read what we've said about the M3 GTS before
Click here to view the Porsche 911 GT2 RS in action