2014 Paris motor show: The best of the rest
There's more to the Paris show than new MX-5s and hybrid Lambos. Here's our roundup of other Paris appearances
Sports cars and ultra-economical concepts stole the show at the recent Paris motor show, but there's always more to the Parisian exposition than mainstream launches.
Not that regular, down-to-earth vehicles didn't also make a splash. Two of the most significant were the BMW 2-series convertible, whose roofless form is more or less what you'd expect from an open-topped 2-series, and the Fiat 500x, which is more or less as ungainly as you might expect from a 500-inspired crossover.
The latter was immeasurably improved by a stripy-painted version on Fiat's stand, though the Italian automaker's decision to set it on a rapid spin was fairly perplexing. Easier on the eye and less likely to hypnotise, Fiat also had a uniquely-sculpted take on the original rear-engined 500.
Citroen also harked back to its heritage with immaculate examples of the 2CV and DS, but its present-day products are perhaps more appealing than those of Fiat. Most innovative in the current range is the C4 Cactus and the Airflow concept took that a step further, with aerodynamically tweaked bodywork and a 141mpg claimed economy figure.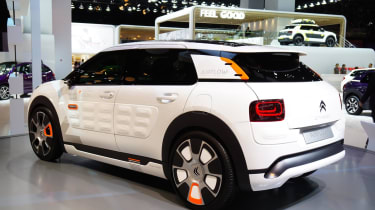 PSA partner Peugeot had much to offer too, including its DKR – next year's Dakar rally challenger – and the stunning Exalt saloon concept from Beijing. Will they build the Exalt? Probably not, but it's a surefire sign Peugeot is regaining its styling mojo.
We've already covered Renault's striking Eolab concept but the Espace turned a few heads too. The evergreen people-carrier has taken on crossover cues for this generation but Renault maintains its practicality is as high as ever.
Practicality is the name of the game with the MINI 5-door, demonstrated at Paris with an open-doored example hanging from a wall, but closer to earth was the MINI Superleggera Vision concept  first seen at the Concorso d'Eleganza Villa d'Este. It's just as stunning to behold as it was on first acquaintance.
The same can be said of Maserati's Alfieri and the Jaguar Project 7. Both are now green-lit for production. Nissan brought its IDx concepts to Paris too. It's even less clear whether Nissan will carry either of those through to production.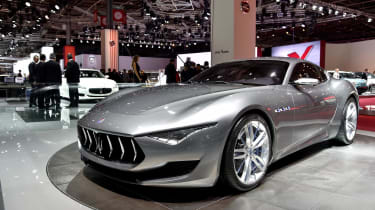 Perhaps surprisingly, Toyota's three-wheeled, tilting i-Road really is in production, albeit in limited numbers for trials in France and Japan. For the time being, the cars will be used in car-sharing and short-term hire schemes – think of it as Toyota's answer to the Renault Twizy.
Civic Type R aside, Honda's Paris stand wasn't particularly inspiring, but the company did field one of the show's most desirable models. The 1965 RA272 was the first Japanese car to win a Formula 1 race, Richie Ginther taking that year's Mexican Grand Prix. Honda's restored example is resplendent in its rising sun colour scheme and a beautiful reminder of the sport's 'golden age'.
Check out Henry Catchpole's 'best of the rest' video to see more Paris motor show curiosities – and let us know your own car of the show in the comments section below.