Lancia Hyena Zagato joins Jalpa, RS500 and more at Race Retro auction
Striking cars from Zagato and more are the stars of the next Silverstone Auctions sale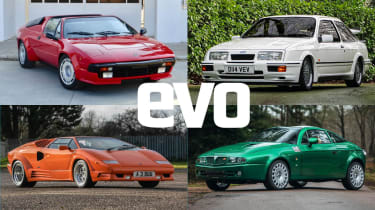 1/11
Like any works of art, Italian coachbuilder Zagato has as many critics as it does fans, but one of its more successful designs has to be the Lancia Hyena – and if you're a fan, then you'll want to keep an eye on this February's Race Retro Classic & Competition Car Sale.
A mean and very green Zagato Hyena is among the lots to have been revealed so far, and it'll take something special to top it for drama, though other unique listings include a Lamborghini Jalpa, a Sierra RS500 prototype, a Ferrari 348 GT Competizione, and a couple more unusual offerings including a Volkswagen XL1 and a Tesla Roadster.
The first thing to catch our attention about the Hyena is its colour – a special order green metallic that really shows off the unusual Zagato lines. Those lines, as you may know, are draped over the structure of a Lancia Delta Integrale Evo II, so there's bark to match the Hyena's bite – a quoted 250bhp from the 2-litre turbocharged engine.
> Automobili Amos' Lancia Delta Futurista is a Delta Integrale reimagined for 2018
The car, number 9 of 24, has moved from Luxembourg to the Netherlands to Germany since being registered in 1992, and has amassed only 9500km in that time, with its most recent service at 8800km in October 2018. No reserve is quoted, but in recent years cars have failed to meet their €200k-plus estimates. A 1994 car sold in Paris in 2017 for €161,000.
Next up is what's being described as "possibly the world's best re-creation" of a 1966 Alfa Romeo TZ2. Its fibreglass body has been worked using the original Autodelta moulds from the 1960s, its chassis built by the original constructor with the correct specification steel, and it features the correct FIA papers for eligibility into various historic race meetings.
At 170bhp its power output perhaps doesn't match the dramatic styling, but the TZ2's secret weapon was its low mass – at 620kg it's a hundred kilos lighter than an early Elise, and can top 160mph. It's unlikely to match the prices achieved by originals, but given its accuracy, it'll be interesting to see what it goes for – and hopefully see it on the grid of racing events over the next few years.
Sierra RS500 Cosworths seem to be a familiar sight at recent auctions, though fewer of them are early prototypes. The car being offered at this year's event is chassis number three, originally used to test the car's turbocharger and intercooler. Being a prototype it has a colourful history, not least because it uses an Eggenberger Motorsport-tuned engine, once fitted to chassis 10, formerly owned by Steve Soper. The estimate is £60,000-£70,000.
Two Italians catch our eye next – a 1983 Lamborghini Jalpa, blurring the lines stylistically between the 1970s and 1980s and at the time, offering a slightly less combative driving experience than the barmy Countach.
It wears an estimate of £68k-£78k, which makes it the cheaper of the two mid-engined, red-painted Italians, the other being a 1993 Ferrari 348 GT Competizione with a £120k-£150k estimate. The Competizione was a proper racer for the road, 190kg lighter than the standard car thanks to carbonfibre panels. This one's fresh off a three-year restoration, and as Silverstone Auctions points out, rarer than a 288 GTO, F40 or F50.
> Lancia Delta Integrale buying guide
Offering a very different flavour are two icons not of speed, but economy – yet for some are as exotic as any supercar. The first is one of the late Ferdinand Piech's pet projects, the Volkswagen XL1; a car to economy driving that the Bugatti Veyron was to top speed. The quoted 313mpg gives some indication as to its mission, but a carbonfibre structure, butterfly doors and one of the most aerodynamic production car shapes ever devised have the single-minded purpose of a 911 GT3. It should reach £50k-£60k, significantly less than it cost when new.
Similar money should be enough to secure the other eco-friendly sports car crossing the block at Race Retro, a 2011 Tesla Roadster. The Roadster was among the very first electric cars to challenge the G-Wiz/milkfloat image of early EVs, and its performance – 0-62mph in 3.9sec – still stands up today. So too does the range: a quoted 200 miles. If you're bored of big electric SUVs, maybe the antidote is a proper electric sports car.
This year's Race Retro Classic & Competition Car Sale, by Silverstone Auctions, takes place on the 22-23 February at the Race Retro show at Stoneleigh Park. Viewings are available on the 21st.